Early yesterday morning as I nursed Doodle and did my usual e-mail check, Facebook check-in and Twitter browse, I came across a post from SafeKids Worldwide which is the agency that accredits Certified Passenger Safety Technicians.  The tweet said:

Of course it caught my attention and I checked it out.  I was unaware, but there is a bill currently being circulated in both the House Transportation Committee and the Senate Transportation Committee which would strengthen Florida's current child passenger safety seat laws to require the use of a car seat or booster for all children through 7 years of age and who are less than 4 feet 9 inches tall.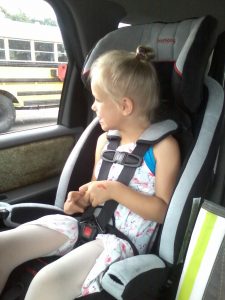 The safety of my children in the car is not something I take lightly, nor is the safety of other people's children.  While this bill is not a fix-all and is far from meeting the recommendations of many child advocacy groups, it at least brings Florida state law up to par with most of the rest of the country.  If you'd like to learn more about child passenger, please check out my previous posts on Child Car Seat Safety.
I took the time during my children's nap time to send an e-mail to my representatives and I hope if you are a resident of Florida you will also take the time to do the same and share this with every resident you know.
You can find phone numbers to your state representatives here.
Or you can use this handy dandy form which uses your contact information to find your representative for you and gives you the option to use a standard letter or to write your own!
Need some inspiration?  Here's the e-mail I sent to my representative:
Dear Senator… and Representative…

 I am writing to urge you to support House Bill 225 by Rep. Keith Perry and Senate Bill 518 by Sen. Anitere Flores which will strengthen Florida's current child passenger safety laws and keep more children safe while traveling on Florida's roads.

Currently Florida has one of the weakest child passenger safety laws in the country and as a mother to three children under the age of 6, child passenger safety while on Florida's roads is a top priority for me.

 Motor vehicle crashes are the leading cause of fatalities for children aged 4-8 and booster car seat use reduces injury risk for children 4-7 years by 59% compared to seat belts alone and Children 4-7 years in states with booster seat laws were 39% more likely to be reported as appropriately restrained as compared to states without such laws.

 While the proposed bill is still a far cry from the stated child passenger safety best practices of the National Highway Traffic Safety Administration, American Academy of Pediatrics, Centers for Disease Control and Prevention, and SafeKids Worldwide, it is a start to better protecting all of Florida's children and showing that child safety is a top priority in the state of Florida.

 Thank you for your time,

 Melissa
This is an article written by a member of the SheKnows Community. The SheKnows editorial team has not edited, vetted or endorsed the content of this post.
Want to join our amazing community and share your own story? Sign up here.