Today's lesson, number three, was about learning to set aside a quiet time each day to journal, take a walk, pray, be quiet etc.  This is pretty much my blogging time.  I have set aside an hour (or more some days) when my house is quiet since my first son was born 6 years ago.  Sometimes I take a nap, some days I blog, sew, or craft, and some days I just run around telling everyone to be quiet.  However, every day we all have the opportunity to do something that we enjoy without having others interrupting or fighting over how they would like to see something done.  
     Since I have already done this in my life I read two chapters (and if you have not, I highly encourage it!  I will fight tooth and nail for my quiet time to pray, re-group for the afternoon, and occassionally accomplish something alone-ish).  Set aside a half an hour, even.  Surely, the rest of your life can go on hold while you collect your thoughts and get yourself together for what comes next.  Resting and listening to God are two habits I am just learning now in my late twenties and I have much to learn still.  They are highly valuable and I wish I was better at both.
     Lesson four was clearing off kitchen counters (maybe I should have just waited one more day on that one...what a task!).  I know, counters collect stuff...but my counters, well, they collect so much stuff that it gets hard to use the kitchen sometimes.  I can't bake if I don't have a counter to use or clean dishes to bake with.  It gets hard to keep up on dishes with four kids, but this is about more than just the dishes.  I took pictures of my before counters, just as a reminder of how they look cluttered.  It hurts my brain.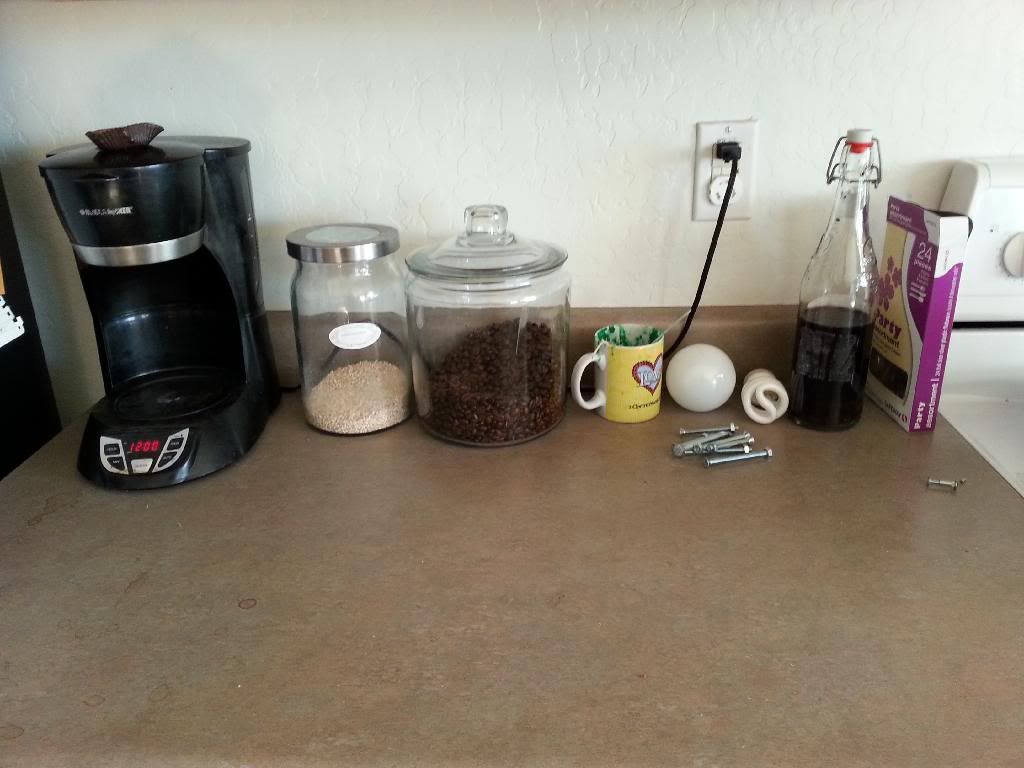 This is where I make coffee every morning (or afternoon if I get crazy busy in the morning).  There's also some random stuff on there, including remnants from a science experiment where the boys made candles (turning solids into a liquid, back into a solid, and into a gas), and some CFLs that need to be recycled. 
     Ugh.  A little embarassing.  This is where all of my dishes collect.  My toaster oven sits in the back and I often have to clear dishes away in order to use it.  It has been needing a home for a long time.  The book says to clear everything for at least a week and then evaluate what you want back on the counter.  I plan on doing this.  I know the toaster oven needs a home; it can't go back in that corner when this week is over.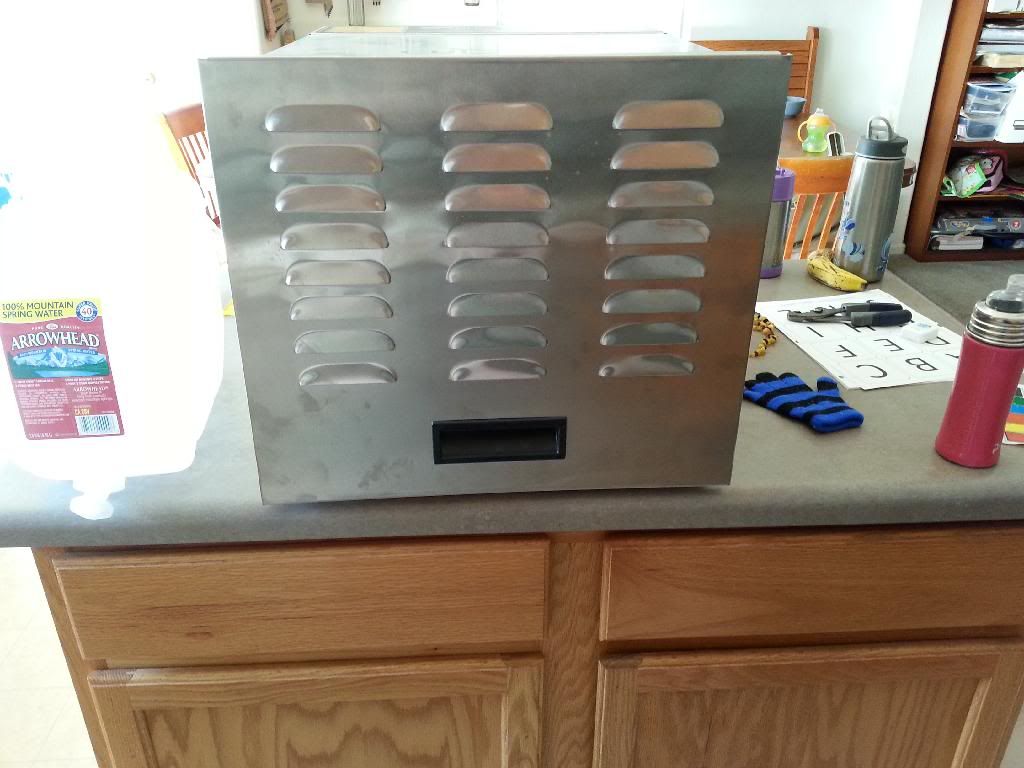 There is my kitchen island.  I got a dehydrator for Christmas and it has taken up residence right here.  It is huge, but I love it.  Anyway, for the sake of this week challenge, I sent it to the garage.  If I am using it, it will come back out only for the day.  I still haven't found it a real home because I haven't had it for long enough.  My biggest problem with stress is that I walk into one room and I see a project I need to work on.  I walk into the next room and I see something else.  Wash, rinse, repeat, stress.  See the stack of papers?  That is homeschool stuff I need to laminate.  Project.  One of my goals is to find one area to stack any and all projects in.  At least I won't run into them all over the house.  Then, when I have time to work on something, I can see everything and pick what is important.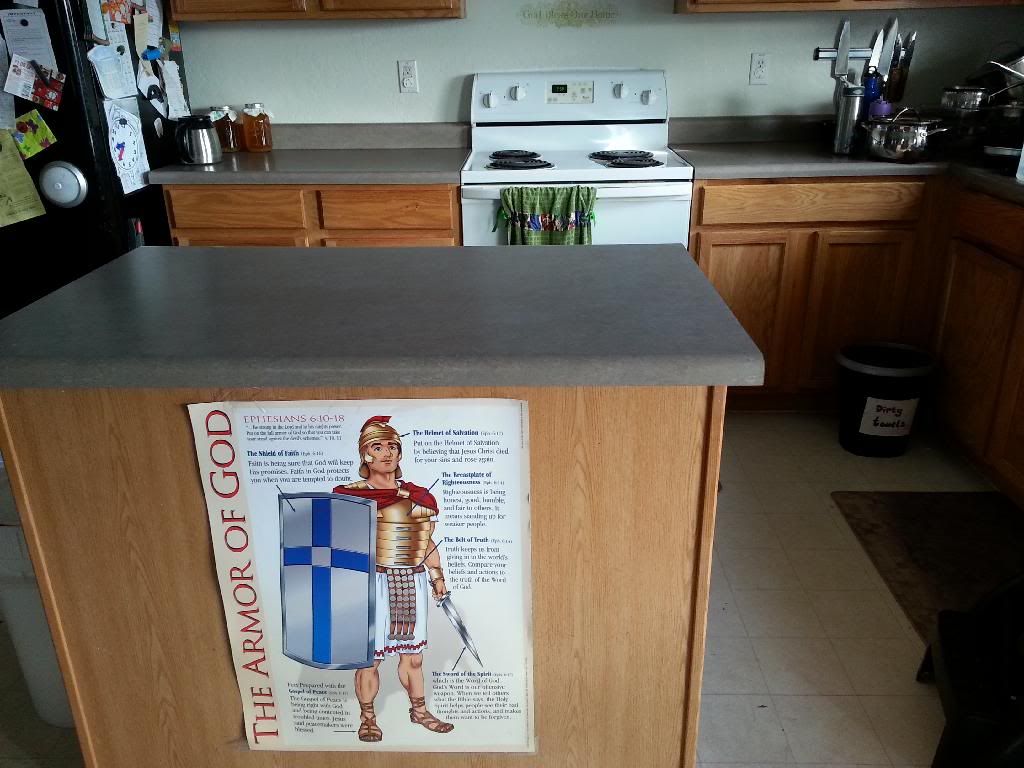 And here is what it looks like all cleared off!  Yay!  I didn't do my dishes, I just cleared and cleaned everything else, so you can see them peeking into the corner of the picture.  I think it is nice, all the same. 
     I did choose a few things to stay on the counter.  This might seem silly, but there is nowhere else for them to go.  I did tuck them out of sight though so I am not looking at them all the time.  If I look into the kitchen from the living room, you can't even see them.  Those are two jars of water kefir I am fermenting (and I always have a batch going), and my coffee pot.  It's like a carafe because it's insulated;  I did put away the coffee maker, though.  
     As a bonus, I also cleared off the tv stand, and the hall table.  Everything looks so clean!  I actually feel like I can breathe better in a less cluttered space.  One thing I did notice though, is that my fridge looks cluttered with everything else so clean.  Time to clear the paper and such magneted all over it.  It is not just horizontal spaces that collect clutter!  As a reminder, here is the book I am reading.  I am not affiliated with this author and I am not an Amazon affiliate, I am just making sure to cite my source.  
     Anyone else reading this book or have experiences with simplifying?  I can use all the encouragement you can throw at me.      
This is an article written by a member of the SheKnows Community. The SheKnows editorial team has not edited, vetted or endorsed the content of this post.
Want to join our amazing community and share your own story? Sign up here.