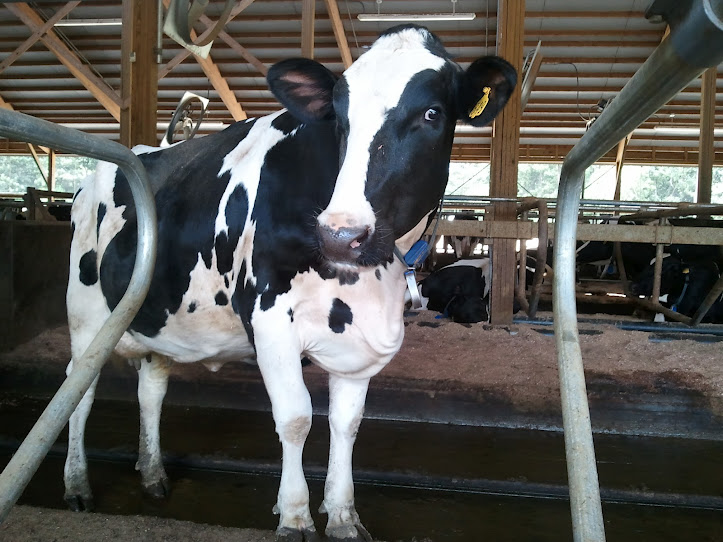 Smart cow?  Photo by Withywindle Nature, 2012 
Periodically I get the chance to travel to various nature/educational centers, reserves or parks to meet up with colleagues for one reason or another: board meetings, committee meetings, etc. Two weeks ago, I traveled to Great Brook Farm State Park for a technology-focused meeting with two colleagues.  Before we began our meeting, my colleague who works for DCR, gave the other two of us a tour of the working dairy farm that resides within the state park and is incredibly state-of-the-art.  
Self-Milking Cows
As we were guided through the gate into the center of the farm, my colleague talked about how dairies were run in the 1940's, when the original farm was built. The farmers would go up and down the aisle from cow to cow, milking each one in turn. For a herd of about 80 cows milking three times a day, farmers could spend 8 - 10 hours just on milking.
One advancement on this system is the idea of 'milking parlors' where the farmers set up milking in a center location of the barn, and the cows are brought in one after another.
And then, there's the new system.
Tim: "The cows decide when they want to be milked."
Me: "Oh stop it, they do not." Pause. "Wait, really??"
Tim: "Yep. There's one automated milking machine, and each cow decides on their own when they want to go and get milked."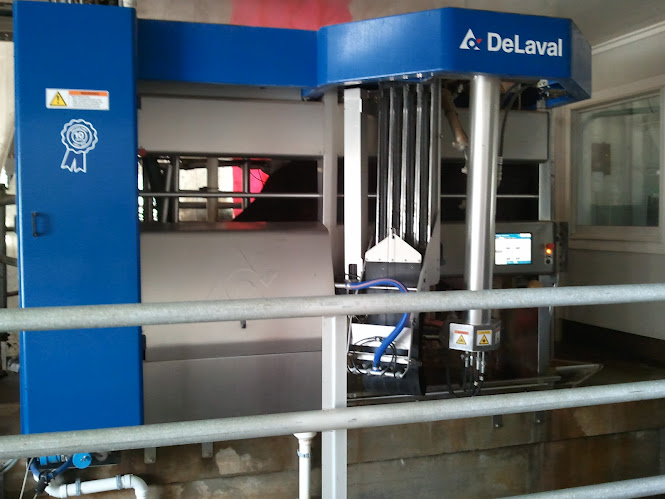 Fully automated milking machine. 
Are cows better qualified to decide when milking ought to be done on a farm?  Well, yes, as it turns out. Each cow has a micro-chip and pedometer attached (it's the blue bit hanging from the cow's neck in the picture above) to them, and the milking machine scans each cow's chip when they enter the machine, so it knows which individual is in to be milked (and adjusts according to each cow's specific measurements), and whether it's actually time for her to be milked or not. If it isn't, she get's re-routed to the 'feeding bunk' section of the barn, and has to go around again.
Healthier Cows and Better Milk...
The result is more milk from each cow. Instead of being on an arbitrary schedule set up by humans, cows get milked on a schedule that is better for them, based on the needs of their own bodies (as any mother who's ever breast-fed a baby can tell you, a cow really does know when they need to be milked).  Younger cows might need to get milked more often, while older cows might only need milking once or twice a day, but give a greater quantity of milk. This particular dairy reports that their milk yields have increased over the older milking method (I don't know by how much. I asked but that info wasn't readily available).
In addition each cow gets their stats entered into the computer (I know, how weird is that?) so more is known about each individual and their health, and the process is cleaner.  The result is a 90% reduction in the amount of antibiotics given to the herd of cows. Instead of using antibiotics in a preventative measure on the whole herd, they now medicate cows individually, and only when needed. Which also means less antibiotics in the milk they ship out.
Oh, and the time savings? Instead of spending 8 - 10 hours a day just on milking, the farmers are now able to attend to other important tasks that the herd (and farm) needed, but wasn't getting as regularly - foot care, for example - and they're better able to find health issues before they become a big concern.
...and Smart Barns
As if this process wasn't technologically advanced enough, the barn has also gotten more savvy. It has baffled walls that can be inflated to provide insulation, or deflated and rolled up to provide complete air circulation within the building. The barn does this automatically based on the internal temperature. In sub-freezing weather over several days, the farm reports that temperatures inside the barn never got below 50°F. No heating or air-condition required.
There are cushioned pad that the cows can lay down on, but their feed is in a separate part of the barn. The cows aren't tied anywhere - they roam the barn as they please to eat, sleep and get milked. From the pedometer, the farmers know how much each cow is moving around (or isn't, which may indicate a problem all by itself), and based on the structure of the barn, they have to move to different stations for each need.
The barn also includes a 'bovine brush'. A large, rotating brush is provided that the cows can go over to for brushing or itching as needed (or wanted). Relative to the dairy barns of the past where cows spent most of their time tied and standing/laying in one place, this barn keeps cows happy and healthy, and the farmers know well in advance if a problem with an individual arises.
Overall, this particular farm has moved from looking at their livestock from the macro-level ('milk the herd at this time', 'medicate the herd at that time') to the micro-level ('cow #412 only went to get milked one time yesterday and didn't move around much - let's check to see what's going on with her'). As an animal lover and someone who's also a big fan of agriculture, I love this. When we're able to see animals as individuals (even if they're still a commodity), the way we treat them will only continue to improve.
_______________________________________
Cynthia Menard
Withywindle Blog
This is an article written by a member of the SheKnows Community. The SheKnows editorial team has not edited, vetted or endorsed the content of this post.
Want to join our amazing community and share your own story? Sign up here.