Being event coordinators for the bike club we belong to, it is exciting to plan and execute the rides we take.  For Chris who belonged to an active bike club in Seattle, it is taking a while for the club in Arizona to match his enthusiasm for riding.  Our goal is to connect with serious riders and travel Arizona the way it was meant to be seen.  Our first ride was to Jerome, Arizona on October 7, 2010.  Out of 137 invites and 80 confirmed riders, 12 bikes showed up for our first ride.  Some of the people we had invited were from www.bikerornot.com and we met them for the first time on that ride.  As I write this today, I can say that they have remained good friends and we look forward to riding with them again soon. 
Our meeting place was at a great little Mexican restaurant in Glendale called Chuy's.  It has a very inexpensive, but a very tasty breakfast menu.
The parking lot is perfect for lining up our entourage and heading out in formation.  We left at 10am and headed northwest toward our destination.  Our route took us through Wickenburg; however, our first stop was in a small town called Nowhere, Az.  The town consisted of a roadside bar called the Burro Inn that we couldn't resist.  Old places with history are what the ride is all about.  Unfortunately, my camera was at the shop being fixed for that ride so all I have is the frog on the mountain just outside Nowhere.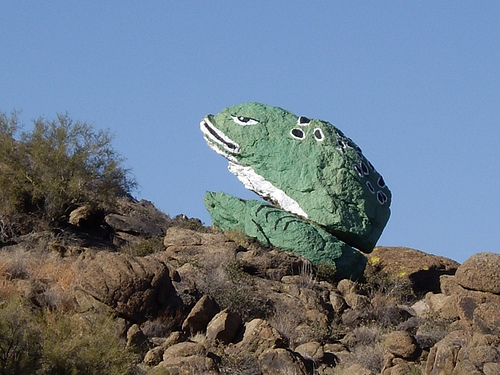 It began getting a little nippy as we headed up the switchbacks into Yarnell.  But the sight in Yarnell was to behold.  The fall colors were in full bloom and it was spectacular to see.  Whoever says the desert is boring and void of color has never seen Arizona.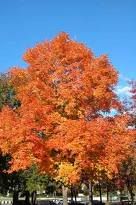 We followed the colors, green fields and forest roads into Prescott where we met up with a new friend from at Buckey's Casino.  She was a spunky lady sporting pink chaps and a pink leather jacket with the road name, Goldie.  She rode a stunning, new purple Goldwing.  She was a testiment to the joy of meeting new people and making new friends.  After leaving Prescott our next stop was Jerome.  We still had a hike  through Prescott Valley and around the tight switchbacks out of Mingus Mountain.  After scaling the mountainside we arrived in the historic, yet viberant town of Jerome.  Bustling with other riders and sight seers we squeezed our bikes in any open slot on the street we could find.  It was in the 40's and chilly for us thinned blood Phoenicians.  We piled on a few more layers of clothes and headed up the steep mountainside stairs to the Haunted Hamburger.
. 
This place can absolutely boast one of the best hamburger in all of Arizona. 
Being a bit claustrophobic I find the restaurant itself a challenge to sit in.  There is bearly enough room for the staff to walk around just mearly dodging furniture; add patrons and it becomes an olympic event.  The food is delivered on a pulley from the downstairs.  To get the food the waitresses must squeeze into a tiny pantry to get it and squeeze back out trying with arms full of food trays trying to avoid disaster by running into the bartender or next waitress in line for food.  The whole time I was eating I felt in the way.  I would highly recommend dining on the patio where there is less congestion and the view is outstanding. 
The sun began to set and we still had a 100+ miles back to Phoenix.  We avoided the mountain driving on the way back by taking Interstate 17 back into Phoenix.  We made one more stop to stretch at a place called RoadRunners Saloon just outside of Phoenix in New River.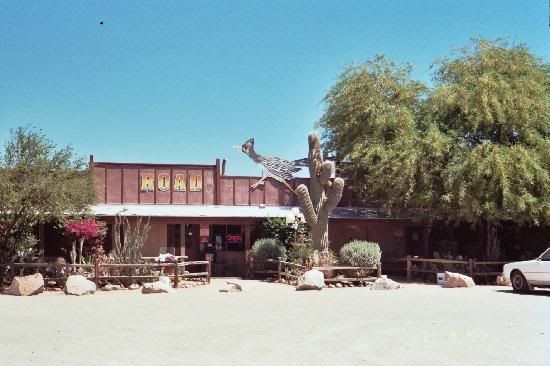 It was a great place to stop and have a drink and talk about the days events.  We sat on an open air patio at the base of the mountains and listened to the brave ones sing Kareoke.  It was a perfect ending to a great day!  The trip was 425 miles miles round trip.
This is an article written by a member of the SheKnows Community. The SheKnows editorial team has not edited, vetted or endorsed the content of this post.
Want to join our amazing community and share your own story? Sign up here.