Raw Milk Freedom Riders–CHICAGO
Thank you all for coming out to the event, about 200 people attended!
 Our next Freedom Rider announcement for a late January Ride is forthcoming!
Read below for a synopsis of the Dec 8th event:
On Thursday, December 8th, 2011 Illinois raw milk freedom riders woke in the early hours of the morning and traveled to Wisconsin in order to pickup 70 gallons of fresh raw milk, with a goal of delivering the milk to the wanting parents of Chicago.  The four vehicle caravan quickly grew to a ten vehicle freight train as concerned individuals wanted to ride along in their own vehicles showing support in favor of the intentional act of civil disobedience. 
The train stopped at the Wisconsin/Illinois boarder for a photo (shown above) and then proceeded 90 minutes to "Independence Park" Chicago, where some 100+ people were eagerly awaiting the arrival.  Park security was unhappy that no permit was issued for the event, and told the people that they were not allowed in the park.  The people did not comply, and instead instituted a rally which lasted an hour and a half.   Beginning with preaching via bullhorn, and ending with a raw milk toast with cookies.  No arrests were made.
Speakers Included:  Michael Schmidt, David Gumpert, Liz Reitzig, Max Kane, Michael Badnarik, Jim Marlow, Kathryn Pirtle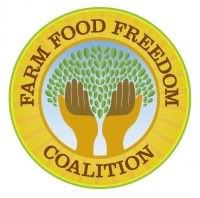 You are invited to join the Raw Milk Freedom Riders, Food Freedom Advocates from around the country, local and national press and maybe the FDA and law enforcement at our next Freedom Ride, scheduled for January 2012.
This is an article written by a member of the SheKnows Community. The SheKnows editorial team has not edited, vetted or endorsed the content of this post.
Want to join our amazing community and share your own story? Sign up here.