To follow in the theme of yesterday's article
Making A Burlesque Costume For Practically Nothing
I'm going to share with you some ideas about props you can get on the cheap or modify or make yourself.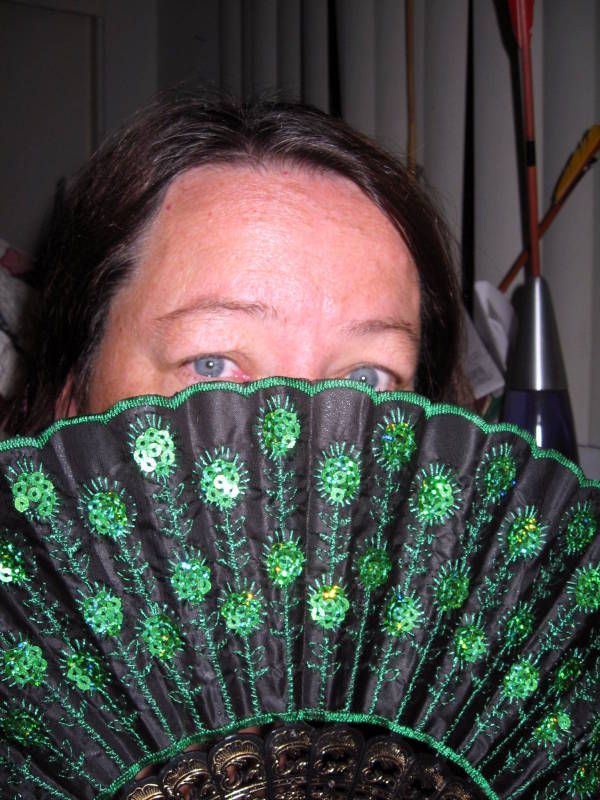 Some of the props to keep your eyes peeled for are wooden stools and chairs, fans, canes, feather boas, parasols, stuffed animals, hand mirrors and free standing mirrors, vanities, Victorian style lamps and statuary and faux weapons. You never know what you might run across at a thrift store, yard sale, or auction.
Don't forget the theme of your costume. Any uniform style costume can be fleshed out with finds from the military surplus stores. This is of particular interest if you are making a steampunk burlesque or belly dancing costume. Keep your eyes open for military insignias, patches, buttons, socks, hats, and props you can use.  Think big like a parachute or mosquito netting for your stage set or small like leather shoelaces for your corset.
I have a habit of raiding the dollar and .99 type stores fairly regularly. Merchandise moves fast at that price, and some amazing things wind up in there sometimes. I got a fantastic assortment of glittery fans once that were perfect for burlesque. I bought one in each color knowing they'd fly off the shelves.  Sure enough, I've never seen them again.  I've also gotten name brand fishnet stockings there. Sometimes what you buy will be useable right out of the package. More often than not you'll have to embellish it or modify it.
Right now I am enamored with the gold barstool that Pink kicks over in the Moulin Rouge Lady Marmalade video.  I have my eyes peeled for a cheap wooden barstool which I will then spray paint gold.  They do have them at Michael's so if you have a 40% coupon out of their ad that would be one way to go. Ikea probably has them, but I don't get out that way much.
I have a wooden chair I got for free out of a trash bin. I cleaned it up and painted it in a goth style with crackle paint.  I use that for a lot of photo shoots.  If you buy something you are planning to stand on or kick over, make sure it's sturdy enough to bear your weight and handle some abuse.
Another out of the way place you may never have been to is a magic and juggling shop.  They often have quirky items like gorilla heads, fancy gloves or giant fans. If you want to embellish your own props and accessories, a Bedazzler is your best friend.  You can use this simple tool to put rhinestones on fabric, hats, gloves, bras, curtains. Interesting parasols and umbrellas can be found at import shops and China towns. With Steampunk being so popular now, I've seen a few commercial patterns for umbrellas as well. So you can take the canopy off of a store bought umbrella and cover the framework with some nice lace or organza or whatever pleases you. Or make a tattered zombie umbrella for some zombie burlesque.
If you have access to a lathe or a whittler, you can make some nice hairsticks with interesting decorations on the tips. Or you can modify wooden chopsticks. Look for bigger furniture on sites like Freecycle or Craig's list. You might luck out and find a loveseat or an armoire you can use. Or if you have an existing vanity you can swap out the draw knobs for more Victorian looking ones . You might also want to get a screen room divider.  These are usually costly, but you can make your own out of rummaged parts or I've seen them on sale at Big Lots and import shops and even at Joann's Super Store around the holidays.  You can use it strictly as a stage decoration or actually change behind it and drape a bra or a boa over it for effect.
Don' forget to consider your music when getting your props together. You wouldn't normally think of a tennis racket or a bow and arrows being burlesque props, but they might be if the dance number called for it. Maybe you are doing a Tarzan and Jane spoof and need vines and stuffed monkeys. Keep an open mind.
I hope I've given you some idea to spark your imagination and get you going.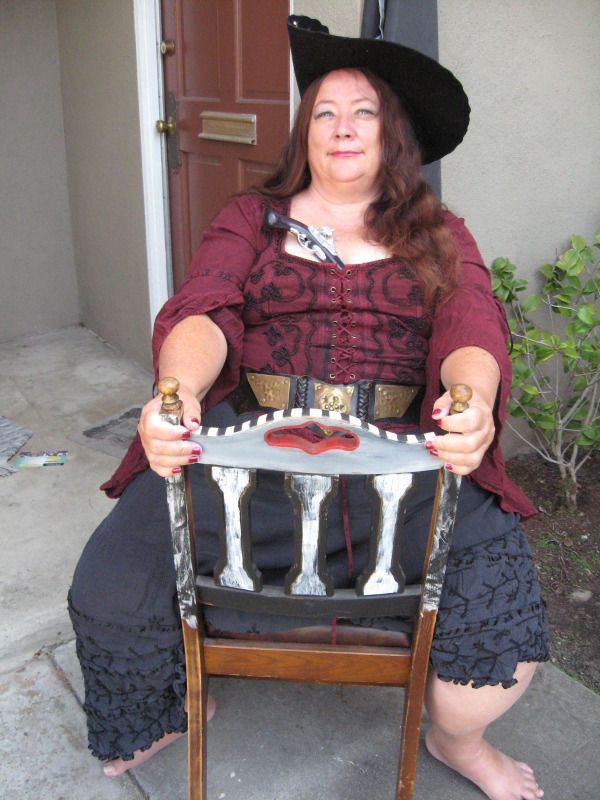 The chair I repurposed.
This is an article written by a member of the SheKnows Community. The SheKnows editorial team has not edited, vetted or endorsed the content of this post.
Want to join our amazing community and share your own story? Sign up here.