This article was written by a member of the SheKnows Community. It has not been edited, vetted or reviewed by our editorial staff, and any opinions expressed herein are the writer's own.
Most conversations are simply monologues delivered in the presence of a witness."  ~Margaret Millar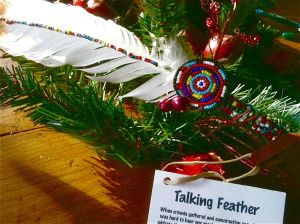 Like many of the items at The Leaping Lizard gift shop in Traverse City, Mich., the talking feather is steeped in Native American lore. The moment I spotted it, I knew I had to own it.
Attached to a thin leather cord, the feather is nicely embellished with strands of brightly colored beads. But the legend printed on the card that came with it is what cinched my decision to buy it:
"When crowds gathered and conversation grew louder, it was hard to hear one speaker, so the person wishing to address the crowd was passed 'the talking feather.' It was held above the crowd to signify that the person had the floor as speaker."
I'm no expert on Native Americana, so I can't vouch for the authenticity of this charming legend. Regardless, it occurs to me that -- given a fair chance -- the talking feather could restore the dying art of two-way conversation.
I won't even touch on political discussions in Washington. But just imagine what would happen if you brought the talking feather to family gatherings -- especially during the holidays -- where several conversations are carried on simultaneously, in competition with televised football games. Every in-law would be entitled to speak his mind while the rest of the family would listen intently, the room hushed. The magic words, "Please pass the talking feather," would enable everyone to get a word in edgewise. There would be fewer interruptions and better digestion.
And imagine how different things would be if everyone carried a talking feather to work. Colleagues would air opinions more carefully, taking time to breathe between sentences. Inspiration would have a chance to percolate at morning coffee breaks.
In any type of social situation, the well-timed use of a talking feather could silence -- at least temporarily -- the ramblers, egotists, narcissists, braggarts, jabberwocks, and other conversation dominators who love to hear themselves talk (even if nobody else does). In classrooms, too, teachers could silence a roomful of chatty youngsters with a mere wave of a feather.
A born talker, I'm inclined to interrupt, and sometimes I let my thoughts rush out of my mouth like too much salt from a shaker. I often find myself wishing I could take back the foolish things I've said. But what if I carried the talking feather in my purse, or hung it around my neck, to remind myself to think carefully before speaking?
"The right word may be effective," Mark Twain once said, "but no word was ever as effective as a rightly timed pause."
All said and done, good conversation is a reciprocal exchange between people -- never a monologue. So here's a simple test: The next time you leave a holiday party, ask yourself if you've spent more time explaining yourself -- or learning something new about someone else. Just sayin'.
This is an excerpt from a longer and slightly different essay published in Cindy La Ferle's award-winning essay collection, Writing Home.
Cindy La Ferle is a nationally published journalist and author with a special focus on women's issues, including home, family, motherhood, and milife. She blogs at Cindy La Ferle's Home Office.