While shopping at Lowe's this weekend, my family was greeted by a large inflatable Santa Claus.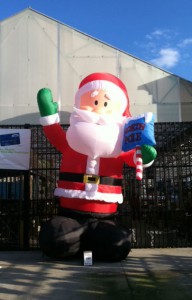 Santa Claus shouldn't be waving to us in October.
It's barely mid-October.
It seems retailers are bringing out the Christmas decorations earlier and earlier each year. I remember complaining about seeing Christmas trees and lights last year around Halloween.
But Lowe's really pushed the envelope with a gigantic inflatable Santa outside the store. Halloween is still weeks away, but you had to walk into the store to find those decorations. And they were hidden by the garden hoses.
I do not want to see Santa waving to me from Lowe's parking lot in October. I want to see pumpkins, witches, skeletons, fake gravestones and cornstalks. I want Indian corn, fall mums and hot apple cider.
This is an article written by a member of the SheKnows Community. The SheKnows editorial team has not edited, vetted or endorsed the content of this post.
Want to join our amazing community and share your own story? Sign up here.