Your body. Your definition. Now on Facebook.
Facebook added the ability to set your gender outside the binary male/female choices just in time for Valentine's Day. Now you can define yourself with a choice more reflective of who you really are if the binary choices don't cover it.
Facebook on phone, Image Credit: Shutterstock
Here's How to Update Your Gender Settings
1. Choose Edit Profile. If you're on the page with your News Feed, it's under your name at the upper left.
2. Scroll down to the Basic Information Section and click Edit.
3. You'll see a gender option. Use the pull down menu to select "Custom."

4. Start typing in the input field. After you type the first letter, Facebook populates the list with options based on your first letter. I typed a "c" thinking that I would like to identify as "crone."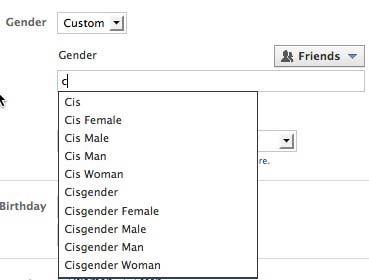 As you can see, crone isn't an option. I tried typing it in and saving, but got an error message. It will only let you choose one of the options offered. (There are about 65 choices in all.)
I typed a "f" in the box. Here are the options offered. As you can see, choices included options with "f" in many places, not just as the first letter.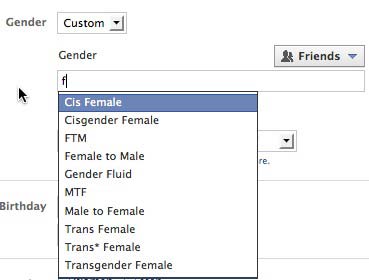 5. Pick a pronoun. If you choose a custom gender definition, you have a chance to choose your pronoun.

The pronoun choices are limited and don't offer some common choices that people who don't fit the binary prefer. Maybe Facebook will add to the pronoun options later. They need to do that.
6. Save
Virginia DeBolt from Web Teacher and First 50 Words and Old Ain't Dead.
This is an article written by a member of the SheKnows Community. The SheKnows editorial team has not edited, vetted or endorsed the content of this post.
Want to join our amazing community and share your own story? Sign up here.