I have been itching to start a blog of my very own because of my "isolation" as a Green momma. I could complain about how hard it is living in the rural conservative tundra that is Arkansas but I'll save that for the next time someone scorns my cloth diapers!
I slowly found out I wanted to CD when I was about 4 months pregnant. I'm not even really sure how I started on this path...but after a couple google searches everything became pretty cut and dry. I never really asked any of my family or peers about cloth because to me it was just very simple and organic: it's cheaper, healthier, and cuter. I fugured everyone would be on board right? I mean what mother-in-law wouldn't want her grandson's mommy to want to save money and keep chemicals off her grandkids? HA! Boy was I wrong.
Its been a long stange journey since I outed myself as a "cloth diaper hopeful." I would love to say I've had some very supportive reactions from friends, but thats just not the case. Most of it has been disbelief, doubt, or down right anger and frustration. It's okay though. I've stayed strong and my desperate need for a "stash" hasn't waivered. I just decided to do it smarter and cheaper.
I am currently 34 weeks pregnant :) He's a boy. Chase Andrew Clyde to be exact. We had a blood pressure scare this last week and spent Thursday, Friday, and Saturday in the high risk hospital in Little Rock (UAMS). My BP went down and we were discharged but know that it will probably go back up and Chase will have to be delivered early. We had a scan to make sure he is healthy and the doctor said he appears to be a little over 5 lbs. He was practicing breathing which is a great sign and was very active all weekend.
So what do you do when you know your little man will be too small to wear those pre-loved Bum Genius One-Size that you found on Craigslist for WAY CHEAP? Keep shopping of course! No one loves a good stash-researching weekend like a pregnant lady on bed rest!
If there is one thing I have learned through my CD google searches its that the best kind of diaper is a variety of diapers! Am I right? I mean seriously there are so many different kinds and so many different experiences with CD's. I decided to get a "small" stash of newborn size diapers. I ended up ordering from Kelly's Closet because they are offering a free fuzzibunz perfect size in hook and loop when you spend $35. Plus free shipping for orders over $49 :)
So here's what I ordered:
4 Lil Joey's Newborn in Green and Blue
2 Kissaluvs AIO's Newborn size in Chocolate
2 Fuzzibunz extra small with Hook and Loop
1 Swaddlebees Newborn Simplex AIO in "Dinos"
1 Bummis Newborn size Super Lite Diaper Wrap in Red
In my stash I already have about 10 WAHM newborn size covers and pockets as well as a dozen flats and 2 dozen prefolds and 2 snappis. I also have about 30 different inserts and soakers (everything from fleece to terry cloth to micro terry to micro fiber) and the 12 BumGenius One Size diapers that I scored on Craigslist for $60 about a month ago.
I absolutely cannot wait to get my fluff mail from Kelly's Closet! It will be my first REAL brand name diaper stash! I hope that I have all I need for my stash but I know I'll end up ordering more one size diapers later on just for some cute prints and styles :)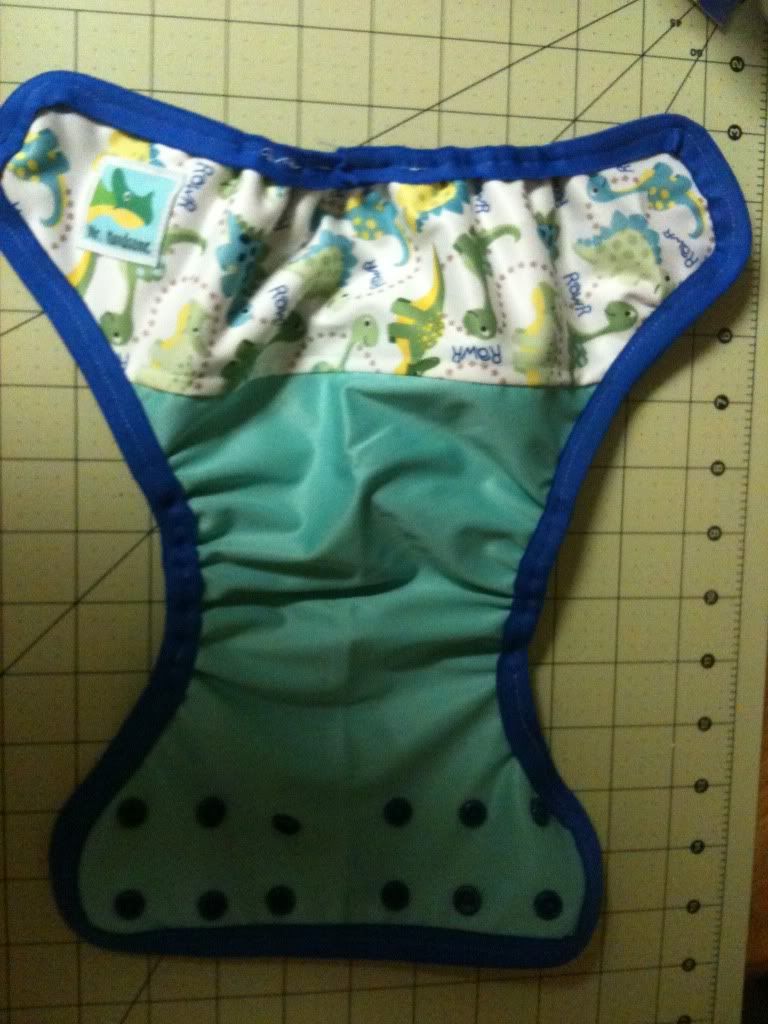 This is an article written by a member of the SheKnows Community. The SheKnows editorial team has not edited, vetted or endorsed the content of this post.
Want to join our amazing community and share your own story? Sign up here.