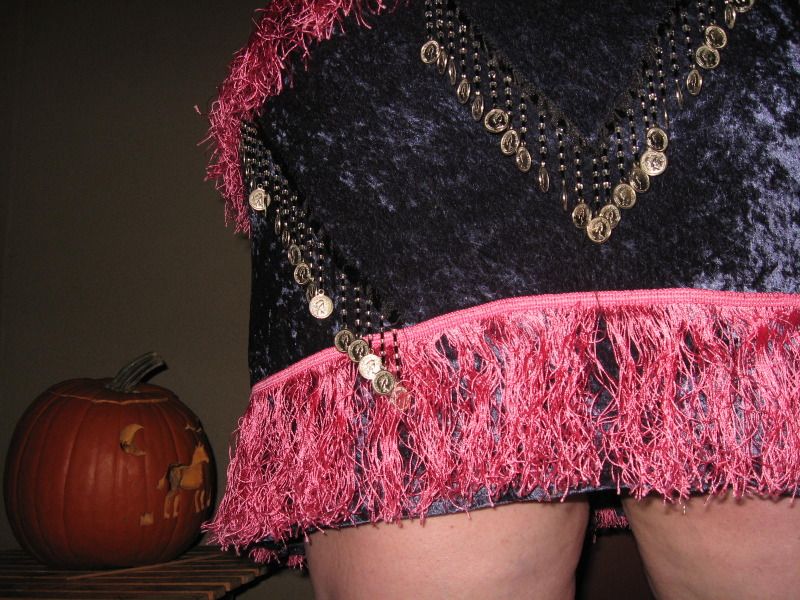 Hip wrap with fringe and coins.  More photos on page 2.
Let me start with saying I'm a big beautiful woman, so buying this off the rack just isn't going to happen for me. I have to modify everything anyway so why not make it myself in my favorite colors?
If you are like me and have been hoarding costume bits and pieces and scraps of fabric and trim for years you can make this look for practically nothing.  And if you just moved into an empty apartment yesterday with nothing but a sewing machine and a needle and thread,  you can still make this a lot cheaper than if you bought one in a costume shop.
First of all, if you are a belly dancer a lot of the same parts can be used for burlesque, and probably vice versa.
Take a week to shop your own closets.  Gather up things you already have that have lace, fringe, buttons, bows, and feathers.  It helps to pick a color scheme.  See if you have one pair of high heels or boots. Once you take inventory of whatever you have on hand, you'll see what you need to buy. Keep a special eye out for stretchy gloves, lace bras, stockings, especially fishnet stockings, corsets, camisoles and feather boas.
If you get a few friends in on the project, you can swap items as well.  If you do that you might not have to buy a thing.
Now if you are smart like me you shop the after Halloween sales at places like Walmart and Target.  Last year I got a office file box size bin full of wigs, gloves and false eyelashes. It sat there unused for a year until I decided to make five burlesque costumes.  What I'm saying is you probably have more stuff laying around than you think.
Of the five color schemes I picked, I settled on the one I knew I could get finished by Halloween night.
Next get to know your local shops well. In my neighborhood we have a shop called M & L Fabric and I know they have fringe, stretch lace trim and fancy fabrics for low prices because they buy end lots. And if you live by the LA or NY garment districts you know you can get good deals if you can haggle. Plus when a fabric store goes out of business, they slash the prices.  When Tall Mouse closed I got some fantastic bolts of beaded fringe for 90% off.
Since I made this the day before Halloween and on Halloween day, I had to pay full price for my stockings, but even so at Party City the full length panty hose fishnets were under $10. and the knee-highs were under $5. And don't worry if the ones you have have a few tears. It will make your costume look a bit more cute and trashy. You can wear up to 3 pairs of stockings over each other which will hide some of the flaws. I know the pantyhose won't fit me, but I plan to turn them into thigh hi's using some of the stretch lace. You can also make fingerless gloves out of stockings that are too small or damaged on the foot part.
I made the hip wrap a few years ago It's a long narrow rectangle of stretch velour with fringe and coins I sewed on. I used the colors on that to design the rest of the costume. For your costume, pick out your favorite piece and design the rest of the costume to work with it.
For undergarments, I had some black velour stretchy boy shorts. Basically I try to cover up everything a bikini would cover up. Being naked without really being naked is part of the illusion of burlesque.
I knew I had a blue lace underwire bra around somewhere. So I ferreted that out. I went to the fabric store and after some rooting around I found both pink and blue 2" wide fringe for $2.00 a yard and got 2 yards of each color.  Always buy a bit more than you think to be insurance that you won't run out. Never cut the trim to size before sewing it on, or it will always come up a few inches too short.  Leave it attached to the yardage, and only when you are an inch or so from the end, trim it and flip the end under. Do you best to avoid using a white bra.  Go with black or colored or even flesh toned as first choices. I sewed fringe to my bra and then put a matching brooch I already had in the center.
If you are good with jewelry, here is your big chance to link together costume jewelry to make boot chains, belts, hip wraps, earrings, hat bands, bracelets, or whatever you feel will rock your costume.
Now repeat this phrase: "Semetricality is the antithesis of style". For you this means you can finally use that orphaned glove that's been laying around. Wearing mismatched gloves or a glove on one hand and bracelets on the other is very chic. If you need inspiration go watch Pink, Little Kim, Maya and Christina in the Moulin Rouge Lady Marmalade video. And don't be afraid to wear 2 or 3 pairs of gloves at once in different lengths.
Now take some fancy fabric scraps and make a great big bow with ribbons streaming down for your tushy. Pin it to your skirt or boy shorts or hip wrap and shake your tail feathers.
I also got a few yards of stretch lace for my garters.  I bought it in black, red, and pink.  Always get more of the black trimmings because they will go with everything. I got some of the lace for as little as .69 a yard.
Think of the outfit as modular.  Sit down and sew on beads and doodads whenever you have some time. Enjoy the process and don't be in a big hurry to finish it.
Now for hats and headwear. You can use your natural hair and slick it back into a chignon and then wear a feather fascinator (hair ornament). These are easy enough to make or there are a ton of them listed on Etsy dot com. (Etsy also sells pasties, if you have a hankering).  If you are adept at making hats you can make a mini top hat or a pillbox hat or use a hat form and make a little bridal style hat (look for hat forms in the bridal section or try a dancewear shop). Or make a corny funny hat to match the theme of your outfit, like a hat shaped like a cupcake.Or if your burlesque outfit is nautical get a sailor hat at army surplus and add some trim to it. Wear it at a jaunty angle.
If you have a wig, wear that and pin the hat to it.
Plan something for your neck too, like a choker, pearls, a feather boa, or chains dripping off of you.  Or tie a big kitten bow and let the ends trail down your back.
You can also wear a bolero style vest over your bra.  If you have an old vest, don't be afraid to cut it smaller and add fringe or beads to it.
Now find a three way mirror if you can. Put things on, swap them around, check out the front and back and keep experimenting until all the parts play well together. If you have a digital camera and know how to use the timer, take photos from various angles to see if it's all working.
If you need a steampunk version, it's pretty much the same only make the costume in shades of bronze, brown, ivory, copper, dusty rose, deep purple, black or tan. You can modify a tiered skirt to be shorter in front to show off your legs. Look for vintage gloves at the thrift shops if you have small hands. Unfortunately my hands are too big to take advantage of that, but I saw three cute pairs with buttons just the other day. Haunt yard sales for fabrics, trims, junk jewelry, and old prom dresses. Remember this is more about creativity than dollars spent. For my costume, I literally had everything except for the stockings, eyelash glue, and a hat.  Since I was short on time, I did buy more fringe and trim, but that's because I didn't feel like digging through 20 boxes of stuff.
I plan to use my burlesque costumes for photo shoots.  If you are going to be performing in yours, make sure you use heavy duty fasteners on everything and sew (not hot glue) everything as securely as you can. After each show examine parts for wear and damage and fix it before you get on stage again.
Have fun. Send me questions if you get stuck.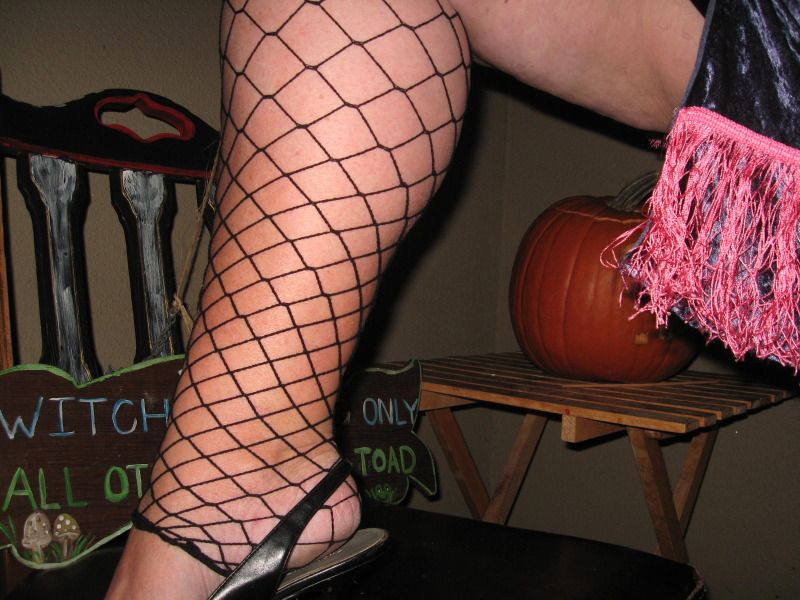 Knee high fishnets are stretchy enough to fit most people.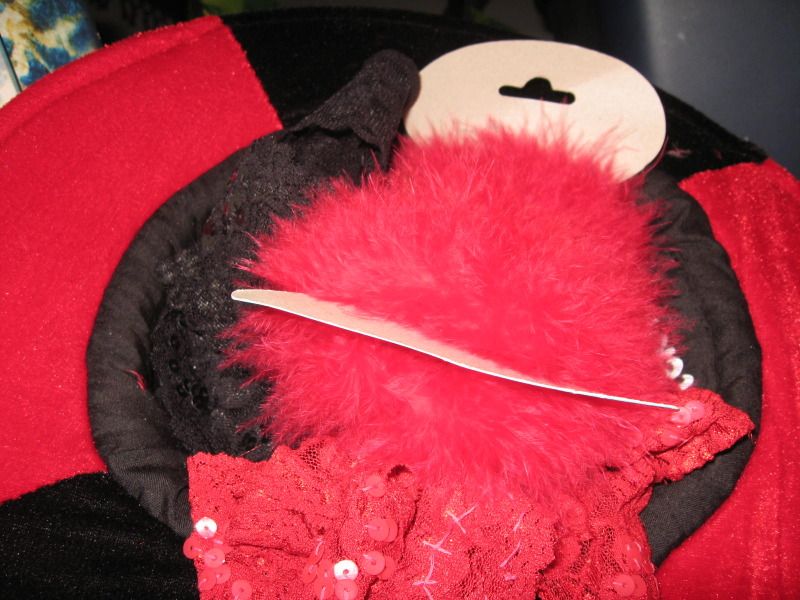 Velvet hat in red and black, maribou, trim, and stretch lace for the garters.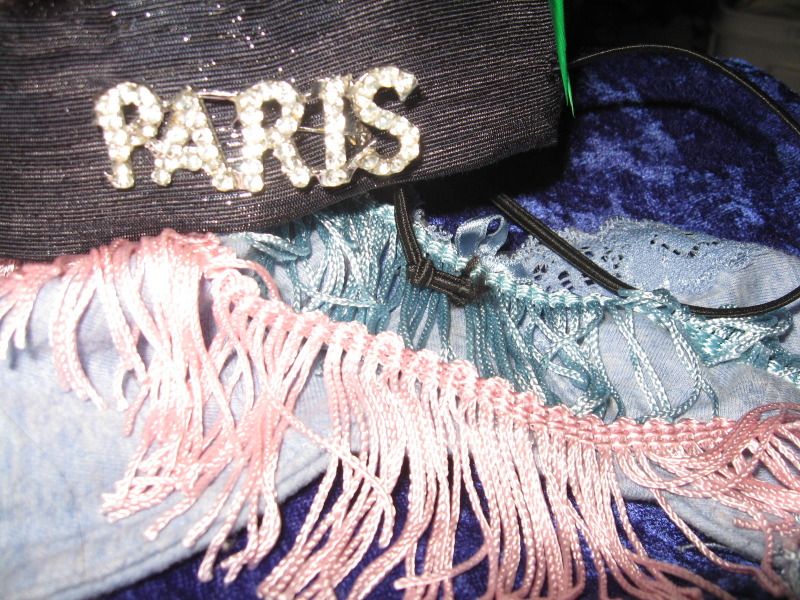 Blue and pink fringe for the bra. The Paris pin was in a box of jewelry I've toted
around for years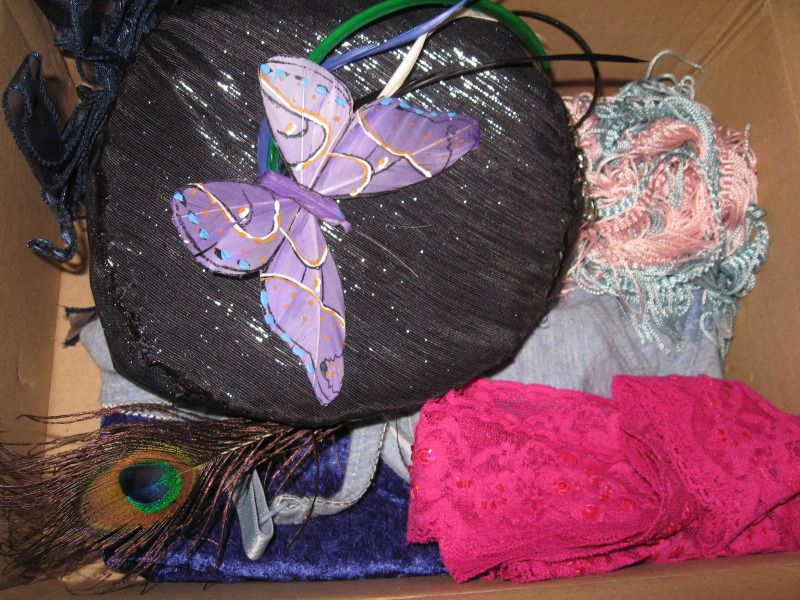 I made the pillbox hat with the butterfly a few years ago. The pink stretch lace is for garters.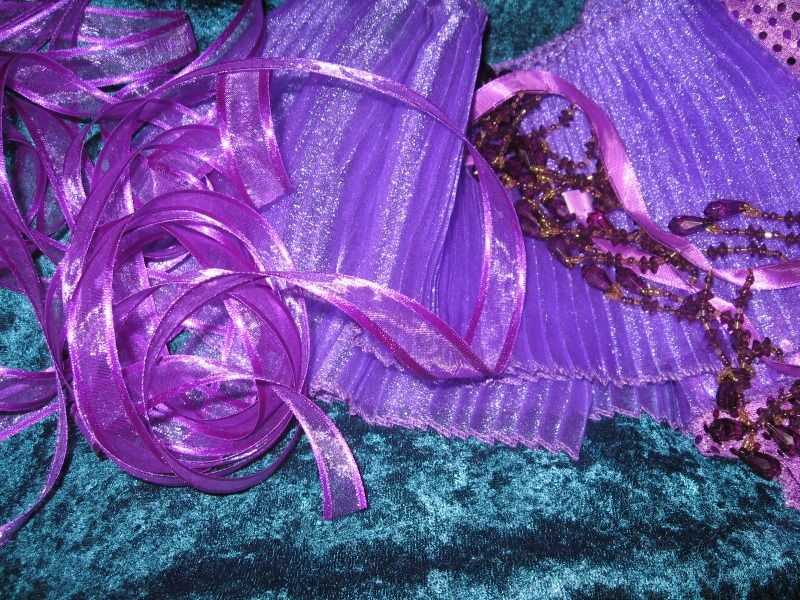 Purple parts for my next costume. I'm making a big bow for my tushy with the
wide pleated ribbon and narrow fancy ribbon, and a choker with the purple beads.
This is an article written by a member of the SheKnows Community. The SheKnows editorial team has not edited, vetted or endorsed the content of this post.
Want to join our amazing community and share your own story? Sign up here.