Next Saturday, neighborhoods everywhere will place host to goblins, spooks, and ghosts. Which means this week will be filled with craft projects to help build the properly spooky ambience. Let's turn to the blogs to find a few quick projects to help: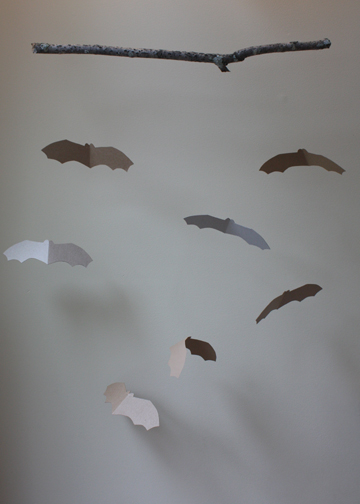 At the Long Thread, use thin cardboard and a stick from your yard or a field to make this Bat Mobile.
So here's an easy project made with thin cardboard. You can use cereal or cracker boxes, or save chipboard from packing materials, like I did here. I think these would also be pretty cut from patterned paper, if you are so inclined. I just cut these from cardboard, poked holes where the eyes should be and hung them to a branch using clear thread. This clear thread looks completely invisible and is light enough for the bats to fly around a bit.
Jennifer Perkins, aka Naughty Secretary Club, posted of her favorite Halloween How-To Videos. These include some fun costume accessories and party decorations.
When you empty your next cereal box, use it to paint a canvas tote in a halloween theme.  Ellen Baker posted this fun tutorial at Alpha Mom.  This same idea can be used to decorate t-shirts or sweatshirts -and I would suggest that using a "glow in the dark" paint would increase visibility for those out visiting the neighborhood Halloween eve.

Rachel Hobson at CRAFTzine found this felted sweater jack-o-lantern wall hanging project created by Betz White.He's made from a scrap of felted wool sweater placed in an embroidery hoop that I spray painted black. Then I pinned yellow felt to the back and reverse appliqued the features with black embroidery floss using a backstitch. After stitching, I cut away the orange to expose the yellow. The stem is a rolled piece of felted sweater ribbing, fringed, and glued on top of the hoop where the screw was.

Cheeky Magpie designed a number of small tombstone shapes perfect for decorating a shelf or desktop.  Print these out, glue them to cardboard, then decorate as you desire!  I think these would be fabulous placetags or name tags for a halloween party.  Would they?
Following Halloween, come the two days of Dia de la Muerte.  Rely on the Crafty Chica, Cathy Cano-Murillo, to create some fabulous crafts for this celebration, including this Embossed Tin Prayer Candle
All project photographs copyright their blog owners.
Debra Roby blogs her creative life at A Stitch in Time and her journey to fitness at Weight for Deb.