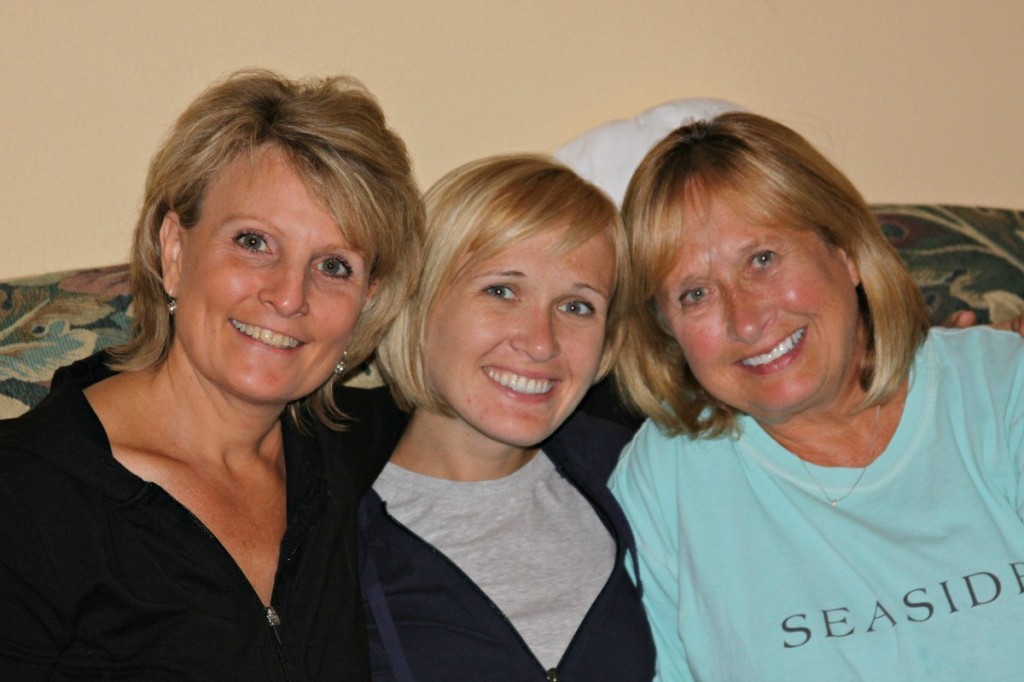 Barb, Cassy and Pat (Cassy's Mom)
Yesterday we welcomed Cassy's mom, Pat, visiting from Florida, to our home. But most importantly, Cassy was excited to share with her mom, (and help put her mind at ease) that her new home is a place of comfort, love and security.
Over two months ago we offered Cassy the lower level of our home as she contemplated a major decision regarding her marriage. It was a big decision for John and I to take her in. Never having kids, we value and love our privacy. But we adore and love Cassy, and we wanted to help her. We also believe in her and hope that living with us is just a stepping stone to the rest of her life.
We are not here to make her decisions for her, but hopefully to encourage her and offer guidance so she can thrive and move forward. I do believe it was fate that I met Cassy about four years ago.  No doubt there was a Divine plan in the making that none of us could have ever predicted.
I was a little nervous with Pat coming to see Cassy's new place. Like Cassy, I hoped her heart would feel better seeing that Cassy is in a good place.  I also wanted her to feel welcome and know that we will never step on the toes of her and her husband who are the most wonderful parents.  While we are here for Cassy in many ways, there is nothing like the love of a mother (and father).
While I've often said if I'd had a little girl, I'd have wanted it to be Cassy, I also deeply respect and admire the love between a mom and daughter. I happen to have such a relationship with my own mom. One I consider sacred and beautiful. And though I will never regret my decision to not have kids, I can't help but have a small twinge in my heart of curiosity of what that would have really been like if I'd had a child of my own.
Cassy living with us these last few months, as well as the friendship that developed between us before this, has me giving thanks though for what I consider just another affirmation that this was to be a part of my journey. To be a mentor. To help a young person in a special way.
Side by side, arms across each others shoulders, John and I following behind, Cassy and Pat stepped into Cassy's new "home sweet home."  Pat became overwhelmed with tears as mom and daughter turned to each other and hugged. Pretty soon all our eyes were filled with tears as Pat turned around and said, "Thank you."
The love of a mother for her daughter is priceless, as is the love a daughter has for her mother. To now know that Pat feels good that her sweet daughter is in a place with people who love and care for her, makes me feel very blessed to be a part of both their lives.  While I will never be Cassy's mom in the sense of what motherhood is, I promise to do my best to give Cassy the best support I can– so that one day she finds herself strong enough to step into the next leg of her journey.
Barbara Techel
Award-author of Through Frankie's Eyes: One woman's journey to her authentic self, and the dog on wheels who led the way
This is an article written by one of the incredible members of the SheKnows Community. The SheKnows editorial team has not edited, vetted or endorsed the content of this post.
Want to join our amazing community and share your own story? Sign up here.