In addition to stress-reading Harry Potter, my go-to stress food is Nutella. It's something that just tastes good. That has dubious nutritional value despite the fact that the label tells you that orange juice, Nutella on wheat bread, and a glass of skim milk makes a healthy breakfast. When I eat it, I am instantly back in my great-uncle's kitchen.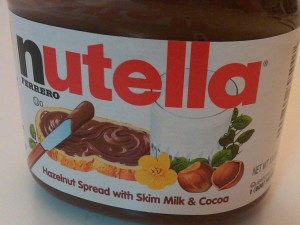 When I tweeted about eating Nutella, it immediately got dozens of people emailing and tweeting and facebooking about Nutella. When I write about half-sour pickles, a few people half-heartedly jump into the conversation. People may like pickles, but it doesn't mean enough to them to let me know. When I tweet about Nutella, there is a collective orgasm across the blogosphere.
The same thing happens when I write that I want an iPad. Those words make people who don't own one start twitching uncontrollably, panting about how they want it too (seriously, being so close to them yesterday almost caused me to faint). The word "iPad" makes those who do own one already roll around in the words in ecstasy.
Write about a netbook and you'll have a few people shrug their shoulders and say, "yeah, I like mine." Write about an iPad and you'll have people shriek: I LOVE IT SO FUCKING MUCH THAT I RENAMED MYSELF IPAD LOVER SMITH. I LOVE IPADS I LOVE IPADS I LOVE (and then the words mysteriously stop because the writer faints away cold to the floor).
Puppies. Kittens in adorable positions. But not turtles. Write about your turtle or post a picture and you'll get a shrug. Write about your bird and you'll probably get people to unsubscribe to your Twitter feed or blog. Write about your puppy and people literally lose control of their bladders as they leap towards the keyboard to shout out a resound, "me too!" or "he is soooooooooo cute!"
I am trying to think up more things that people just love to love. And yes, I'm well aware that one of my favourite people in the world can never eat Nutella and therefore probably doesn't have strong feelings about it. And there are people like my great-aunt who probably doesn't spend a lot of time thinking about the iPad. And there are people like me who just don't have strong feelings about puppies or kittens.
But I'm going for the average person: certain topics elicit gushing for some reason, and other, similar topics elicit shruggy "me toos."
Muppets. Everyone loves the Muppets. Bring up the Muppets and people start singing "Rainbow Connection" or talking like Fozzie Bear. Where the Wild Things Are (the book; not the movie). Reading on the beach.
What else would you add to this list?
Melissa writes Stirrup Queens and Lost and Found. Her book is Navigating the Land of If.