After five years of hosting cookie-decorating parties at home, Lydia from the Rhode Island food blog The Perfect Pantry is now organizing cookie-decorating parties all over the country, the world even.
And we're the bakers! and our family and friends are the decorators! But the home-baked and hand-decorated cookies aren't for our loved ones, they're for food pantries, women's shelters, senior centers, places right in our own communities where big cookie-smiles can spread cheer.
Lydia explains: "Drop In & Decorate: Cookies for Donation is a simple concept: bake some cookies, invite friends or family (or neighbors, or co-workers) to drop by and help decorate, then donate your cookies to a local food pantry, emergency shelter, senior center, lunch program, or other community agency serving neighbors in need. Drop In & Decorate parties have become a wonderful tradition for many friends and families — a way to "give back" and have fun, too."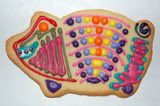 Lydia makes it easy to host our own parties. She's written a "How to Host Your Own Cookie-Decorating Party Guide", which includes special recipes for cut-out cookies and an extra-hard decorator's icing, plus supply lists, baking tips and hosting pointers. (Here's the guide.)
Plus she enlisted the generous support of King Arthur Flour, which developed a special baking kit just for Drop In & Decorate -- perfect for non-cooks since both the cookies and icing come in pre-made mixes. How easy is that? Now all we need is a date and some friends!
So bloggers and blog readers, will you help Lydia spread some cookie smiles?
First, will you help spread the word, please? Blog about it, for sure! And share the idea with others, too. Talk it up! Think, who do you know that might get excited about this idea? A Girl Scout troop? A church group? A Slow Food gathering? A bunko group?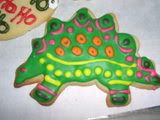 Second, how about hosting your own party? Perhaps with a neighborhood group? your book club? a department at work? just the family? (Wait! Food bloggers! This is a food blogger event waiting to happen!) Start small if you like, just a couple of batches of cookies, it's all for good fun and a good cause.
So head on over to Lydia's The Perfect Pantry for all the details and inspiration. Let her know what you think, be sure to mention you're visiting from Blogher!
This year, BlogHer food editor Alanna Kellogg is converting her annual cookie swap into a Drop-In & Decorate party, though, hmm, at the moment, her guests don't know it.
This is an article written by a member of the SheKnows Community. The SheKnows editorial team has not edited, vetted or endorsed the content of this post.
Want to join our amazing community and share your own story? Sign up here.