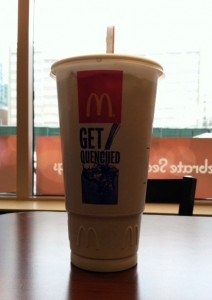 Anyone who has spent time with me knows that I love fountain drinks.  Like, love them-love them.  As in, nothing will make me happier than getting a Super Big Gulp-sized diet Pepsi/diet Coke.  The fact that McDonalds has made the id="mce_marker" large soda usually reserved for the summertime a permanent fixture on its menu has delighted me to no end.   That they have Coke Zero makes it my favorite fast food chain (well, it's a toss-up, because I LOVE Chick-fil-A chicken sandwiches but they are closed on Sundays so I have to go with McDonalds on this one).
A trip to Target is not complete without a 32-ouncer in my cart.  A road trip isn't a road trip unless I've stopped at a gas station and received a fountain drink for under a dollar (and sometimes less with purchase!)  I don't know what it is about fountain drinks.  Maybe it's the mixture, or drinking from a straw.  I think it's genetic because my aunt M on my mother's side has a similar addiction.  If loving fountain drinks is wrong, I don't wanna be right.
This is an article written by one of the incredible members of the SheKnows Community. The SheKnows editorial team has not edited, vetted or endorsed the content of this post.
Want to join our amazing community and share your own story? Sign up here.