If you want to live your travel dreams start living with less.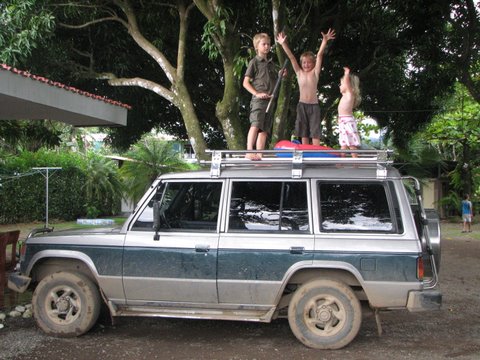 Our Wheels in Costa Rica: not flash but they went round
In 2007 my husband and I moved to Central America. We sold everything and set off for the
unknown with three kids, no spanish and no real idea where we were
going, or what we were going to do when we got there. We ended up being happily unemployed for 18 months and living in Costa Rica for a year. It was a brilliant experience and I'd do it all over again. To achieve it though we did have to make some compromises and give things up.
What Can You Give Up To Live Your Travel Dreams?
Flash Cars
We have an old no-name type car. But don't let your kids use your car as a climbing frame like we
did in Costa Rica or the roof rack will fall off one day while you're
driving along! We learnt this the hard way.
Fancy Clothes
This year I'm spending
12 months without buying any clothes for myself. I've had to get
slippers and a dressing gown to cope with the winter here and a wetsuit
for surfing, but apart from that, nothing for
myself, just a few things for the kids. I'm not dressing
in rags either and most of the time I even look quite presentable. Come November I'll be splashing out on a couple
of new dresses and t-shirts for the summer. Looking forward to it too!
Fine Food
In order to maximise my writing time we rotate our meals according to a fortnightly menu of family favorites which are quick, tasty and popular with the whole family. This is the biggest sacrifice. I food and would enjoy having more time to cook it, but
something has to give and when it comes down to it, I'd prefer to be
writing, walking, surfing or spending time with the family than
cooking.
A Home of Our Own
We're renting a house and will do so for a year of more. It's comfy but
it doesn't have all the finishing touches and personality we had in our
own home. My dream home's on hold.
Beauty Treats
Expensive face creams, facials, pedicures, massages, spa treatments are
now just the subject of the odd fantasy. Cheaper products and diy
pedicures seem to be just as good anyway.
Good luck with all your plans!
More Travel Inspiration
Find out how we used our savings to fund a dream trip to Central America: Live your dream in material world.
This is an article written by a member of the SheKnows Community. The SheKnows editorial team has not edited, vetted or endorsed the content of this post.
Want to join our amazing community and share your own story? Sign up here.