Facts:
1.  I am vain;
2.  time marches on;
3.  I am still vain;
4.  time still marches on.
I am getting old and my face is going to fall off and there isn't a thing I can do about it. Cheerful thoughts, cheerful thoughts.
This caught my eye in the store. Since I'm attracted to shiny things and stuff that might make me look younger, I bought it.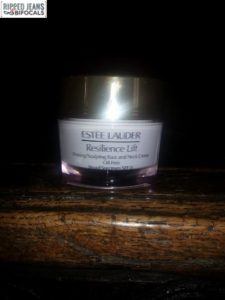 I didn't look at the receipt until later: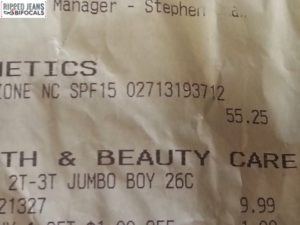 Fifty-five freaking dollars. What the what? I'm the sucker who just spent the better part of a Benjamin on wrinkle cream?
I used this gazillion dollar miracle cream for a week. It felt nice. It claims to firm but my face isn't really sagging yet, so I'm not sure if that really works. At least I hope my face isn't sagging. If it is, I haven't noticed. If you have noticed, keep that to yourself and leave me in the dark.
The cream is rich and thick but it sinks in fast and doesn't make my skin feel greasy and yucky. (This is nice because in spite of my crow's feet I am still in the throes of middle aged acne…so fun). And who the hell calls them laugh lines, anyway?  Nothing is that funny, especially when it comes to lines on your face.  It smells expensive (don't make me try to explain that) and bonus, it has SPF 15, not that anyone really needs sunscreen in England.
Enter the poor relation. I found this in the grocery store for $25 (with a $5 off peelie coupon. I love coupons).  And, I apologize in advance for my craptastic photography:
So we have "premium wrinkle spackle" for $55 or "the economizer" for $20 (which still isn't cheap to me).
Even though I didn't need more face cream I bought the Olay, probably because I was a little ashamed about buying a toiletry with a $55 price tag.  That makes sense in my head, people, just go with it, k?
I used the Olay for a week. It wasn't as thick but it still felt nice on my skin. It wasn't greasy and while it smelled good, it didn't smell as expensive. I am not sure that is even important, just an observation. I'm a "smell" person.
There is no sun protection in the Olay, but I'm pretty sure you can buy some without it setting you back $35, which is the difference in price between the 2. You can do a lot with $35, right?  You can, in fact, buy 6 containers of sunscreen for $35 at the grocery store for the "everyday low price".  I checked.  The Estee Lauder claims to "firm" while the Olay claims to "lift". I'm not sure that makes a difference for me or if a face cream can really even do that, but it sounds good to the consumers, eh?
Does the expensive stuff really work better? Am I going to look younger, firmer and smoother if I spend $55 on my face cream versus $20? Am I going to be happier, sexier and overall more satisfied with life? Estee Lauder would certainly like me to think so.
After using both of these, I've decided that the Olay is good enough. I'm a believer in "you get what you pay for" but I don't think the extra cash spent on the expensive stuff gives enough bang for the buck to justify the price.
There are always offers and coupons available for Olay products.  This stuff is always on sale at Walgreens or CVS, and CVS actually has a  pretty good generic equivalent of Olay. There are always sales, coupons and other offers to save you from paying full price for your wrinkle spackle.  Even at full price there is still a HUGE price leap between Estee & Olay.
Vanity is one of my worst faults; I admit it. If I pass a mirror 10 times, I look at myself 15 times.  That makes sense if you know me.  I know I'm not alone on the "wanna look younger, firmer, smoother" bandwagon. Please. Go in to any drug store or department store and check out how much crap is marketed to women to use as weapons in the war against time. There is a ton. of. stuff.
My vanity hasn't gone completely out the window since becoming mom to my virtual twins, but it has significantly geared down. I think it's probably due to not having as much time to primp as not having as much "give a shit".  I still look in the mirror a lot and think "I should go to the gym" or "I totally need to tweeze that"…but I'm just so tired.
I still care about what I look like but most days, I'm shooting for a happy medium between "wow, sexy mama! Can't believe she's forty-something" and "man, what a hag! She should put a bag over that". Most days, I think I succeed, and in the end, I guess it doesn't matter which wrinkle spackle I use.
Estee, you're a high end champagne with diamonds in the glass kinda girl.  No doubt about that.  And while I appreciate that, I think I'll hang with Olay.  She might be a Two Buck Chuck kinda girl but I think she's more my speed.
What do you think about face creams, the cost of cosmetics, aging or vanity in general?  Leave a comment – I love that.
This is an article written by a member of the SheKnows Community. The SheKnows editorial team has not edited, vetted or endorsed the content of this post.
Want to join our amazing community and share your own story? Sign up here.