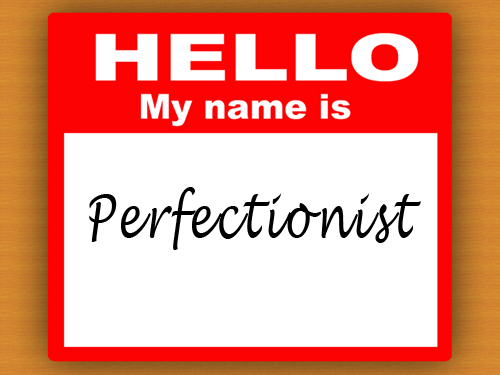 Since it's Throwback Thursday in Facebookland and this May 2013 post fit tonight's topic perfectly: Does blogging bring out your best or worst self? I'm going to do a blog rewind and it's new to you, lol!
I admire people who have these grand ideas of putting out projects and starting blogs… and actually follow through. They know it's not going to be perfect and along the way they work to improve it to make their vision all it can be. These people are my heroes. And that's not an exaggeration. 
Here's why: Moi, a self-diagnosed perfectionist has been "perfecting" this here blog for nearly FOUR years… that's right 1-2-3-4. Meanwhile, I've had friends up and start blogs and organizations. I'm not hater, but it does make me realize how much precious time has been wasted.
Oh, the fantastic blog posts that I had concocted in my brain that never made it to the screen.
Like when at age 27  I had to give in and buy that tube of Aspercreme for my aching joints when I was first diagnosed with lupus or when I had to cut my waist length dreadlocks because lupus made them fall out, and countless other topics that I know people who suffer with lupus could totally relate to. But I've gotten in the way.
A little background on how Lupus Sistas came to be. I was in the middle of a bad flare and my doctor at the time prescribed a Z-pack of prednisone to get past the pain.
Anyone familiar with prednisone, a love/hate drug for many lupus patients, knows the side effects.
You either feel like Beelzebub himself is doing the wobble on your last nerve or you feel completely unstoppable. I felt like the latter.
Oh it was a sight to see! I was like every young, passionate writer you see in the movies. I was scribbling ideas down at 3 a.m. and pitching the website to anyone who would listen – even my poor mother-in-law got an earful. But since then, life's twists and turns put a damper on the vision. My passion turned to shame and embarrassment when anyone brings up the project.
Maybe it's inevitable as a former journalist to get hung up on the byline and all it represents. It's in our DNA to proof and edit – perfect.
And as I think about it I was raised this way. I'm still puzzled why my Dad thought it was good idea to wake me up in the dead of night to write an essay. Like… who does that?!  Simply put: Perfectionism ain't cute. 
Fear found its way in there too. I constantly go back and forth about whether I'm putting too much information out there.
Do I really want the world to know that I need a kidney transplant? That I can feel the rain coming because my body aches, that my husband and I are heartsick that we even have to consider adoption to achieve our dreams of having a family?
Speaking of family, what will MY family think? Better yet what will future employers think? If they happen upon the site, will they see my confessions as weakness and my employment as a liability, or will they see a woman who fights despite her illness?
And yes you, the invisible reader. I care about your thoughts too.  
 
These are the questions that have been floating around in my mind for nearly four years.
But no more. I'm pushing the button.
Will it be perfect? No. And that's OK.
But it will be perfectly heartfelt, educational and at times entertaining. 
Old habits die hard. ** ;-) **
This is an article written by a member of the SheKnows Community. The SheKnows editorial team has not edited, vetted or endorsed the content of this post.
Want to join our amazing community and share your own story? Sign up here.