Originally posted on January 4, 2013 at Two Martini Lunch.

Dear 2013, I thank you in advance for being exceptionally amazing to my friends and family.
source: Happy New Year Sms & Wishes
Dear Teenagers, I am also sad that school is starting again on Monday.  Really, I am.
Dear Mom & Mother-in-Law, thank you. That's all – just thank you.
Dear House Fire from 4 Years Ago, Thank you for not taking all of our memories. Like this one. It is old what can I say?
Dear Audra (the most amazing hostess ever), Your chocolate-filled tasting party was the perfect end to 2012.
Dear Kirsten, You will do great at just BE-ing.
Dear Way, Please remember your travel documents next time – next time being when you go to Thailand.
Dear Happiness, Thank you for coming into my life just in the nick of time.
Dear Blog, Thank you for my cheap form of therapy.
Dear To Do List, Thank you for being manageable for the first time in about six months.
Love forever and always, Kim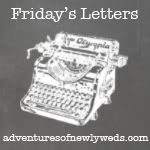 This is an article written by a member of the SheKnows Community. The SheKnows editorial team has not edited, vetted or endorsed the content of this post.
Want to join our amazing community and share your own story? Sign up here.