This article was written by a member of the SheKnows Community. It has not been edited, vetted or reviewed by our editorial staff, and any opinions expressed herein are the writer's own.
I've finally gotten my act together and my eBook is complete and available for download. If you haven't signed up for our mailing list yet and would like a copy of the eBook, you can do so here: http://forms.aweber.com/form/86/1006892286.htm.
____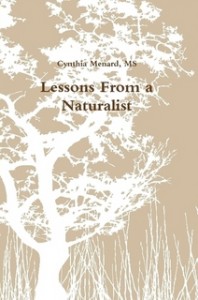 For more information on the book, visit the Lessons from a Naturalist page at Withywindle Books where you'll find a description, and you can purchase a bound copy of the book if you're interested (but the download is free regardless of whether you buy a bound copy).
If you've been reading my blog for the past few months, you'll recognize most of the articles in book, although they've been edited a bit, and the chapter on tracking has a section on tracking canines that wasn't published in the blog.This is a pretty informal publication; it's basically a collection of recent blog articles that I wanted to keep easily available as the blog progressed and the articles got buried. I anticipate publishing more free collections of articles in the future, each of which will be based on a different theme, but for now this first collection will be a bit eclectic.
Feedback is always welcomed – both positive or critical; you can leave comments here or by email at: cynthia@withywindlenature.com.
___________________________________
Cynthia Menard
Withywindle Blog