I've never been crafty. Even as a child, I had no desire to put macaroni on string or glitter on globs of glue. In the summer of 1989, I asked my VBS teacher to "teach me about the love of Jesus and leave the Popsicle sticks out of it."
I don't dislike crafting because I think that it's lame. I dislike crafting because I'm terrible at it. I have friends with Cricut machines and Rubbermaid totes full of felt and googly eyes. I see their creativity come alive in monogrammed coffee cans and toaster cozys. I don't particularly need a felt googly-eyed toaster cozy, but it'd be nice to successfully make one if the urge ever came upon me.
I once had the terrible idea to make my kids some jigsaw puzzles with an actual jigsaw. As splinters flew into my retinas, I lost all of my crafting confidence, part of my eyesight and I nearly lost a thumb. I finally accepted the fact that I wasn't given the gift of craft.
My daughter sees my lopsided wreaths with sloppy bows and crooked pine cones. She remembers the "looming incident" of 2011, but she still wants Mama to be her crafting buddy. I reluctantly gave in last night and we came up with five crafts that are so simple an idiot (read: I) could do it.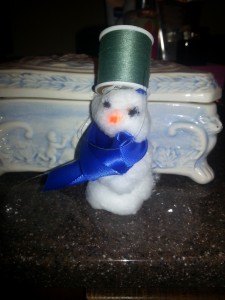 Stick three cotton balls together with a glob of spit, use a Sharpie for eyes, an orange hi-lighter for the nose, a piece of scrap ribbon in the bottom of your bathroom drawer for the scarf and a spool of thread for the hat. Spit isn't the best adhesive, so I advise that you to prop it up against something so it doesn't "melt".
The Notebook Paper Snowflake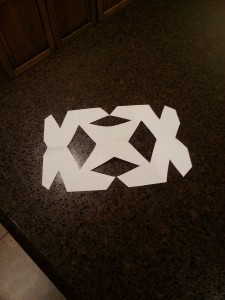 This is really nothing new or exciting to the world of crafting. I think I first attempted this project when I was five years old. My snowflake looks more like the militant symbol of some rebel in The Hunger Games, but it does, indeed, qualify as a craft. Just fold a piece of notebook paper in half and go to town on it with scissors. Simple.
The Cup/Ice Cream Cone/ Paper Towel/ Cheerio Santa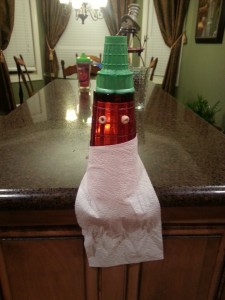 All you need is one red cup, two Cheerios (also stuck on with a glob of spit), a Sparkle paper towel and a green ice cream cone to make an absolutely amazing and easy craft that is sure to be a hit on Pinterest.
The Ice Cream Cone/ Squeeze Cheese/ Cheerio/ Eraser Christmas Tree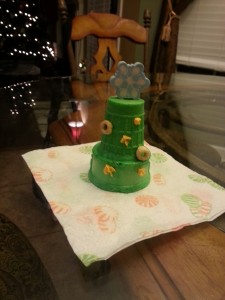 When the Cheerio eyes fell from the Santa Cup, I merely refreshed them with another glob of spit and stuck them onto the green ice cream cone that I used for Santa Cup's hat. It looked somewhat bare, so instead of adding more Cheerios, I spruced it up a bit with Squeeze Cheese. You don't have to use aerosol cheese- any aerosol dairy product will work just fine. Top it off with a snowflake eraser and waa-lah! Craft gold.
The Black Sock/Hunting Vest/Poinsettia Placemat Door Snowman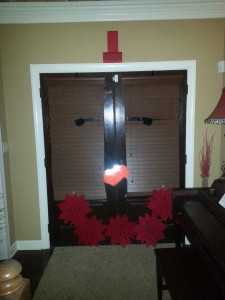 All you need for this amazing craft is a pair of black socks for the eyes, something orange for the nose (I used my husband's hunting vest), something for the mouth (I went super Christmas-y and used my poinsettia placemats) and a box for this a-door-able snowman's hat. And yes, I'm aware that this looks like some kind of creature straight out of The Neverending Story, but you must use your imagination, people.
There you have it! Five simple crafts for the un-crafty. Sure, they aren't jeweled Faberge-esque ornaments or oversized burlap reindeer, but they brought a smile (and a laugh) to my daughter's face, and that's all that really matters.
Keep the Cricut out of Christmas. Happy crafting.
This is an article written by a member of the SheKnows Community. The SheKnows editorial team has not edited, vetted or endorsed the content of this post.
Want to join our amazing community and share your own story? Sign up here.