Focusing on gratitude should, also, include gratitude in the workplace.
If you are an employee or have employees that are unhappy, it impacts so many things - work production, team morale, customer service, the list can go and on.
I'm thankful to work in an environment that recognizes and actively reflects an attitude of gratitude on a regular basis.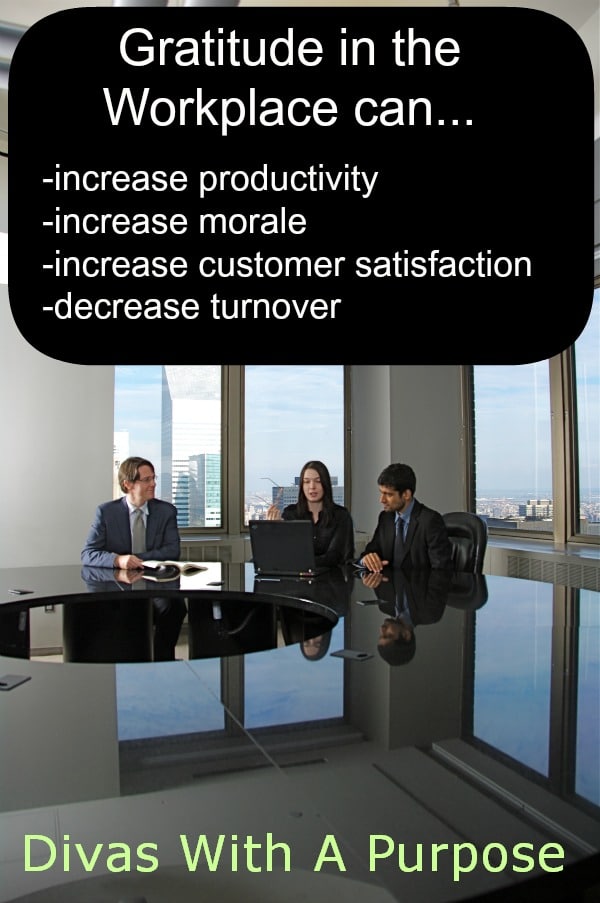 Ways to Show Gratitude in the Workplace
Of course recognition for a job well-done is always welcome and a sincere "thank you" goes a long way.
Peer-to-peer gratitude - having something in place where co-workers can thank one another is a huge morale booster. In my department, we have what's called a "fish bowl" - throughout the month employees are able to place their co-workers in the fish bowl by filling out a slip of paper stating why they deserve to be recognized. Reasons vary from helping with a task, filling in while someone was out sick or to helping get paper for the copy machine. The best part of our monthly department meeting is reading those slips aloud.
Show others you care enough by helping them improve on a task or meet a goal. Sharing your time and talents shows that you believe in the team and truly want it to succeed.
If you are in a leadership role, be open. Constructively tell your team members how they can improve and be willing to assist them meet their goals. If you are a team member, be willing to receive constructive criticism and ask your boss and team members on ways you can better contribute to the team. "How can I help?" goes a long way.
Accept thank yous, offers for support and assistance, and compliments.
This article first appeared on Divas WIth A Purpose 
Speak it! Live it! Be it!
This is an article written by a member of the SheKnows Community. The SheKnows editorial team has not edited, vetted or endorsed the content of this post.
Want to join our amazing community and share your own story? Sign up here.