This article was written by a member of the SheKnows Community. It has not been edited, vetted or reviewed by our editorial staff, and any opinions expressed herein are the writer's own.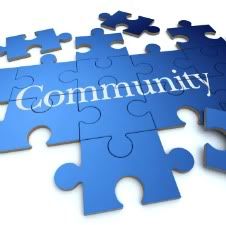 Overly the nearly two years I've been a part of the blogging world, as a blogger and a reader of blogs, I've come to realize such a vital part about growing your blog is creating a community. Part of that is having great content, and the other part of the puzzle is interacting with your readers, whether it's with commenting on their comments, clicking to visit their blogs, chatting with them on your Facebook blog page, or interacting with them on twitter, taking the time to interact with the followers of you blog is very important.
I've been on both sides of the fence. As a newbie blogger, I'd reach out to bloggers, sometimes with a comment, and other times with a tweet or an email. And you know whose blogs I still read two years later, while the rest have been pushed to the side, they are the blogs of the women who took the time to comment back.
As I launched my new blog six months ago, I knew that I really wanted to create more than just a blog, but a community, where not only could readers find that I had the time to read what they had to say to me, but also a place where readers could discover each other and click over to find new blogs. I'm still learning with this new project of mine, but I thought I'd share with you some tools and valuable lessons that keep people coming back.
1. Comment On Comments: In WordPress it's easy to see when comments come in because you get an email telling you so. I make it a point to spend time at night responding to as many comments as I can. I'm a working teacher momma, so I can't always get to all of them, but I try my best.  When I was with Blogger I had to set it up so that comments would be emailed to me. It was an extra step with Blogger, but so worth it. When you comment back, it shows the commenter that you care about what they have to say. And sometimes great discussions can happen within the comments of posts.  
2. WordPress Plugins That Support Community Building:
ReplyMe: Once you reply to a comment, it sends an email to the original commenter. Included in the email is the replied comment, but also a link back to the post so they can easily continue the conversation. Not all readers have the time to check back to see if you've responded to them, so this is a great option for readers to stay in the know.
CommentLuv: When someone comments, a link to their most recent blog post will show up below their comment. This allows you to check out what they are talking about, but also other readers can find new blogs that way.
Twitterlink Comments: This allows those commenting to add their twitter handle to their comment. This shows you another way to connect with your readers, as well as a way for all of your readers to find new people to follow.
WPTouch: This plugin allows readers to easily checkout a post on their smartphone, making it easier for them to comment on the go.
3. Respond To Emails: I have to say that I was put off when bloggers I would reach out to as I began my adventures in the blogging world, didn't respond to emails. I'm not saying to respond to every single random email, but if someone emails with questions about blogging, questions about a post, or a request for a guest post (even if you might not have time to do it), take a few minutes to shoot an email back. This shows your readers that you aren't some person who feels above them. Even a quick, "Thanks for reading and letting me know you dug what I had to say," can mean the world to a newbie blogger/reader.
4. Respond To Tweets: When I started tweeting a little over a year ago, I was nervous about it all. I was afraid to tweet replies to bloggers because I worried if they would even see it or care. I worried that they wouldn't respond. But once I got the hang of it, I started making connections and realized that many I tweeted with were reading my blog. And the more I tweeted with them, the more they came back to read my blog posts. Twitter is such a HUGE part of the blogging community. HUGE!
5. Respond To Facebook Comments: Facebook has become vital in the blogging network world. When I post a status update or a picture on my blog's Facebook page, I comment back when I can to those who comment to me. I make sure to ALWAYS tag the person I'm responding too, again, so they will come back. I know for me I'm more likely to check back on a blog Facebook page, if a message pops up that I've been tagged in a post.
6. Linkups/Blog Hops: Creating an opportunity for your readers to participate in your blog is so helpful in developing community. Not only do they feel like their voice matters to you, but it also allows them to check out what other readers have to say. This is slow going for me still, as my blog is still in its infancy, but I'm going to keep on going because it's helping so much to keep readers coming back to link up again. This is because I make sure to ALWAYS (even if it takes me a week…remember busy working teacher momma) click on the bloggers who link up and comment on their posts.
Do you have any other tips for creating a growing blog community? I'm still learning, but I'd love to know any other tips and tricks to keep the momentum going.
Image courtesy of iStockphoto, Franck-Boston
Tracy manages and writes for Liberating Working Moms: One Voice At A Time and tweets as @wa_tracy.