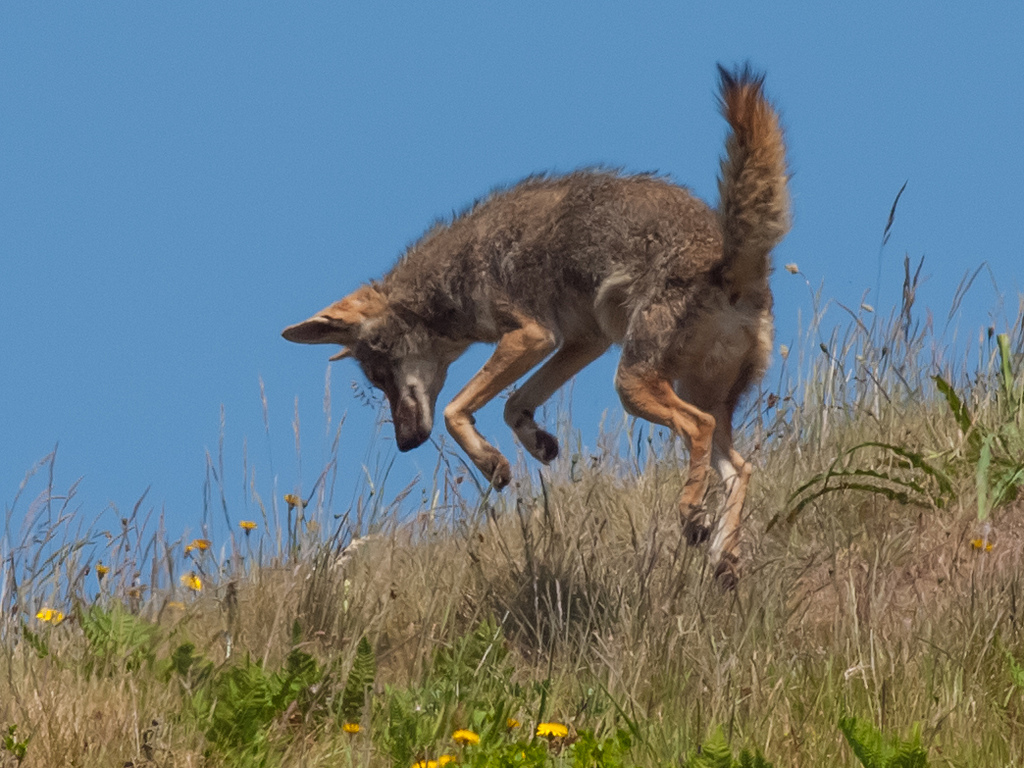 I've been drawn to coyotes for over 15 years, when I started learning about them through personal research and discovered how intelligent, adaptable and beautiful they are. I've always been a dog person, which probably adds to my inclination towards wolves and coyotes. But I also feel like there's something deeper – more personal – in my fascination with coyotes.
I've discovered through years of both casual and formal study that Coyote is my totem, or power animal. Everyone has one, whether they're aware of what that animal is or not, and knowing mine I've lately started focusing on the more archetypal aspects of Coyote.  Coyote was viewed as both creator and trickster by Native American plains tribes.  The ability to hold great magic, but to not always use it wisely or effectively was often Coyote's role in lore.
Coyote reminds us that lightness and play are important aspects of life, often when we're taking things too seriously.  Coyote masterfully blends knowledge and folly – read any coyote trickster tales and this becomes evident immediately. Much like the Fool card in traditional tarot decks, Coyote's wisdom might not be seen right away because of his foolishness, but he holds great knowledge just the same. Coyote's energies are tied to simplicity and trust, and reminds us that a childlike innocence is often a wonderful way to view the world (especially the natural world). And finally Coyote teaches the importance of humor and laughter – especially the ability to laugh at yourself.
Do you know your totem animal? Or perhaps just feel a connection to a particular species? Totems can be birds, insects, mammals, fish or any other type of wild animal. but they are usually wild, not domestic. What does your animal have to teach you?
_______________________________________
Cynthia Menard
Withywindle Blog
This is an article written by a member of the SheKnows Community. The SheKnows editorial team has not edited, vetted or endorsed the content of this post.
Want to join our amazing community and share your own story? Sign up here.