This article was written by a member of the SheKnows Community. It has not been edited, vetted or reviewed by our editorial staff, and any opinions expressed herein are the writer's own.
I've decided at the last minute to participate in National Blog Posting Month (or NaBloPoMo, if you can handle it. For some reason I can't handle the acronym. It makes me feel weird to think my way through it.)
So, that means that you should be seeing a post every day from me for the rest of the month of November.
The official prompt for today is: When you are writing, do you prefer to use a pen or a computer?
And, to that, I have to say, I prefer the computer.
So, there's this picture of me.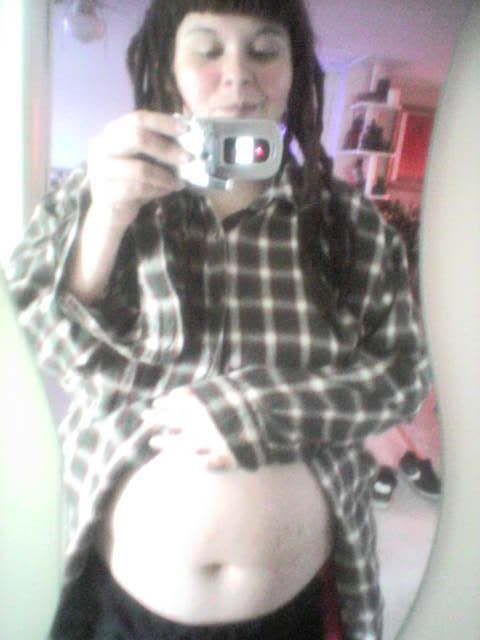 I posted it a few days ago. It's not new to you.
Kurt wrote me an email about it. Here is part of it:

I cannot stop looking at this picture.
This is a situation where, like, something seemingly small has a tine of wires and connections and meanings and roots twisting off of it. Like, when I die, if you were going to tell the story of my life with as quickly and as easily but as accurately as possible, this picture tells a million words about one of the most important pieces of my life.
There was my youth. Then there was my wasted youth. Then there's been my adulthood. And this picture tells everything you need to do about the bridge between my wasted youth and my adulthood.
This is my girl. That is my shirt. That is my baby in her belly.
I have to be very careful, here. This is exactly one of those situations where beauty and its magnitude start swelling in my chest until I think I'm going to come apart at the seams, and then I'll spend the rest of the day going insane, and I'll be insane when I come home, and I'll get upset at night over not owning enough of you, anymore - that's how it happens, by the way.
You are so fucking gorgeous, it breaks my heart. And in this picture, you're such a little kid. And when I see pictures of me from the same time, I'm such a little kid. And it's fun to look at these pictures, and want to hug these kids and tell them, "Hey, guys, it's going to be okay. It's going to be really, really hard, but it's going to be okay." And it feels good to realize that we're now in a place where we would have the right to say that to those kids. Because, yes, we're still often times... fucked. And, yes, things are still really, really hard. But we've come so far. And we've done it together.
I didn't realize what kids we were, at the time. But I see it, now. And thank you for letting me grow up with you at my side. Thank you for growing the world's two most amazing little souls in the safety of your belly, and for making a father and a husband out of me. This sounds weird, and I'm embarrassed by the sentiment, but thank you for loving me.
He also asked me on the phone if I would take off all of my clothes after movie night tonight, after it's too late and I'm tired and the girls are sleeping. He wanted to know if I would just lay next to him and let him be the center of my attention for a single hour. Could we talk and laugh because we're really funny and just be friends, like we used to?
When we were kids, we barely knew each other, but I knew him with everything in me. I knew him with all of my energy.
I think to myself, "Of course I can do that." What does it mean that my husband is asking me for an hour of my attention. Of course I can do that.
But, I don't. Not usually. While parenting is one of the most long-suffering and challenging things I've ever done, it has only managed to fracture my attention span. It's like I live in a place that hasn't happened yet, or maybe one that never will.
I don't give anybody my full attention, not even for an hour.
It's so bad that I'm bursting with darkness, I'm bursting with displeasure and dissonance. I write blood spattered stories about people who are losing their minds. I scratch with a mean little pen, telling tales that should make me blush.
It's like I'm either the homeroom mom or I'm a monster, froth in my mouth as I gnash my terrible teeth.
The truth is that I'm not anything.
I am wild and in between times. I drive too fast when I'm alone. I can't handle the sound of loud music. I need to be able to hear my voice above the din.
When I get alone, I feel so frenzied and raw. I feel like my palms are bleeding against a fevered grip on the moment. When there's nobody near me, nobody I'm responsible for, I say to myself, "Here is your chance to lay it all out. Here is your chance to flip everything on it's side. You don't have to be good and perfect and kind, right now. You don't have to be soft, your arms don't have to be open. You'd better tear a hole in your knee. You'd better bite down until you bleed."
I belong to everybody. I'm free to organize the winter party. I get up with my four year old and make waffles and snuggle in front of cartoons. I brush hair from foreheads. Attend play dates at the park. I wear earrings that dangle and sensible underwear. I let my kids eat crackers while we shop for groceries. I am everybody, just another one of us.
But really, I have a lot of sharpness inside of me. There is a lot of struggling against my skin, inside of me.
I am kind of a loner.
I'm really friendly and talkative and warm. I'm a good person to meet for the first time. I'm easy going and animated.
And also, I'm kind of an animal in a trap.
All I was meaning to say is that, OF COURSE I will give my husband my attention tonight after we watch a movie with Scouty. After we share Halloween candy and chips under a blanket. After he has fallen asleep and been nudged awake. OF COURSE I will just be something, be for real, belong to the living and the doing and the present moment.