It's census time in the United States.
The US Constitution requires a national head-count every 10 years, and the exercise is typically fraught with arcane debates over how people should be allowed to classify themselves, what questions should be asked, and who gets to decide what should be counted. For those of us who study the question of what it means to be American, the census is a historical marker of the judgments made by those with the power to name.
This year, for example, we have the option of identifying ourselves as "Negro" when we fill out our forms - an option that the Census Bureau says it is providing because 56,175 people who filled out the 2000 Census so named themselves.
That term, Roland Martin reminds us, "used to be a perfectly polite designation," although it no doubt reminds many black people of the days when someone else named us with the express purpose of putting us in an inferior place.
That history accounts for much of the fascination that drew Princeton University historian Martha Sandweiss to the tale of Clarence King, a renowned 19th-century geologist and New England blue-blood who lived a secret second life for 13 years as a black man.
In her book, Passing Strange: A Gilded Age Tale of Love and Deception (Penguin, 2009), Sandweiss excavates King's life as James Todd, husband of former slave Ada Copeland, and father of five. An excerpt from the book published in the New York Times early last year explains that Ada's interview with a census taker in 1900 created the critical public record giving Sandweiss entree into King's volatile secret. (You can also listen to the excerpt here.)
King was a literal rock star in his day. Born in Newport, Rhode Island in 1842, he had an Ivy-League education and a solid record of accomplishment as an explorer, geologist and mining consultant. He wrote a popular memoir about his youthful adventuring, Mountaineering in the Sierra Nevada, first as installments in the Atlantic Monthly, and later in book form. He was the first director of the US Geological Survey, and a popular bon vivant in the elite social circles of his day.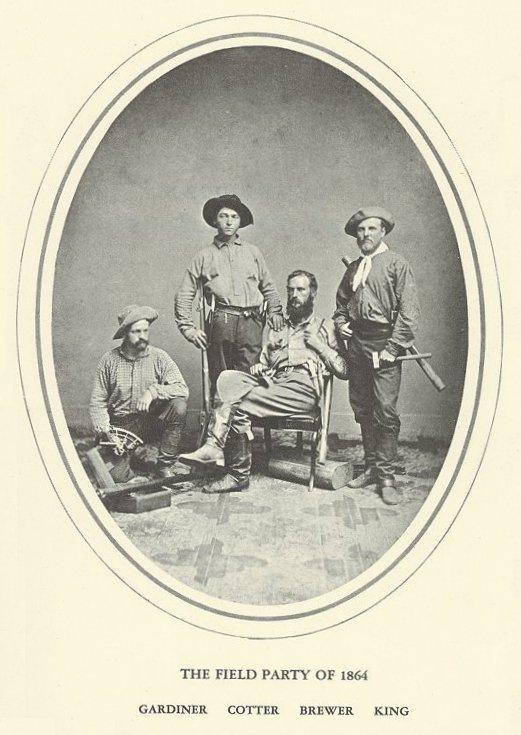 The dual lives of Clarence King read as mirror images of each other. King's white friends and family knew him as a lifelong bachelor who lived in gentlemen's clubs and hotels, and apparently attributed his frequent absences to his professional obligations. Admirers pronounced themselves charmed by his wit, dazzled by his tales of derring-do and impressed by his scientific acumen. His glittery surface satisfied the social demands of his class and era, and so he glided through the white world, at once known and unknowable.
When he assumed the identity of James Todd and married 24-year-old Ada Copeland in 1888, he told her he was a Pullman porter, so she, too, had reason to chalk up his absences and wanderings to the demands of his work. With her,  he built a solid middle-class life that included a well-appointed home in Queens, complete with servants. He also carried on a passionate romance with his black wife, as evidenced by the letters she eventually made public.
Not long before his death in 1901, King confessed his secret in a letter to Ada, telling her that a trust fund had been created for her and the children, that it was being managed by his friend, and that she and the children would be provided for. It was only 32 years later, when the friend died and the financial support stopped, that Ada would learn, after going to court, that there had never been a fund. King had deceived her again - he had died a pauper and his friend John Terry Gardiner had supported Ada and her children with his own money.
However, the court proceedings gave the world its only public record of the relationship between King and Copeland, who read portions of her dead husband's letters in court as evidence for her story. The New York Times of Nov. 21, 1933 reports that the suit brought by "Mrs. Ada King, Negro, of 137-55 Kalmia Street, Flushing," was supported by Henrietta Williams of 24 Chester Street, Brooklyn, "who said she was present at the wedding and was later employed as a nursemaid to the King's children." (Proquest database) Sandweiss reports that Ada King lived for more than 50 years after her husband's death.
(Left: Clarence King. Right: Ada Copeland King and the couple's son Wallace at the time of the 1933 lawsuit)
What do we make of this curious tale? Obviously, it reveals the warped legal and psychological nature of America's racial anxieties. Columbia Journalism Reviewer Elinore Longinbadi commends Sandweiss for the "finesse" with which she:
"embeds Clarence King and Ada Copeland in their time. That way, we see how such an elaborate deception could have seemed, for a while at least, like a release from the constrictions of contemporary racial protocol." 
Megan Shaffer credits Sandweiss with turning a "mountain of information into a reader-friendly boon." New York Times critic Janet Maslin argues that Sandweiss' "great accomplishment" is to illuminate the "singularly American" nature of King's "reinvention."
While some read nobility into King's transgressing racial boundaries to be with the woman for whom he confessed his love, Kristen Anderson sees a sad reminder of the race and gender essential-ism that bound black and white women from Victorian times until now:
"His writing about African-American woman, Native American, and island women he met showed that he regarded them as "real women." His shorthand for women from other cultures was "archaic women," or "uncivilized," uneducated women. He thought that women from this type of background were automatically warm, passionate, and caring, and didn't talk about the things that all the white women he knew went on about."
One wonders whether Clarence King ever found peace, or how Ada kept her sanity after finding out how deeply she'd been deceived. We can't really know, but thanks to Sandweiss, we can walk to the edge of informed speculation and look out on a Victorian-era America whose mores are, in many respects, still with us today.