This article was written by a member of the SheKnows Community. It has not been edited, vetted or reviewed by our editorial staff, and any opinions expressed herein are the writer's own.
Upon getting hired for an industry that never before crossed my mind, neither during my school years nor after, I immediately started thinking how would I apply my background in political science and social studies. It didn't take me too long to realize that this newly created position in the agency is an uncommon hybrid that focuses in human behavior and came to my attention that, just like Brian Solis puts it, "social media is about social science not technology."
In order to understand the role of the SM Community Manager, we need to establish that that there are two main figures in the social media management world, namely: a) the community manager and b) the social media manager. To a greater or lesser degree, both of them are social media strategists. In smaller companies, these roles might intertwine or be executed by one single person. Simply put, the SM Manager is the person who evaluates the digital environment as a whole and decides why and how a certain brand needs to create a social presence. The SM Community Manager is the individual that listens to the social conversation and interact directly with the audience, making sure that the initial strategy put in place run its desired course across the different social media platforms. Many SM Comm. Mgrs. are also in charge of the customer service but when working in an agency, the brands usually chose to leave that role to their own public affairs and/or customer service departments. Aside from this fact, in general, the SM Comm. Mgr. is considered to be "the voice" of the brand he or she is managing.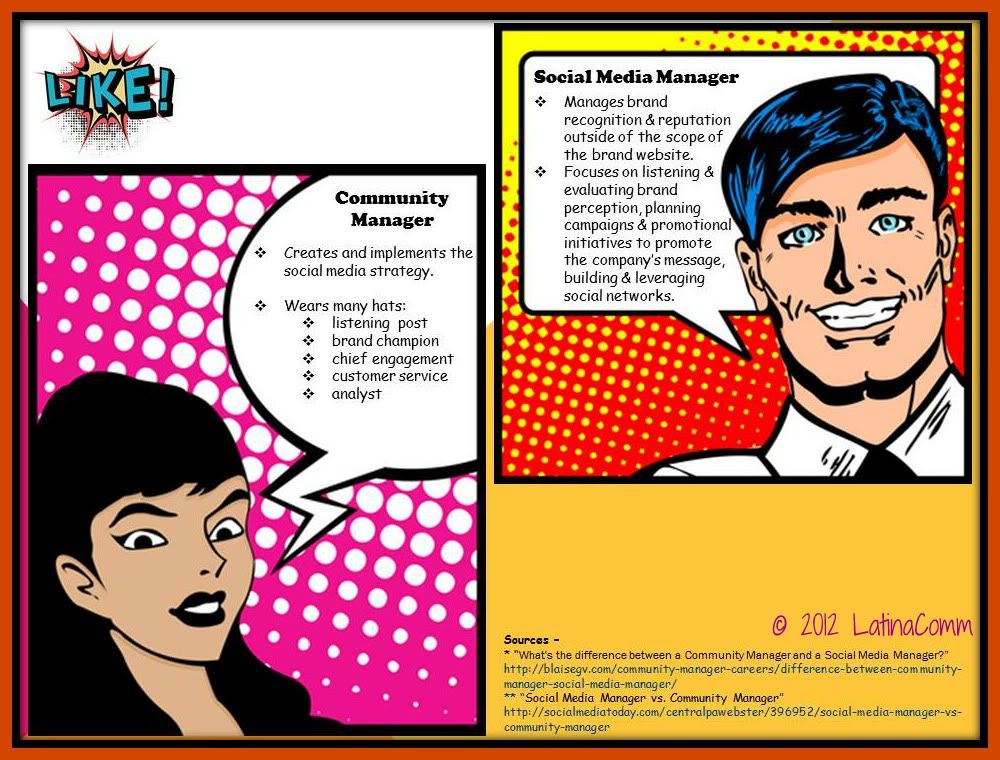 In the particular case of an advertising agency, the SM Comm. Mgr.  is basically part of all teams [when the position is managed and executed correctly]:
Accounts – Brand executives have SO much information that it's a pity that, in some agencies, they are not fully integrated into the social media process. They have juicy info about upcoming sponsorship and initiatives, all of which could (and should) be leveraged in the social space.
Digital Strategy – This is simply innate to the SM Comm. Mgr. He/she is the ONLY one who knows first-hand what works and what doesn't; the type of audience that is reacting to one type of content but not to a different one, etc. All this information compiled on a daily basis is what, ultimately, will determine the need or not to optimize current campaigns, as well as establishing the direction of future ones.
Planning – The insights provided by account planners are simply invaluable. Pairing those with the information gathered through the various social media tasks might create new insights for future campaigns, whether digital or not.
Creative – In today's day and age, a marketing concept that doesn't include a digital component is doomed to fail. Creating an entire campaign and only once it's finished thinking about possible social media off-springs is simply a mistake. The Comm. Mgr. is aware of new digital/social media campaigns, knows which elements are trending among fans and users (such as memes, infographics and similar) and, in general, is constantly absorbing pop culture at all its levels. The observations and insights that the Comm. Mgr. brings to the table could be invaluable for the creatives at the time of designing their next campaign. Moreover, SM Comm. Mgrs. are digital copywriters, no doubt about it! As such, they inherently belong to the creative team.
All these hats that the SM Comm. Mgr. has to wear will be good for nothing if a) the optimization of digital campaigns is not on the "to do" list and b) clients don't see tangible results (yes, all the way up to providing ROI numbers!) The process and details of the analytics part of the job can be content for a future post. The only thing that needs to be said here is that hard data without interpretation is basically worthless. Quantitative information is only valuable if this can serve to further explain attitudes and behaviors. Through observation, the SM Comm. Mgr. needs to put into practice this information in order to determine the reason why something didn't go as planned or to establish the course of action for future initiatives.
An additional requirement to work for the U.S. Hispanic market is cultural knowledge. Bilingualism and biculturalism are two skills that cannot be missing from the character and background of the person who fulfills this social media position. The ideal person is a Fusionista, defined as an individual of the Hispanic young adult segment who considers him/herself 100% American AND 100% Latino. (Read A Brave New World of Consumidores for more interesting information.) The situations that the SM Comm. Mgr. will face on the various social platforms are as diverse as the Latin American continent; whoever undertook this responsibility must be fully versed on the complexity of the Latino culture. The fact that the entire continent shares, in its majority, the same language, does not necessarily mean that they share the same values and customs.
I strongly believe that the SM Community Manager belongs in the marketing department of the brand that he or she is managing. If that is not a possibility, public relation agencies are doing an amazing job in terms of social media (after all, customer relations is THEIR territory). The very last option and solely for creative purposes – if this is needed – the SM Comm. Mgr. should come from the agency side. Luckily, brands appear to understand this reality as shown in the 2012 Community Manager Report published by Social Fresh.
Feel free to share your experiences about managing online communities, whether for agencies or for your own blogs/sites. Would love to hear your learnings!
[This article was previously posted in my blog, www.LatinaComm.com]