This article was written by a member of the SheKnows Community. It has not been edited, vetted or reviewed by our editorial staff, and any opinions expressed herein are the writer's own.
[Editor's Note: As of 10/302014, Brittany Maynard has delayed her plans to end her life.]
I can never forget that time in college I had to write about euthanasia. What is euthanasia? The act or practice of killing someone who is very sick or injured in order to prevent any more suffering (http://www.merriam-webster.com). As I was doing my research, something about euthanasia didn't feel right.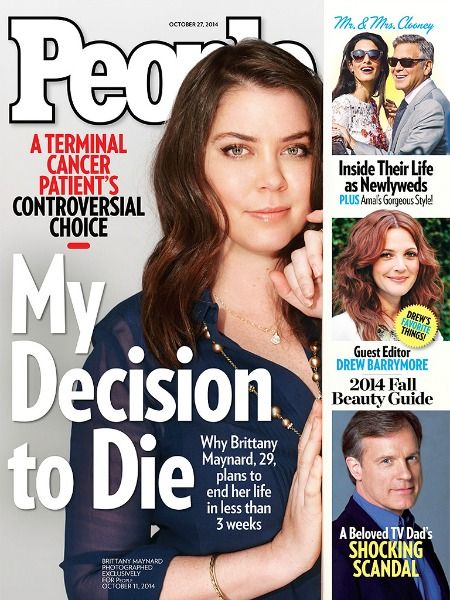 Fast-forward to today. Brittany Maynard has put a face on euthanasia with her decision to die. After being diagnosed with brain cancer and six months to live, Brittany wants to die on her own terms. Since there are only five states that honor the "death with dignity" choice, Brittany and her family relocated to Oregon. She plans to end her life November 1, 2014, with a medicine prescribed to her by her doctors.
This year alone, I've witnessed three individuals be diagnosed with brain cancer. After getting past the initial state of shock, each individual with this disease has shown unbelievable strength as they willingly accept the challenge to fight for their life. My first thoughts about Brittany Maynard's decision to die is she's taking the easy way out. The thing that bothers me most about people who commit suicide is sometimes they fail to consider their loved ones. It seems like Brittany is throwing in the towel, not willing to fight for her life. Why are her loved ones enabling this decision? People go through similar situations all the time, but they fight. Where's the faith? Which leads me to my next question:
Is Brittany's decision to die a sin? Yes.
I'll be honest, mental health and suicide is something that concerns me. Especially when it comes to Christianity. While I do believe it is a sin to kill yourself (Thou shalt not kill. Exodus 20:13), , the lack of attention given to mental disorders has me turning to God for answers. However, Brittany Maynard is making a clear decision to end her life. The life that God gave her. The Lord is the ultimate judge on when our lives begin and end. Jeremiah 1:5 says, "Before I formed you in the womb, I knew you … ." God knows our entire life from beginning to end. Is God well aware that sometimes life sucks? Of course he is! How do I know this? Peep the following:
Man that is born of a woman is a few days, and full of trouble. (Job 14:1)
In the world you will have tribulation, but take heart; I have overcome the world. (John 16:33)
Life isn't perfect. It's full of trouble; we're going to have tribulations but Christ encourages us not to lose heart, because He has overcome the world. The decision to kill yourself is losing heart. Brittany Maynard stated the following:
"My question is: Who has the right to tell me that I don't deserve this choice? That I deserve to suffer for weeks or months in tremendous amounts of physical and emotional pain? Why should anyone have the right to make that choice for me?"
I can't help but to think about the Apostle Paul's thorn in his flesh. Although there are many theories as to what the thorn could have been, one thing is for sure, the Apostle Paul pleaded three times for the Lord to remove it. But the Lord replied, "My grace is sufficient for you, for my power is made perfect in weakness." (2 Corinthians 8-9) Gosh, I can name about a million things I wanted the Lord to change/remove. Sometimes he did. Sometimes he didn't, causing me to learn that no matter what I was feeling, His grace was sufficient for me. Sufficient. Enough.
However, while discussing this matter with my cousin, she brought up a great point. Some people are without a faith. It's hard to believe God can heal you, when you have no faith in God. It's hard to endure life, period, without faith. I wish someone would encourage her to let God be God. Instead, Brittany Maynard's legacy will consist of her killing herself instead of fighting until the end and trusting the timing of God's decision for her life.
What are your thoughts on the right to die?
Love Always,
Nikki C.