This article was written by a member of the SheKnows Community. It has not been edited, vetted or reviewed by our editorial staff, and any opinions expressed herein are the writer's own.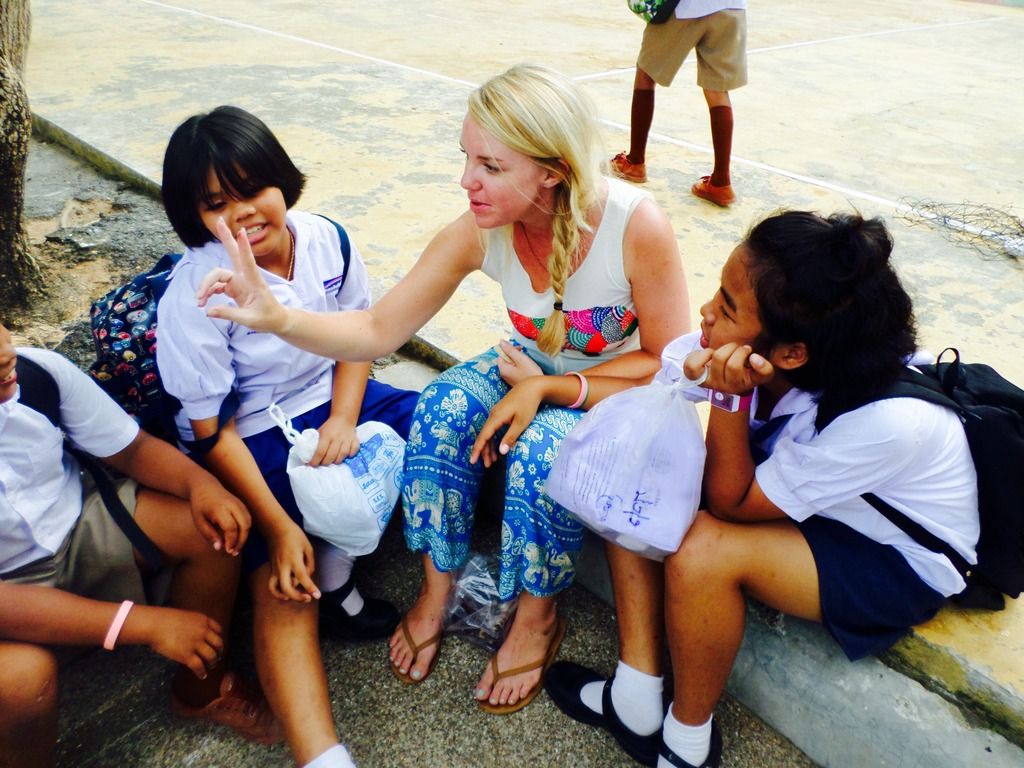 We hear a lot in the media about providing equal access to education. These stories mostly focus on overcoming a lack of infrastructure and cultivating a skilled labor pool, but it's not always the physical absence of a school or a dearth of trained teachers standing in the way of academic progress. Each society has its own hurdles to tackle.
However, one theme that seems to be consistent throughout the world is the burden young girls carry because of an underdeveloped education system.
Preaw is a sweet girl in the Sea Gypsy Village. She is one of many who sells items to help her family financially. Not the typical 8-year-old, Preaw drives younger kids on a moped full of fish up to the market to work. Sometimes these hardworking children are free to come to my class, sometimes not.
One day as I passed the kids on the road, several of them spotted me and screamed from the sidecar, "TEEEEAAAACHA!" With a quick U-turn, Preaw and the other children motioned toward me to pull onto a side street, begging me to open my bag so they could sneak a peak at what I had planned for class that day. 
They knew they would be in trouble if they didn't go to the market, so they didn't stay. But they gave me several good ideas for what to do in class next week and said in broken English, "If can come."
Though I never see customers at their market stall, their mother wants them to stand by it, straightening jewelry, sweeping, and waiting for tourist boats. Occasionally their mom falls asleep. If she does, they sneak over to class with one finger to their lips: "Shhh." It's as if class is our dirty little secret, whereas it's a right for children elsewhere. 
Thai Girls Face Added Pressures
Girls have few choices in Thailand, but that doesn't mean we have to stop presenting them with options. Double standards exist in most places for men and women; Thailand is no exception. But girls in particular are at a disadvantage for a couple of reasons.
Female students are outnumbered and talked over. Boys are given a get more leeway in the classroom; when they act out of turn, the attitude is more or less, "Oh, well. Boys will be boys."
Everyone's quality of education suffers because of the boys' behavior — and even if the boys in Thailand squander their opportunity for an education, they still have the lifelong option to go into the military or the monastery. The girls do not.
Girls are also expected to forgo school to work or be caretakers. In Thai culture, it is the financial obligation of each family's oldest daughter to provide for her parents, grandparents, and younger siblings. This is slowly changing, but many young girls continue to receive pressure to contribute monetarily to their families at a young age — an expectation not equally bestowed upon boys.
Don't Tell Them — Show Them 
Leading by example isn't the best way to teach children; it's the only way. "Do as I say and not as I do" doesn't work, particularly if they don't even speak the same language. 
If we want the kids to show up, we need to show up. If we want them to try harder, we need to try harder. If we want them to be kind, have fun, and love always, then we must exemplify those traits. 
Don't tell them, show them: If I ask them to write a word in English, then I learn how to write it in Thai. (They love that, by the way.) "Teach learn?" they ask me. "Yes! You learn, I learn, we all learn!" 
Strong female role models are particularly important because women have to walk a fine line in Thailand. Kids need to learn that being strong doesn't mean being unkind or being the loudest person in the room. 
Inspire New Goals and Strengths 
In Thai culture, people who are perceived as powerful often use intimidation, blackmail, and shaming. But being powerful does not mean you are strong, and it certainly doesn't mean you are good.
A lot of these girls are being raised to believe otherwise — not to question the instructions of a powerful man or not to question anything, really. Here are some of the tactics my female students are taught that will hopefully help them make their own marks. 
1. Let them be heard. In the classroom, the girls learn to say "no" and "why?" It's not traditional, but they are not trying to follow the traditional path of constant compliance.
2. Use self-esteem tools. The girls are encouraged to practice eye contact to communicate strength without words. When asked a question, the girls have a habit of almost immediately looking down, so I tilt my head upside down as far as it can go and ask, "Bpai nai?" Where did you go?
The girls also stand and power pose when giving an answer. This is a great trick because even if the answer is wrong, the girls are still standing there looking confident. No giggling and hiding their faces in their hands.
3. Practice person-to-person contact. The girls aren't allowed to speak about someone unless they are speaking directly to that person.
For example, Benz is not allowed to ask me, "Teacha, is Kwang coming on Saturday?" She must turn to Kwang and ask herself. The Thai people I've observed have difficulty being direct, and this is a small step toward modifying a culturally ingrained behavior.
The goal of teaching these kids is to make education the rule, not the exception. Girls won't have to hear, "If you go to middle school," because it will be expected of them. 
This year, Jang and Bung go to middle school. Next year, Pair, Laila, Benz, and Aom Em may go. Now six girls from the orphanage are attending school, whereas none did two years ago. 
They'll make friends, and by the time they are in ninth grade, it will seem normal to the other girls to go to the same school their older bunkmates did. From there, we can build on the new foundation we've laid — to high school, and maybe someday to university. 
Expectations set. Standard raised.
Kathryn Dillman is the founder of Make Our Day, a nonprofit organization that supports education and activities for children in Phuket, Thailand. She's a fan of good coffee, traveling, and hilarious questions asked by children. Responds to a variety of names including Dill, Teacha, Farang, and Kah Tee Perry.