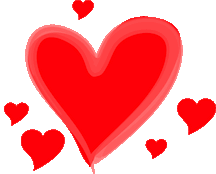 My daughter can't get enough of Valentine's Day. She loves love. She loves giving love and she loves receiving it. I admire her so much for that. Becoming her mom has opened my heart for a love I never knew I was capable of. 
Don't get me wrong my daughter can drive me absolutely crazy sometimes. She is sometimes not all that nice to me. I have been bitten, hit, yelled at and told I was so mean at various times by her over the past 6 years. No matter what she does I know I will continue to love her absolutely unconditionally.
So I have been wondering recently what is it that allows me to experience this true unconditional love. The kind of love that the big gurus of our time tell us to aspire too. Love ourselves unconditionally. Love all others unconditionally. 
Most importantly how can I bring that ability I obviously have for unconditional love into all areas of my life and work. 
I believe as mothers we have a bond with our children that goes beyond any other relationship we will develop in our lives. It is truly unique and powerful. 
However I also believe outside of this natural bond there are other aspects that contribute to my ability to experience this kind of love. Qualities I can transfer into all other areas of my life. Qualities that will make my life and work happier and fulfilling on a daily basis, even if it isn't perfect. 
Here are the 3 lessons I have learned about love from daughter that enable me to experience greater happiness and fulfillment in my life, work and family on a daily basis. 
Lesson #1 Don't Hold A Grudge
What amazes me about my daughter is her ability to move on. I watch in awe as one minute she is screaming and crying about how mean I am because I won't let her have one more candy, just on more mommy. Meanest mom in the world. Then literally 5 minutes later she has forgotten all about it and she is snuggling me telling me I'm the best mommy in the world. 
She doesn't hold grudges, or not for very long. I realize that neither do I with her. She can be screaming and crying telling me what a mean mommy I am. Then when she comes up to me 5 minutes later to say sorry and to "talk about it" I happily hug her and love her just as much as I ever have.
It's really comes down to forgiveness. Forgiveness to others for being imperfect. Practicing forgiveness is one of the most powerful ways to shift our life. It takes a lot of energy to hold a grudge. The same is true in our work. When we hold grudges in our work or life it can keep us stuck from moving forward how we want. When we let go and forgive it frees this energy up for us to pursue other more fulfilling aspects of our life and work.
How would it feel to let go of a grudge you may be holding on to today? It can feel like letting out a breath we have been holding for a long time.
Lesson #2 Feel Empathy
Empathy is one of the biggest emotions that empower us to love more in our life. Part of why I can forgive and move on with my daughter so easily is because in that moment were she is crying and screaming at me I am able to see and feel her frustration. 
I know she is not acting like this because she truly wants to. It doesn't feel good for her. Usually she is not feeling listened to, having trouble performing a task or feeling bad about something that she did. It is her way of expressing the intense emotion she is feeling.  When I feel empathy with her I don't get caught up in her cycle of frustration or emotion. I can remain calm and am ready and able to give her the love and support she needs when she is ready to talk about what is frustrating her.
We have the capacity to do this in all relationships in our live. Whether they are our work colleagues, our spouse, friend or own parents if we practice empathy we will feel a big shift. We will no longer take what others do so personally. As with letting go of grudges that frees our energy and emotions up for more positive and empowering interactions and experiences in our life and work.
Lesson #3 Let Go Of Perfection
My daughter never expects me to perfect. In fact at her young age she still sees me as perfect even with all my flaws. She feels the same about her friends, her grandparents, her teachers and the other important people in her life. I feel the same way about her. She sees through all this to who we are at the core. Young children have the ability to see our inner beauty even if we can't.
As women and particularly as moms we often place a lot of pressure on ourselves to be perfect. The perfect mom, the perfect worker, the perfect wife, have the perfect business, home, clothes, hair or car. Whew! All that perfection can be and is exhausting! 
Imagine how it would feel to view others and ourselves through the eyes of our young children. Their capacity to still love us completely even with all our imperfections. To realize there really is no perfect and that's OK. When we let go of this strive to be perfect it allows us to experience more happiness and fulfillment with where we are right now. 
Happy Valentine's Day!
 Karen is a mom, entrepreneur and Founder of The Passion Shift. Download Karen's FREE Training AudioMaster The Passion-Shift Mindset: Learn How To Change the Rules So You Can Start Living Your Passion, Revolutionize Your Work Life & Free Your Time & Energy to Have More Fun With Your Family.
This is an article written by a member of the SheKnows Community. The SheKnows editorial team has not edited, vetted or endorsed the content of this post.
Want to join our amazing community and share your own story? Sign up here.