This article was written by a member of the SheKnows Community. It has not been edited, vetted or reviewed by our editorial staff, and any opinions expressed herein are the writer's own.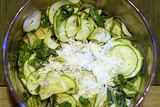 In Utah there's a joke about why people lock their cars when they go to church in the summer. It's so you don't come out and find your car full of zucchini, of course! It's a joke, but using up all the zucchini that one plant produces can be quite a challenge. Here's part one of a series of ideas about how to use that zucchini.
Raw zucchini is low in calories, easy to prepare, and the perfect vehicle for delivering olive oil, balsamic vinegar, or shaved parmesan to your mouth! That might be one reason why Zucchini Carpaccio is such a popular dish. There are as many versions of this perfect-for-summer variety of zucchini salad as there are food bloggers who rave about how fresh it tastes.
The most famous Zucchini Carpaccio is probably the version from Chocolate and Zucchini, and since Clotilde included it in her cookbook, this dish is getting repeated everywhere.
In the photo we have Zucchini Carpaccio from Smitten Kitchen which Deb made on a night when she felt like she was having a meltdown due to the heat.
The Tasty Zucchini Carpaccio Salad from Je Mange la Ville adds pine nuts to the mix.
The Wednesday Chef tries out Patricia Wells Zucchini Carpaccio with Avocado.
Finally, at The Paupered Chef, Nick discovers it's Zucchini Carpaccio's Best Week Ever. After seeing recipes for this summer delicacy all over the place, he combines them all and gives us step-by-step directions for his version, which looks great.
Blogher Food Editor Kalyn Denny hasn't made Zucchini Carpaccio (yet) but when she used raw zucchini in her Zucchini Salad with Tomato and Basil, it was a complete winner.