Remember when I asked you to show me your piles, your boxes, your bags and your ribbons? Your cookies, pies, ovens and missing hair bobbins?
Well, you did. And YOU DID!
Janna Antenorcruz showed us the danger in allowing small children to open mysterious packages.
Packing peanuts are the devil's handiwork.
I love that Julie from The Mom Slant labeled her mess, in case we were confused.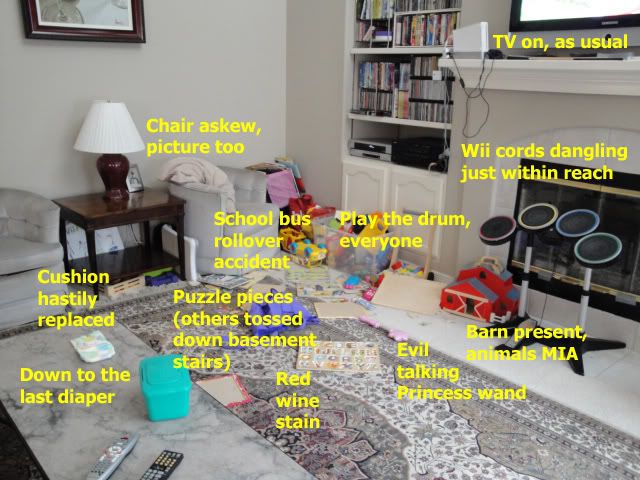 I would not have recognized that as a red wine stain, Julie. You totally outed yourself.
Amy at Binkytowne managed to trash her room in one hour flat.
That's a land speed record in my book.
And I really thought we had a winner a few times, such as Undomestic Diva, who covers things with blankets.
The paper bags are all wearing plastic-bag hats. Just like CheeseBurgHer, only different.
This is Gina's clean laundry.
If this is your clean laundry, I'd love to see the dirty pile.
Despite my love for everyone's entries, our far-and-away winner was Adrienne Van Houten who presented a 360-view of one spectacular hot mess.
Adrienne wins bragging rights as the 2009 BlogHer Holiday Hot Mess Queen and a place on next year's judging panel. Congratulations, Adrienne!
If you want to see all the entries, please see the 2009 BlogHer Holiday Hot Mess Contest. Thanks to everyone who participated. We hope you can now see your floor.
Rita Arens writes at Surrender Dorothy and BlogHer and is the editor of Sleep is for the Weak. She is BlogHer's assignment and syndication editor.
This is an article written by a member of the SheKnows Community. The SheKnows editorial team has not edited, vetted or endorsed the content of this post.
Want to join our amazing community and share your own story? Sign up here.