This article was written by a member of the SheKnows Community. It has not been edited, vetted or reviewed by our editorial staff, and any opinions expressed herein are the writer's own.
I'm a slob. I admit it. I'm not proud of it; in fact, it drives me crazy. Clutter stresses me out, and yet ... I just let it pile up because finding the time to clean it all stresses me out, too. It's a vicious cycle.
Although my home, in general, gets a little, shall we say, out of sorts, one of my biggest pet peeves has been the fact that the master closet, which I share with my husband, is always a disaster. And that's crazy, because there's a ton of space in there -- just look at the space above that top shelf! I bought several organizational pieces, and I clean out my closet several times a year, so I really don't have much in there that I don't wear, and still. Ugh.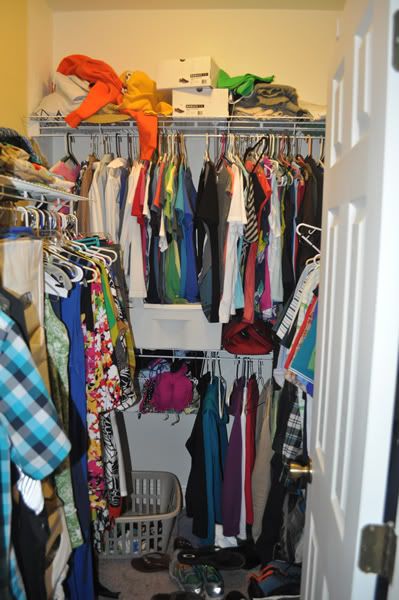 So finally, finally, I decided to get help. No, not for my, uhh, issues with keeping things tidy. Nope, I went to a local closet professional (Amanda from A Divine Closet, for those in the North Central Florida area) who I'd met at a networking event.
After warning her that I would have to stick to a much lower budget than some of her clients, we scheduled a consultation. In the meantime, I did one final (well, final until the new closet, anyway) sweep of my clothes and, what do you know? I was able to put together another pile to giveaway.
Anyway, Amanda came by, looked at our closet -- I blushed in shame -- and then we sat down and talked about our wants, needs, and concerns. I found myself coming back to wanting a specific place for everything -- that helps me stay organized and on top of putting clothes away in a timely manner. And, of course, I wanted it to be pretty, and I wanted it to fully utilize the space, including all that space up at the top. All my husband wanted was a pull-out rack for his pants. But then, of course he'd want something gadget-y, right?
It wasn't an easy process, even with a professional, but I'll tell you what -- I could never have made this happen on my own. I saw an elpha closet design from The Container Store, but, after pricing it out, we determined that we could do a fully custom closet that wouldn't require me to sacrifice anything on my list of wants for just a fraction more. I went for it.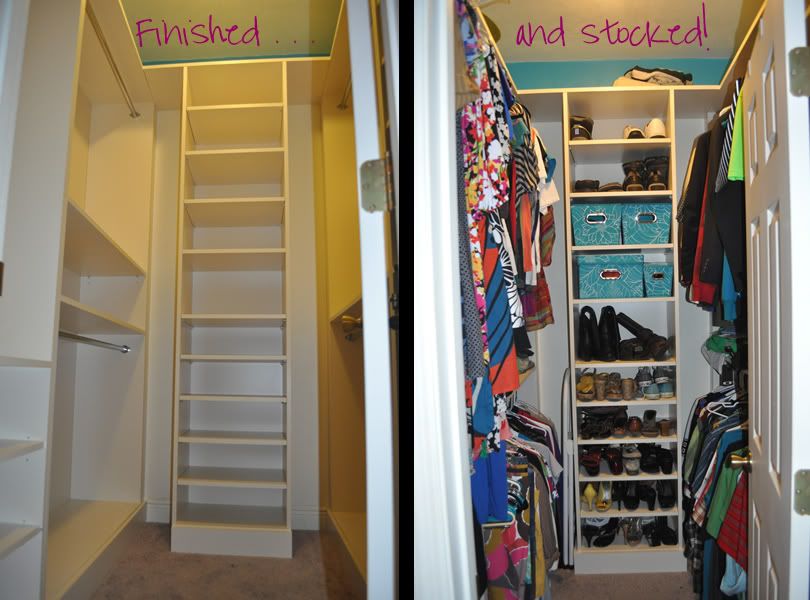 Now, I know my clothes pretty well, but there is no way I could've looked at what was in my former closet and figured out how much space I needed to allot for dresses and tops and such. Not only was a professional closet designer able to figure that out in snap, but she even left us enough space to add (most of) our shoes, which gives us an enormous amount of elsewhere.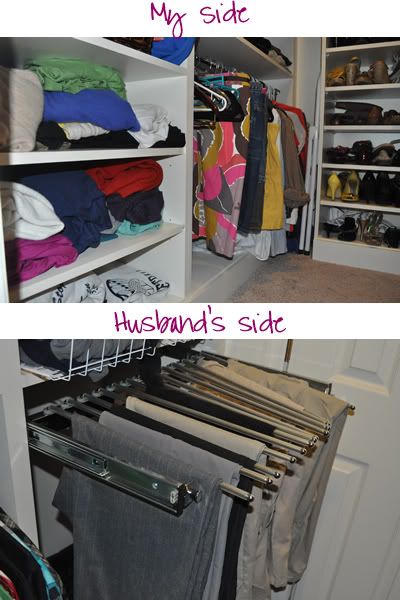 As far as what we actually did on our own ... there's not a lot. We painted the turquoise blue at the top (before the closet was put together -- afterward, getting in there would've been tough!), and we found fun bins at Target to keep smaller items in since we opted for shelves rather than drawers (maaaajor price difference).
Next on the list -- finding a great lighting fixture (with perfectly white light) and painting the ceiling that same turquoise. Other than that, though, I don't have changes to make. And I have never been able to say that about a closet.
In the end, we spent a little over $3000, which is a lot of money for us. But I'm thrilled with the result, and it was worth saving and sacrificing -- this was actually a Christmas present that my husband and I gave to each other. And it also helped me realize what I could do on my own. Customizing a walk-in clost = way out of my league. But, customizing a smaller closet? Yep, I can do that. And I will.
Have you ever had a professional help you organize your closet in any way? Did you think it was worth the cost?
By the way, if you're looking for tips on how to clean out your closet, as is (and for waaay less money), check out blackbird's post.
Kristen can also be found on Twitter and at jeez-o-petes.