Who would ever imagine that plants have a favorite color?
Turns, out, Tomatoes do!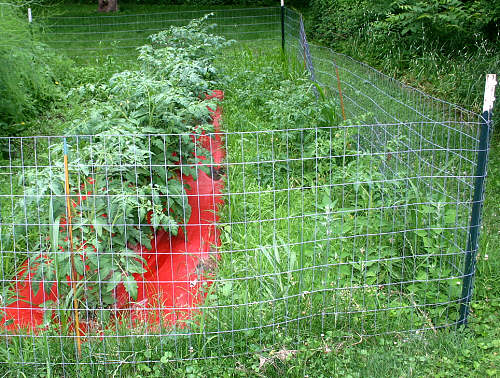 According to research work done in the 80's and 90's, tomatoes do have a preference for color! It has been well documented that yields can be as much as 20% higher when tomatoes are mulched with either red plastic, or alternatively, a red colored mulch. I have employed both methods and both have produced excellent results. I must admit that I'm a bigger fan of biodegradable methods, and therefore, have gone to the red colored wood mulch. You'll want to be sure that if the wood mulch is enhanced with color, that it is a good, safe choice to use in your garden....and it will specify on the bag the range of uses it is suitable for.
Below is a link to one of the better-known studies in this area. Some of the most well-regarded studies were done at Clemson University in South Carolina. This is a link to a PDF that will explain why it works, from the light rays and spectrum to absorption levels, and, well, you can look it over yourself to find out more than you ever wanted to know! But red mulch for tomatoes does rock!
http://ddr.nal.usda.gov/bitstream/10113/18007/1/IND44088287.pdf
For more articles on garden topics go to Julie Brown Gardening.
"Farm Is Where the Heart Is"
This is an article written by a member of the SheKnows Community. The SheKnows editorial team has not edited, vetted or endorsed the content of this post.
Want to join our amazing community and share your own story? Sign up here.