Hello friends!  I'm so happy you stopped by!  I have been working more on Project Life, and as promised, will show you today what's been going on with that.  I have been having fun with this! The last two weeks I have done traditionally, and can really see the benefits of scrapbooking this way.  I need to tell you that everything in my life seems to work in 10-15 minute increments. It's no wonder Moms have ADD or ADHD, because every time we get involved in something, a kid interrupts and leads us away!  I learned early on that I scrapbook best in small increments of time: I may use five minutes to stamp a motif, or fifteen minutes here to arrange my layout, just fitting in little blocks of time here and there.  I also like leaving my projects out so I can mull over it for a while before tacking it down.  Project Life is perfect for this style of scrapbooking!  I can tuck my photos in, and then go stir dinner.  I can pick out my journaling cards, and then go get the kids off the bus.  I can leave it out and mull over it, fuss over it, and love on it until it looks like I want it to look.  I am working on taking less time and just putting it in there.  I admit it is hard for me, but I am trying!
I wanted to show you where I have my Project Life.  My studio has evolved over time and with each move over the last eight years.  But it has always been a priority, even with the smallest amount of space, to make space for it.  Right now my studio is in our breakfast room and I love it.  I can still be in the middle of everything, I can still make dinner and do laundry.  Yes, part of my work space is a card table, but it really does not matter!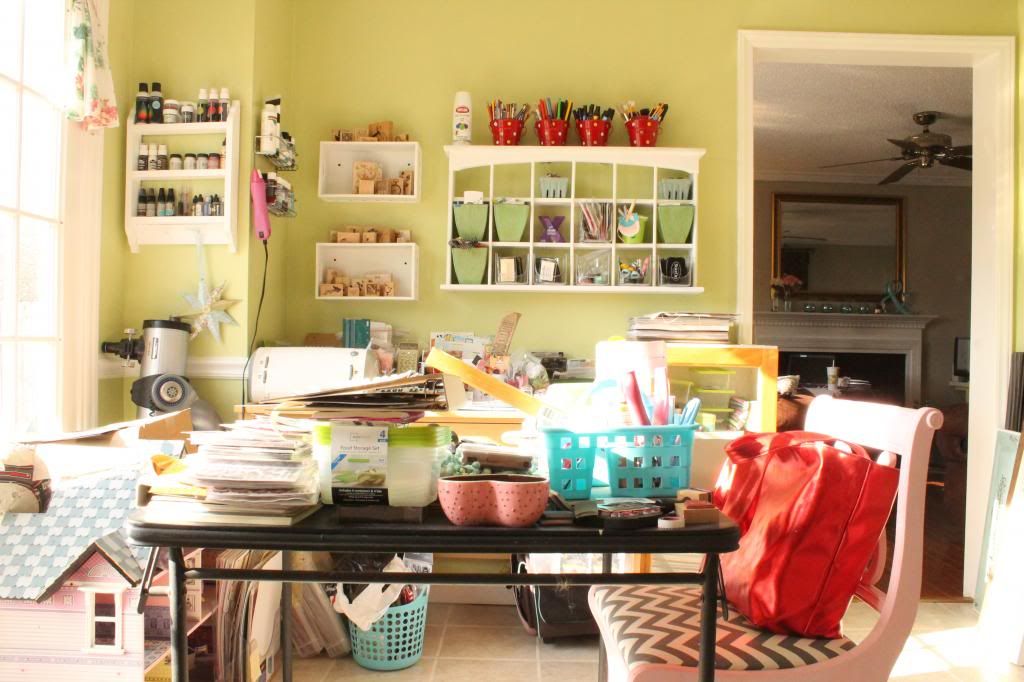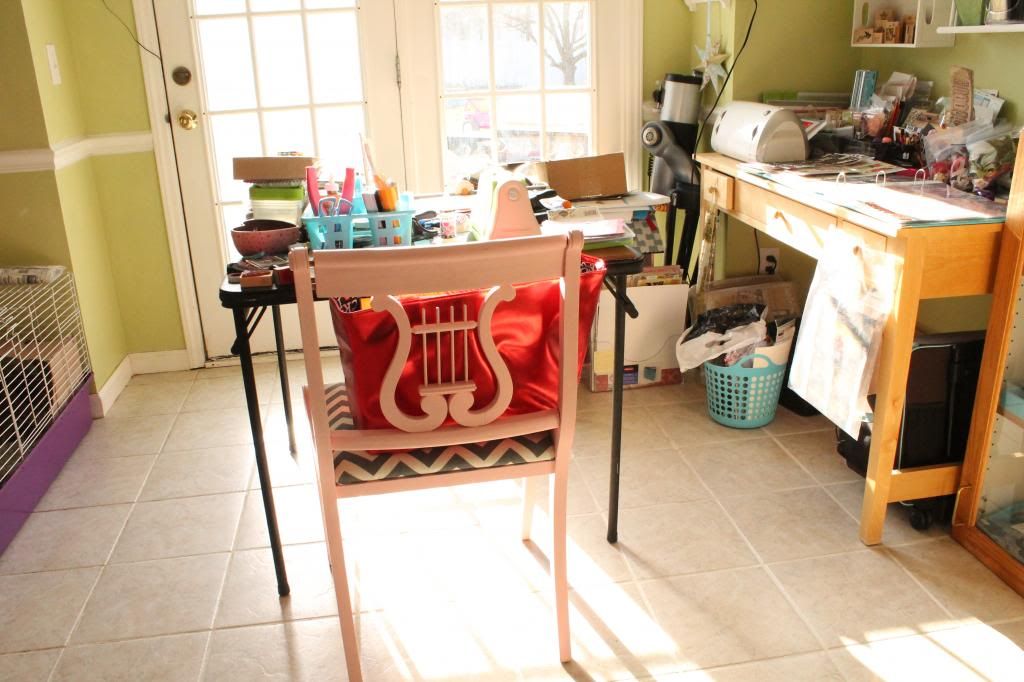 It really is a bright little spot in the mornings, with the sun shining in.  The white shelves on the wall have been goodwill items collected over the years and painted white.  I love those shelves and had so much fun putting them up!  And no, my work space is not perfectly neat and perfect....I tend to only clean when I am in between projects.
Alright, here is some PL fun!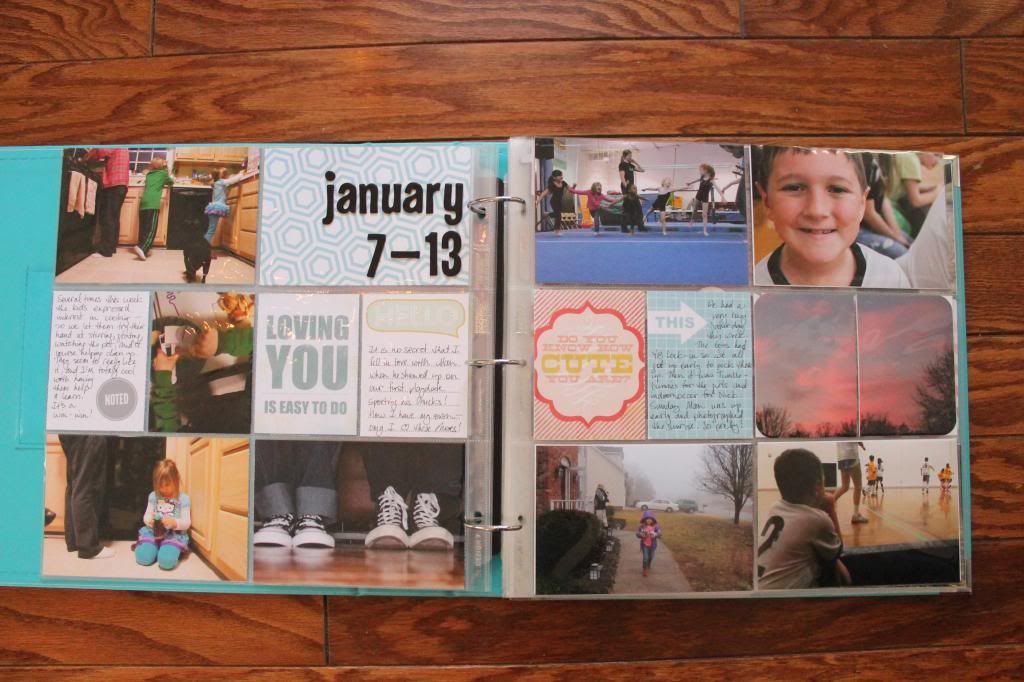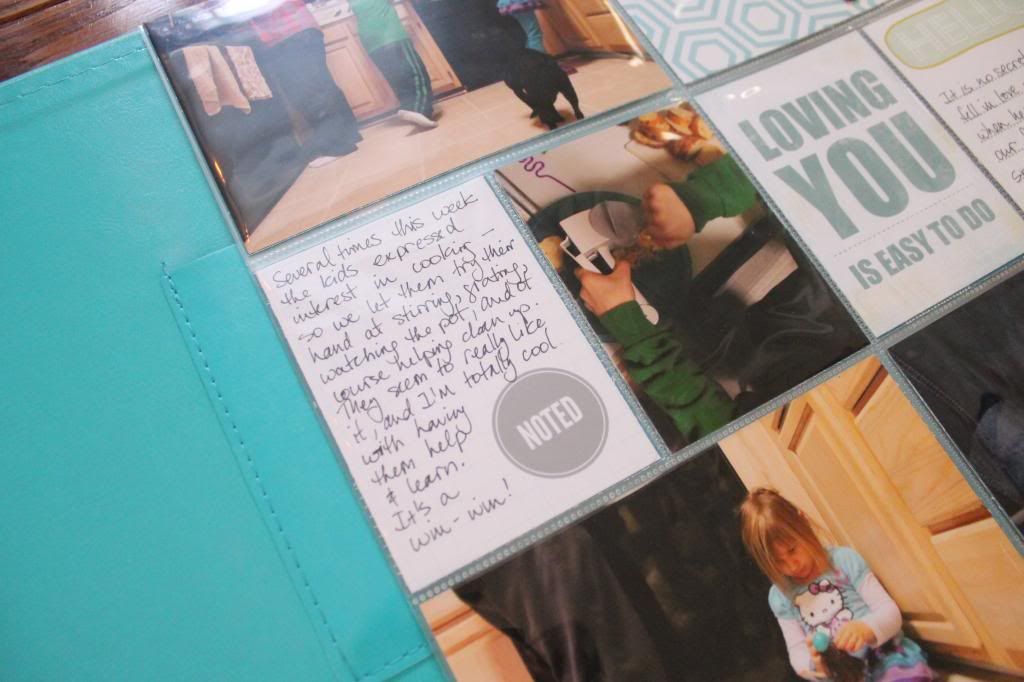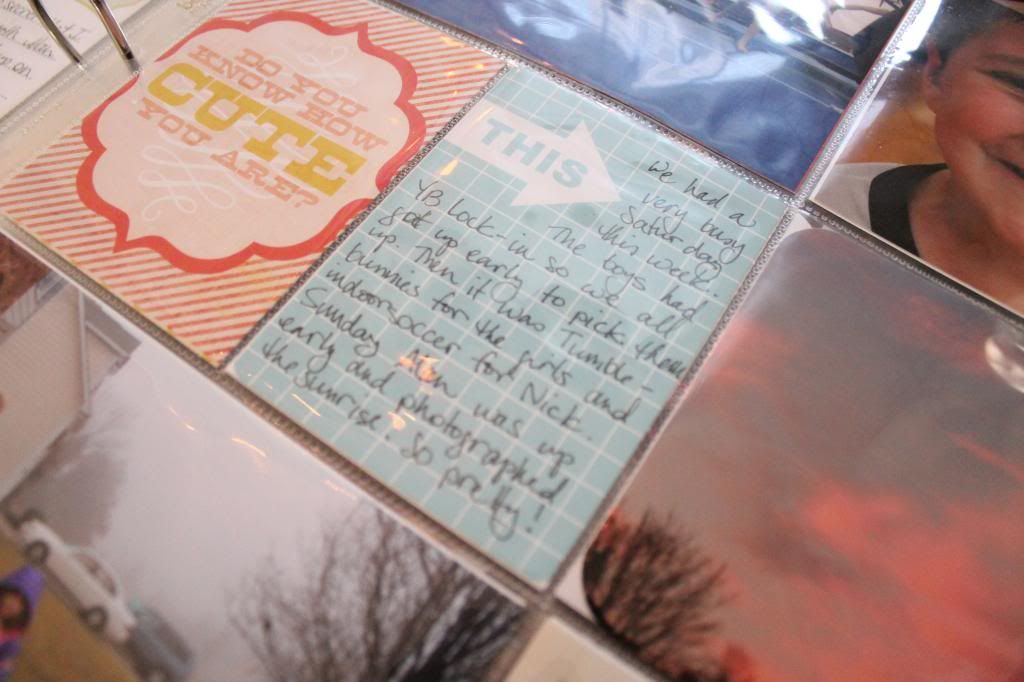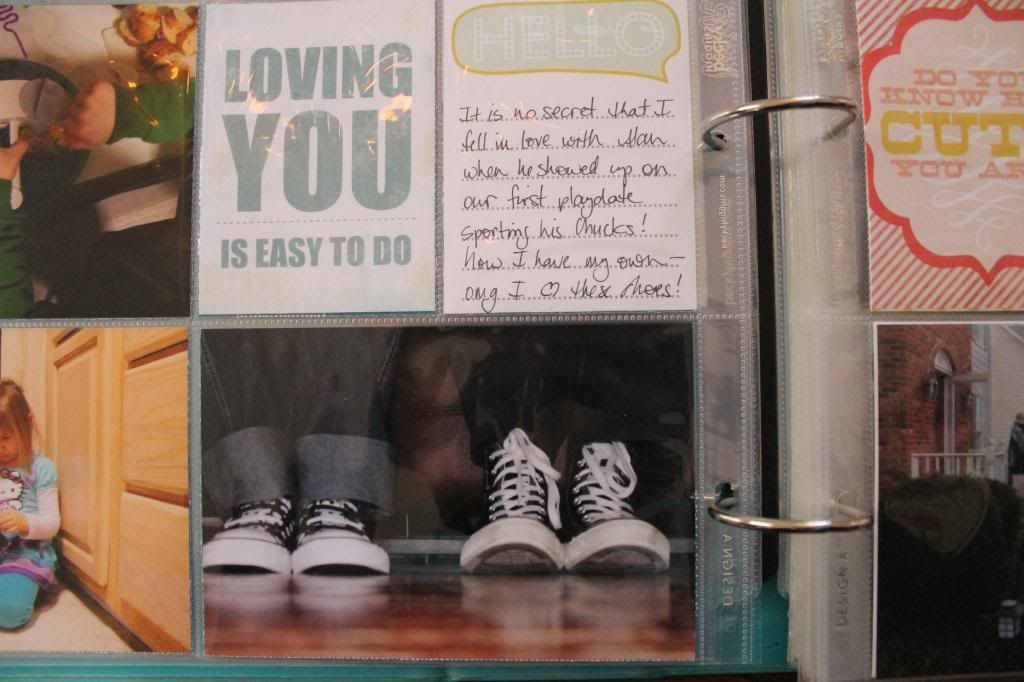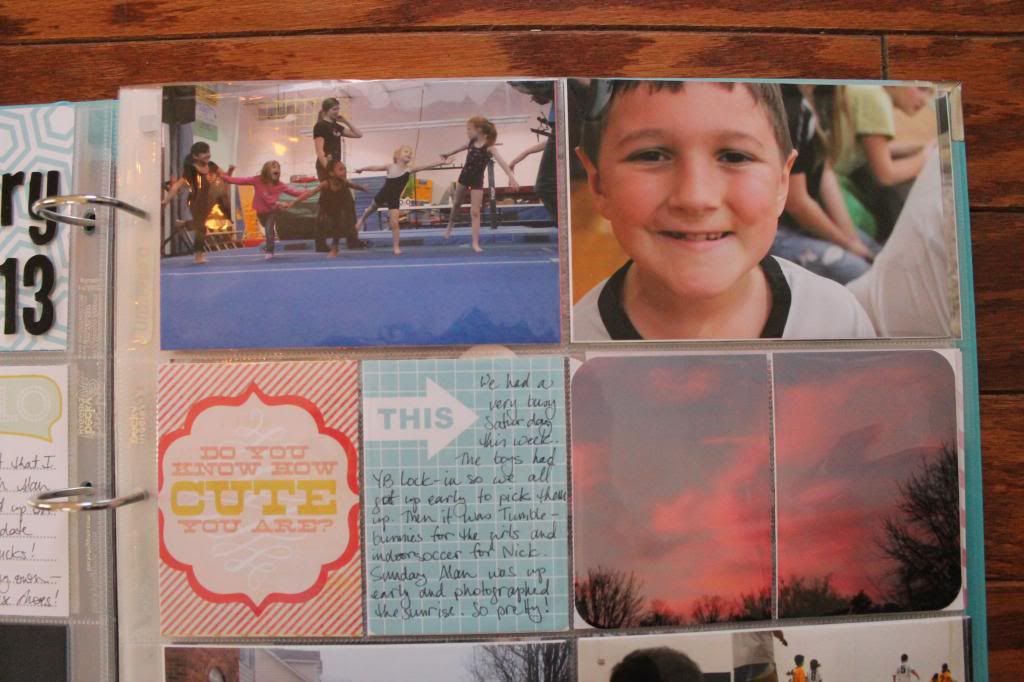 Love love love the moments these pictures capture, and being able to get the into an album so quickly!  I am totally loving the push to get my camera out and use it!
This next layout is a continuation of the same week.  We spent some time at the park and I was trying to take advantage of the sun going down that day.  I just got my DSLR a few weeks before Christmas and am making the jump from point-and-shoot to Canon Rebel.  I love the Canon, but the learning curve is steep and I admit that PAS has spoiled me!  I took almost 400 pics that day, and maybe 50 were any good.  But that is ok.  50 is a great number.  And this is a cool layout.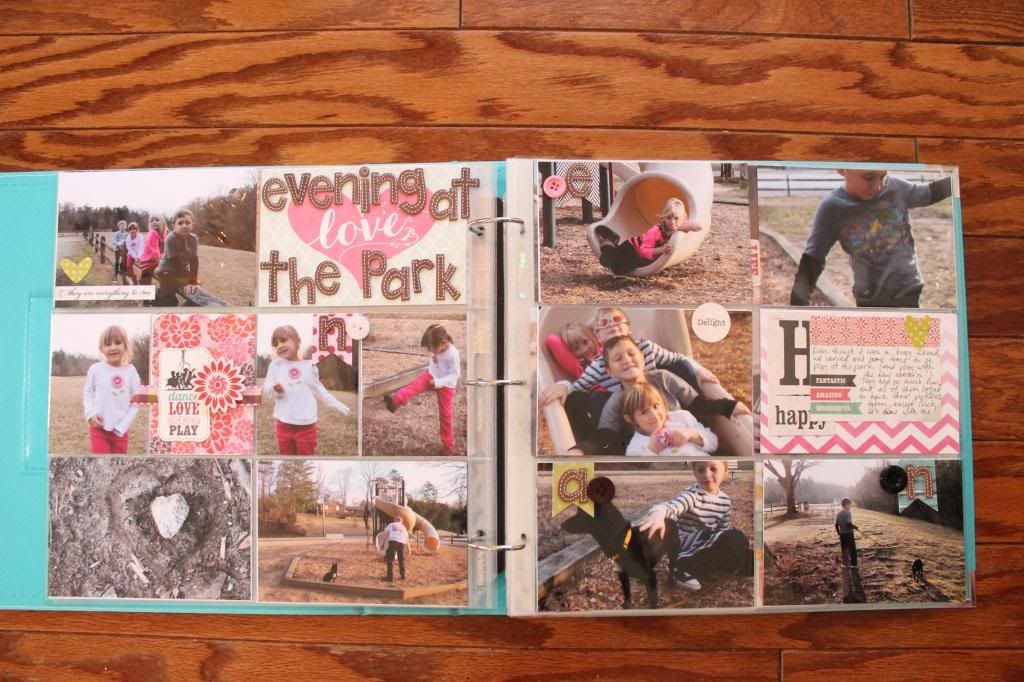 One challenge that I have as a Mom of four kids, is how to scrapbook a family and still make each child feel special?  As much as I would love to make books for each of them, I know that is not realistic, and I really want to document our moments together as a family.  So my strategy is this: for every photo session I take several different opportunities to photograph each child individually, and also together.  Sometimes I do great with that, and other times not so much!  Most of the photos of Natalie from this session were blurry!  But I used them anyway.  Second, when I sit down to create a layout, I try to have one close-up of each child, and then supporting photos of them together.  For each close-up, I add their initial and some sort of embellishment to emphasize that these layouts are about all of them and they each have a special place.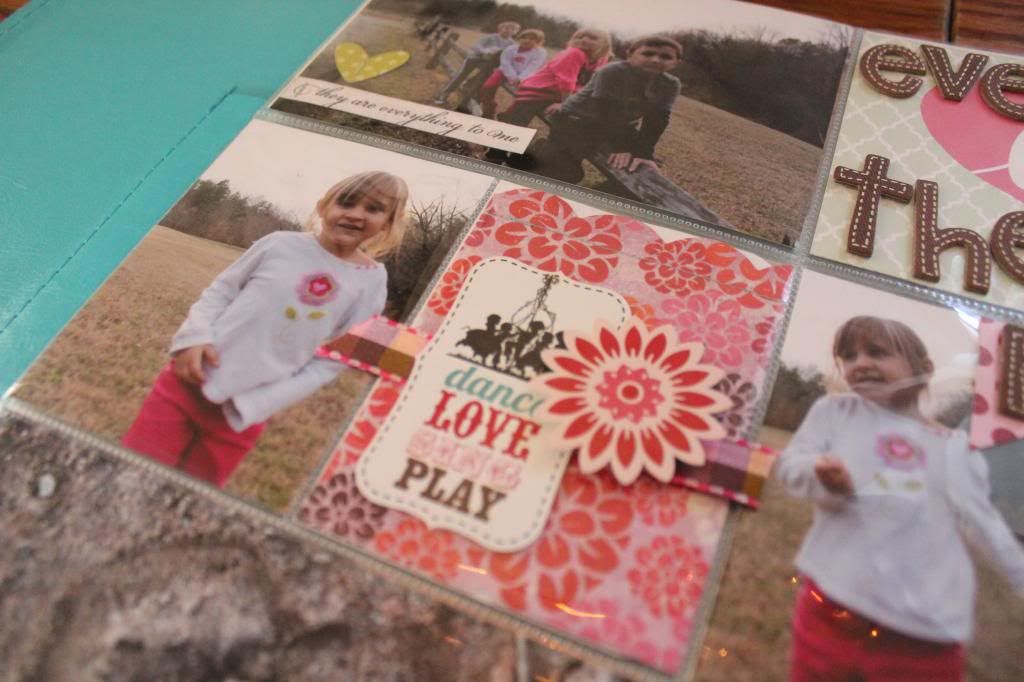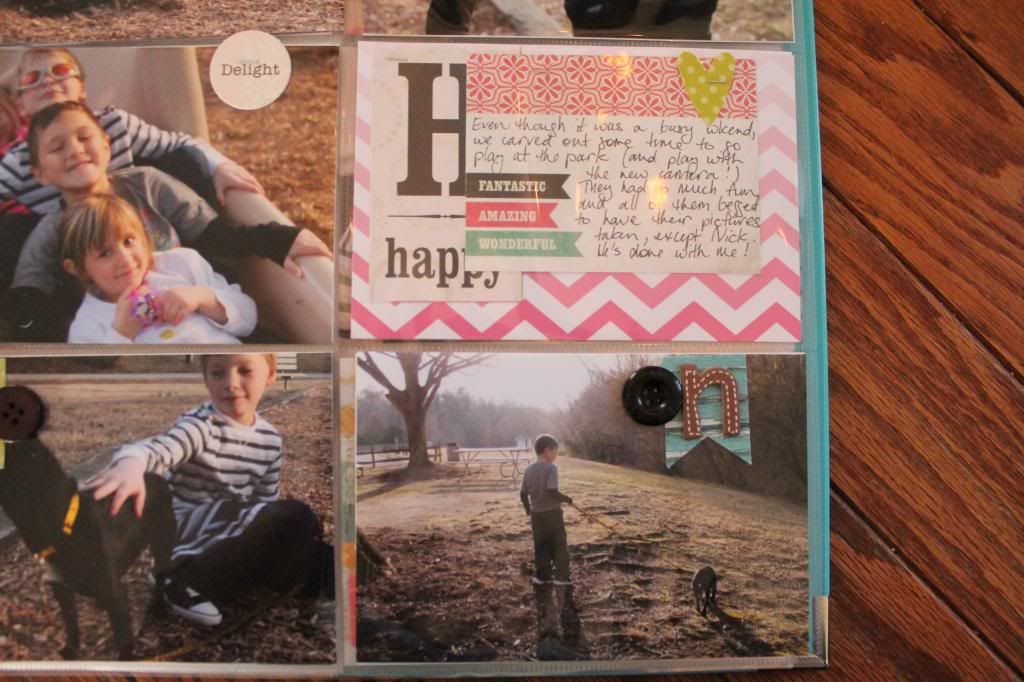 It is so cool to see these stories come to life on these pages.  I have another week to show you, but this is all the time I have today.  Check back tomorrow and I will post that week!  I hope you have enjoyed this peek into my PL!  Thank you for checking it out!
Love,
Theresa
This is an article written by a member of the SheKnows Community. The SheKnows editorial team has not edited, vetted or endorsed the content of this post.
Want to join our amazing community and share your own story? Sign up here.