Meeting the Girls – Part Four
My descent into Vintage Sewing Machine addiction. 
Meeting the Littles
Since my sewing area is still shared with my daughter, I have to think about space when I am collecting these machines.  Right now I just have half a room while I wait until she outgrows her playroom.  Which will be soon, I think, because she doesn't go in there much anymore and play with her toys.  And then I can spread out.   But for now, I can't be dragging in these huge heavy machines in a cabinet.  I need to think small.   And I like small things that are compact and don't take up much space.
Anyone who is even remotely familiar with vintage sewing machines knows about the Singer Featherweight.  I am going to tell you about that, but first I want to talk about the Sew Handy machine.   This machine is little and cute and adorable.  It was made from the late 20's into the mid 30's and was supposed to be lighter and more portable than other machines of the era.  It came in a little carry case and still works well.   It is considered the pre-featherweight and weighed about 15 pounds.   The company that orginally made these changed hands several times, but their smaller, more poratable machine design started a revolution in machine portability.
For some odd reason, I didn't connect with this machine and I just recently traded it for another machine I have been wanting.  I am real excited about it, but that is a tale for another post.
On to the Featherweights!!  These little machines were made by Singer from 1933 until 1970, I think.  Sewists and quilters love these little machines.  They are portable and weigh in at about 12 pounds which is much lighter than the 32 pounds the full size machines are packing.  So they are easy to take with you.   They also come in a little carry case.  The machine folds up and fits into it nicely.   These machines are much sought after and can sell for a pretty penny.   I have personally gotten one for free, but I have seen them sell for as high as $1,500.   Right now, they average $150 to $300 on Ebay.  They sew great, the don't take up much space and they are super cute.  Some sellers will list them as rare, but to tell the truth I would say over a million of them were made and parts are still readily available.
Featherweights only came in three colors – black, tan and white (or pale turquoise).  The white ones can have a minty cast to them that cause much debate on whether or not they are truly white.   I have read that the official color name from Singer was pale turquoise and some insist it is celery, but mine just looks white.  This is the first one I bought.  Got it on craigslist and I paid about $250 for it.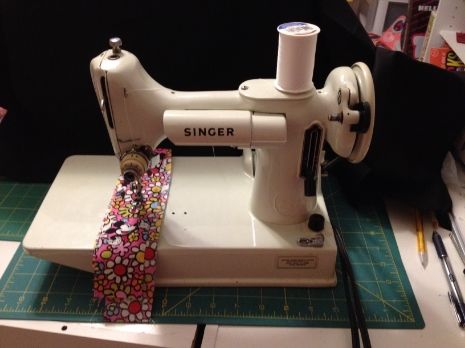 It is a 1968 model and I love the tinny little sound it makes when it sews.  It came with a very moldy case and the drip pan was moldy as well. And it smelled ghastly.  So it took a while to get the smell out.  I cleaned the drip pan and got a new felt for it. And that helped a lot.  The case was another matter.  After scrubbing the mold out, I had to put a bar of soap inside for months to get the smell out.  Her name is Norma after the sweet older lady I purchased her from.
 The next one I got is a black one from 1952 that I won off of Ebay for $170.  
I was thrilled to have gotten it for such a great price and it came with the same ghastly smell as the other one did.  New drip felt, new belt and a bar of soap set in the case helped solve that.  I plugged it in and I immediately got sparks.  So I named this one Sparky.  Turns out the foot pedal had some janky wires.  I was able to order a new one and it now works perfectly. 
 And lastly, a former co-worker called and said she had a little machine she had gotten from her mother.  They were debating throwing it away, but she asked me instead if I wanted it.  Of course I want it.  I was surprised to see it was a 1935 Featherweight and she refused to take money for it.  I am making her a quilt though.  I can't just take it for free.   It came with the familiar featherweight smell, but it sewed a perfect stitch right out of the box.  I just love it.   Her name is Emily after the awesome person who gave it to me instead of throwing it away - whew!!  I am so glad she thought of me.   It would have been tragic if this had ended up in a landfill.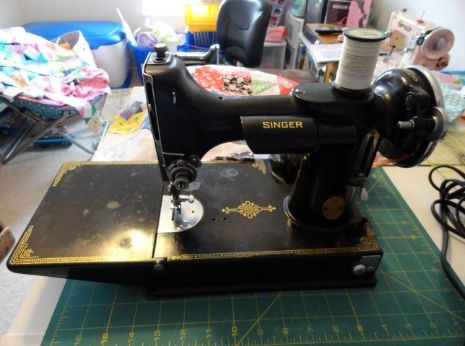 Many people get their machines painted different colors and I may do that with one of these black ones.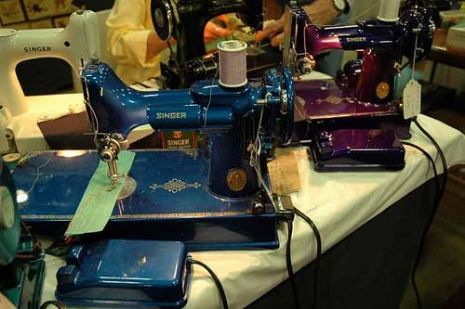 Pink!!  I would have trouble choosing a color though and it costs a lot to get it done right.  So right now, I'm just thinkg about it.  Maybe for Christmas since the hubs never knows what to get me.
Singer made a folding table specifically for the Featherweight machines and I happened to acquire one off of Ebay.  It is not perfect and needs refinishing and a hinge on the leg needs fixing, but it is still very sturdy and I love how the machine just sits inside and all of the space I have to sew once it is set up.  And then, when I am finished, everything just folds up and is easily put away.  I have it currently set up making a quilt out of 1930's reporduction fabrics.   So fun.
The white ones were smaller and don't quite fit in the table.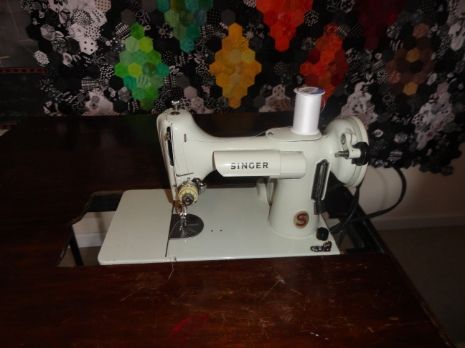 I just love these little machines.  They are so cute, portable and fun.   If another one crossed my path, I would snatch it up in a minute.
 The descent into madness continues .......
This is an article written by a member of the SheKnows Community. The SheKnows editorial team has not edited, vetted or endorsed the content of this post.
Want to join our amazing community and share your own story? Sign up here.