Bathrooms are the second most expensive space homeowners spend their money, and now more than ever, planning for storage in the bathroom is one of the key factors.  With homeowners buying in bulk, storage for these over-sized items is becoming a challenge, and with the ever-present need to have our smart phone and tablets with us at all times, charging stations are high on the need list.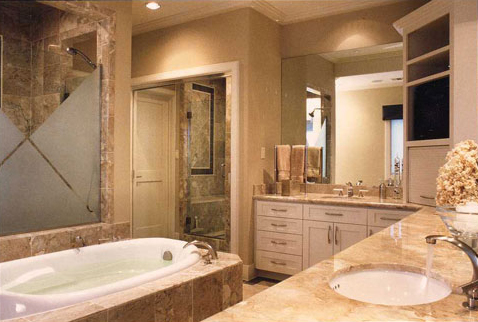 Vining Design Associates
For many homeowners, they are wanting to add more luxurious storage needs to their master bathroom, such as beverage centers, coffee makers, under-counter refrigerators, and even microwaves.  All these additions can make that morning routine much easier.
via
With the itemized storage list adding to the basic bathroom storage list, i.e. towels, washclothes, etc, trying to find the proper storage has become more of a challenge.   On top of the increasing storage needs, homeowners  want a clutter-free space.  When thinking of designing or re-designing your master bathroom, think of the bathroom work zone--how you use your space on a daily basis.  So here are some great ways to maximize storage in your bathroom.
Add floor to ceiling towers or tall medicine cabinets above the countertop, if there is space, to the vanity areas with outlets inside to hide those hair appliances and allow a space to charge smart phones and tablets (keeps them away from water).
Include cabinet accessories in drawers, such as make-up organizers & jewelry organizers.
Make some cabinets deeper than typical 21-inch depth to house those large towels or bulky items, i.e. toilet paper, large shampoo bottles, etc.  Or add deeper drawers for taller items.
Design your sink vanity cabinet to be U-shaped to fit around pipes and
via
Add storage in knee-walls if there is space to maximize as much storage as possible.
This is an article written by a member of the SheKnows Community. The SheKnows editorial team has not edited, vetted or endorsed the content of this post.
Want to join our amazing community and share your own story? Sign up here.