This article was written by a member of the SheKnows Community. It has not been edited, vetted or reviewed by our editorial staff, and any opinions expressed herein are the writer's own.
The interesting story of Grey Gardens was brought back to life in HBO's 2009 movie starring Drew Barrymore and Jessica Lange.  Recently HBO has been replaying it, and I thought I would do a post on this gorgeous house turned to ruins.  I love that in the film, the house is a character on its own, seeing it from its majestic heyday to its depressing dilapidation.
In this post I thought I'd use some of the rooms as inspiration, showcasing modernized spaces and products reminiscent of Grey Gardens.
What stands out in several of these spaces are how the walls are treated, wall coverings, wall panels, etc.
Thibault Avairy, Cream
Harlequin wallpaper selected by designer Steve Watson at the Barlett Arboretum Showhouse 2012
photo via Quintessence Blog
Paneled wainscot
Another space from the Barlett Arboretum Show House designed by Victoria Vandamm.  The walls are hand painted.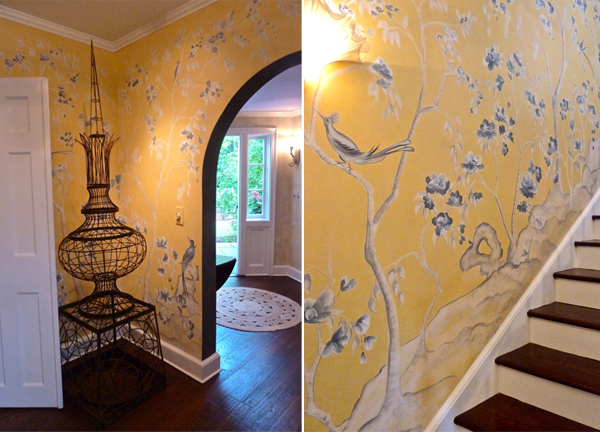 photo via Quintessence blog
In this space the wainscot adds a pop of color against the neutral walls.  Designer: Amy Meier
Amy Meier Design
Another element in the house that made a statement were the light fixtures.  The use of sconces were in many of the spaces, and the chandeliers were breathtaking.
This chandelier is similar in design to the first photo of Grey Gardens--by 
Panache
, Napoleon Chandelier
I.D. Collection
Gorgeous crystal rock double wall sconce by Visual Comfort is gorgeous!
Visual Comfort
Cartouche Dome Light 
I.D. Collection
Visual Comfort
Vining Design Associates
Best,