Have you ever gotten your holiday decorations perfect - exactly the way you want them - and then moved? That's where I'm at this year, with my holiday decorations in the house.
When we lived in Texas, I finally had my  holiday home decor exactly how I wanted it. And then we moved to California. Last year, I didn't decorate for the holidays, other than putting up the tree because the hubby forced me to. I was feeling bummed that I wasn't back home with my friends and family, and figured "what's the point?".
Now that I've adjusted to living in California (which I absolutely LOVE), I dragged out the Christmas decorations this year. I was so excited to get everything up. Until I realized that everything I had ever purchased was done so for specific areas of my old home. And now I'm feeling like I'm starting over from scratch. Half of the stuff that I had before isn't really working too well with the layout of our new home, and I'm having to get creative since our budget doesn't really allow me to purchase anything new!
My absolute favorite part of my home back in Texas was our fireplace, especially when it was decorated for the holidays.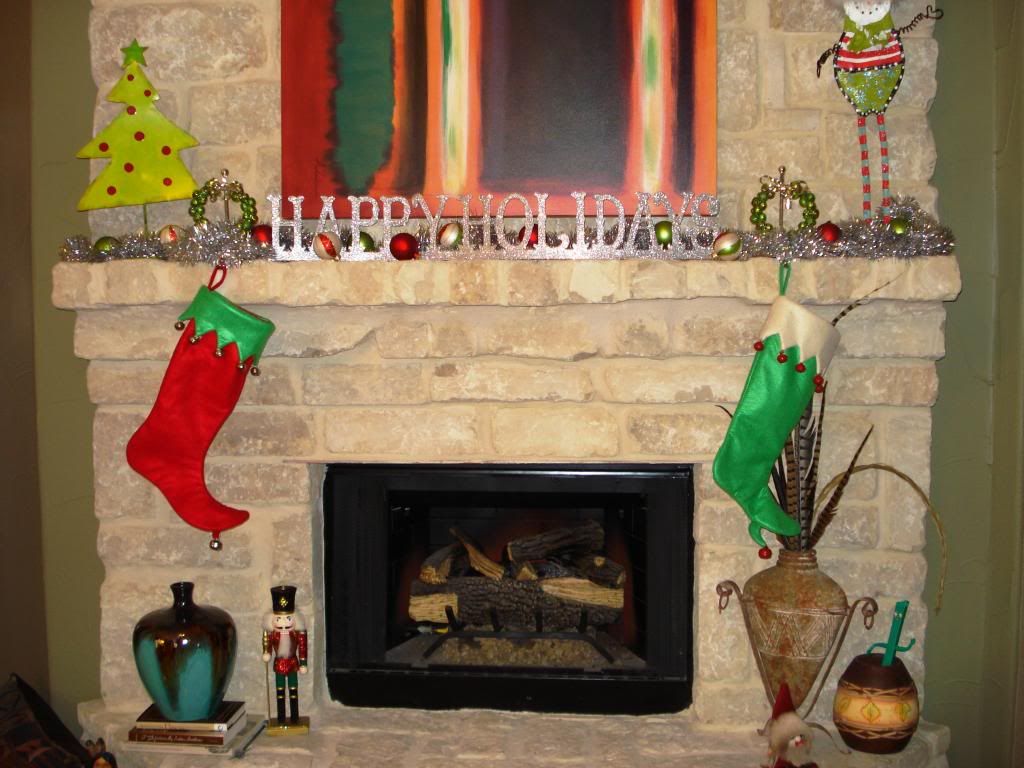 This year, however, I quickly realized that many of my items weren't going to fit, and I was left with a sad looking mantle. So, after I came across this cute reindeer craft, I got an idea. I decided to make my own Jingle Bell Art for my mantle, and I'm sharing the craft tutorial for you today.
I used my Silhouette Cameo to create these items, and therefore this tutorial focuses around that, but you can easily recreate these yourself by adapting the steps in whatever way works best for you.
  For this craft, you will need:
3 picture frames (I used 8x10)
Patterned scrapbook paper (8 1/2 x 11)
Black cardstock (12x12)
Fine glitter (in 3 different colors)
Rhinestones (in 3 different colors, to match glitter)
Jingle Bell shape from the Silhouette Online Store (this item is usually $0.99, but is on sale for a limited time)
When you open the shape, you'll notice that it includes all three parts of the design. I used the UNGROUP feature to separate all three items.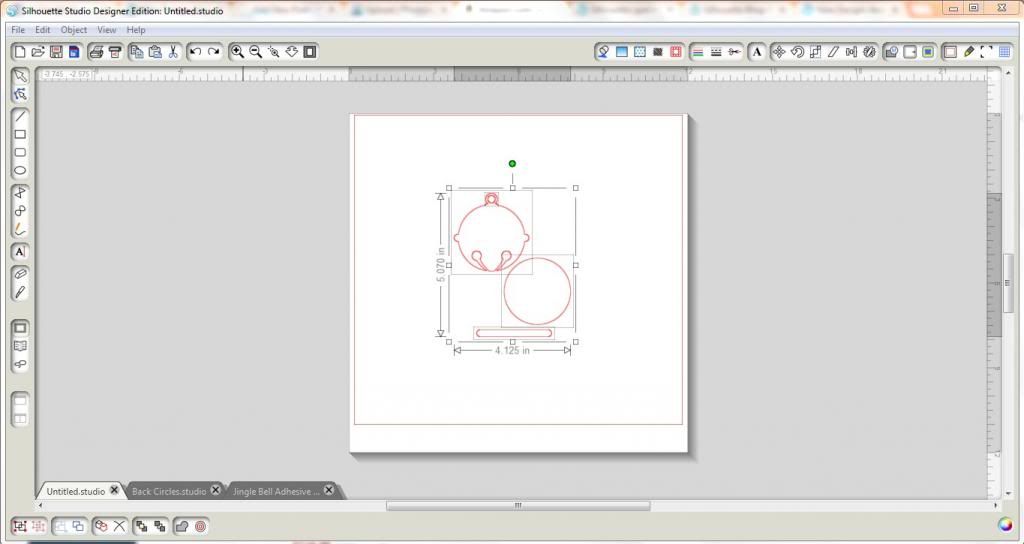 Once I separated them, I opened up a new page, and set it to 8 1/2 X 11. Then, I cut the jingle bell and rounded edge pieces from the original page, and pasted them onto the new page. I then resized these images to fit my 8x10 frame. (Tip: turn on the grid feature to help with accurate resizing.)
On the original page, I resized the remaining circle to the same size that I chose for the jingle bell. Then, I used the DUPLICATE feature to create two more circles, and spread them out around the page.
I cut the three circles out on black cardstock, using my Silhouette.
Following the instructions included on the double-sided adhesive package, I cut the jingle bell and rounded edge pieces out, and then adhered them to my black circle. I then used a scrapbook tape runner to adhere the jingle bell to my patterned paper.
I then glued rhinestones across the middle, covered the jingle bell with glitter, and framed it.
I created three of these jingle bell art frames, each in a different color, to add that missing piece to my holiday mantle. I have to say I'm very happy with the way it turned out! And so is our elf on the shelf, Twinkle. He likes to hide up here quite often.
I love my Silhouette, and all of the things that I am able to create with it. It's not limited to just paper crafts! You can create so many items with different types of media, and the Silhouette Blog is an amazing resource for inspiration.
Don't forget to check out my current giveaways, and link up your newest creations at the Handmade Happy Hour!
This is an article written by a member of the SheKnows Community. The SheKnows editorial team has not edited, vetted or endorsed the content of this post.
Want to join our amazing community and share your own story? Sign up here.