For my day four project, I decided to do these cute potholders.  They are going to be a gift, but the receiver doesn't read my blog to my knowledge, so I will share them with you.  I was hoping it would be a fairly quick and easy project to accomplish, as they seem straightforward and I have made quite a few potholders that are more intricate.  As always, on the first go around of making something, I always seem to hit a few snags. 
     I was really excited to use insul-bright for the first time.  I have never used it as a middle layer, and I was intrigued to work with it.  My main frustration with is was that the lady at the craft store and I had to talk about it for quite a long time before I could locate it, figure out how much it was going to be, and then I brought home a pretty crooked cut of insul-bright.  It's really not that big of a deal, but that is the main thing that turns me away from trying new products, honestly.  I have a hard time finding someone knowledgeable enough to help me with my purchase.  It is crazy hard to locate something and compare prices when you don't know what you're looking for exactly, and you have four kids 6 and under in tow.  So, I usually stick with what I know.  It's not like my kids are bad at the store, but they get bored pretty quickly.   That's when things get interesting. 
     Anyway, so I got all my fabric cut out, and got to quilting the first half heart.  I did not put on my walking foot because it was such a small project, I didn't figure I needed it.  I also did not pin it in place.  This is something I am used to doing with small projects because I can line them up accurately without needing to waste time pinning.  This is what resulted: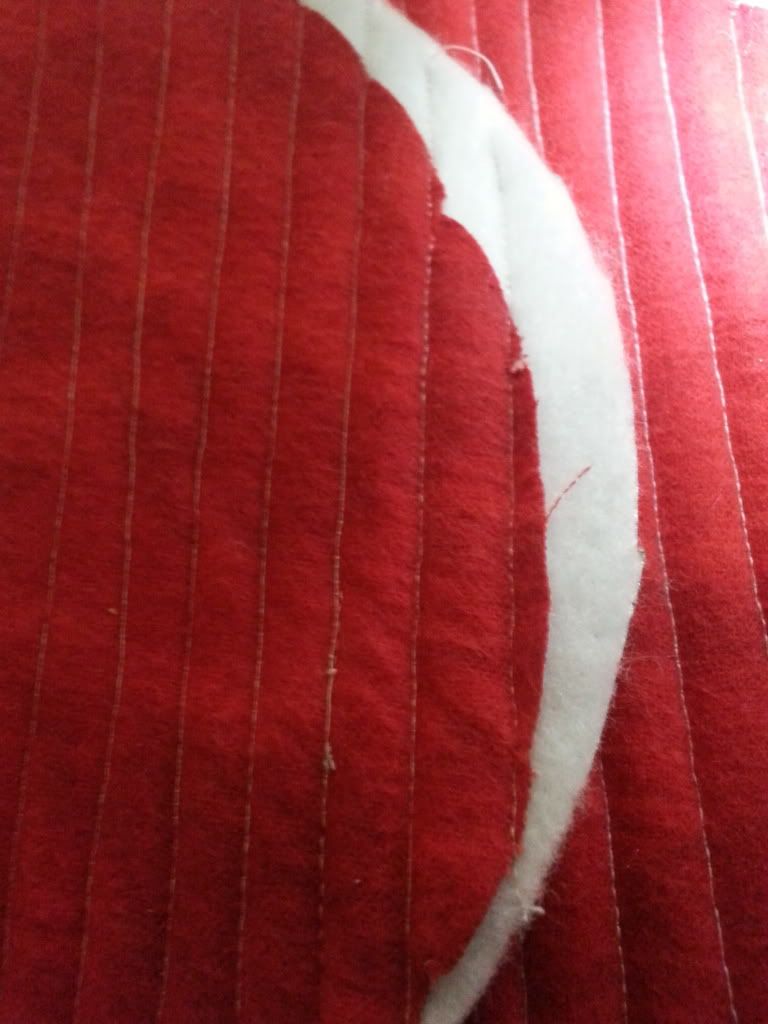 See how much did not line up properly?  Ugh.  Those were the same size to start with.  I took the 2 minutes away from sewing, pinned the next one and changed out my foot.  This one sewed up perfectly.
     Do pin.  Do use your walking foot.  Don't be a shortcut-er.  Even if your husband is patiently waiting in the other room for you to finish quickly so you can hang out for awhile before it's time to pass out from exhaustion for the night.
     When I quilted the first one, I cut my thread every time I finished a row of stitching and wound up with a fat mess of string getting in the way at every turn.  When I did the second one, I left the thread attached, turned the heart, and stitched back down the next row.  This means you will be sewing the heart with more fabric pointed toward your machine in one row and with more fabric pointed away from your machine in the next.  Don't be intimidated, this is a small project and it isn't hard to do.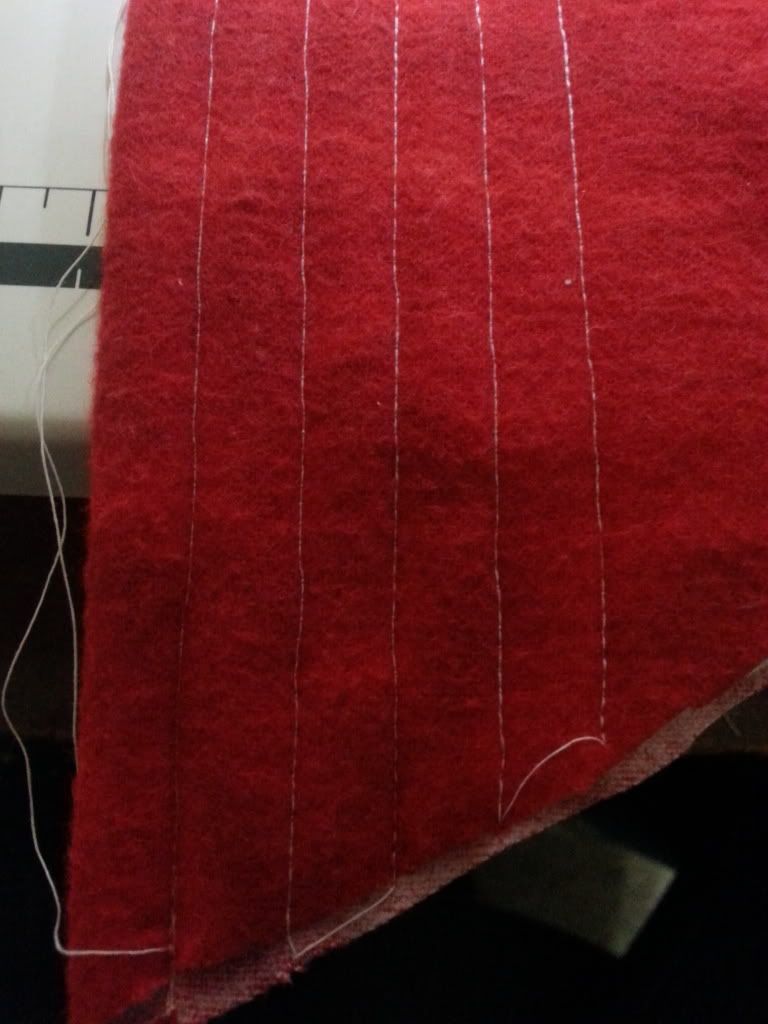 See the thread connected at the bottom?  Much nicer than a lot of loose ends.
     When I finished the quilting, I just made sure that the really uneven heart pointed toward the inside so you wouldn't see it.  I skipped the ric rac because I didn't have any on hand, and I just used a ribbon for a hang loop instead of a ring.  All in all, I love it!  I think it took me about an hour total to make it.
     Now I just need to bake some cookies so I can test out how well it insulates against heat.  I also read on the package that insul-bright is great for lunch boxes, so that may be in the works soon!  The insul-bright was a breeze to sew, and I think it may be a new favorite of mine.  I know you're dying to see it; here is the finished project:
     Want to make one?  Visit the tutorial up above.  
This is an article written by a member of the SheKnows Community. The SheKnows editorial team has not edited, vetted or endorsed the content of this post.
Want to join our amazing community and share your own story? Sign up here.