So this is my first blog post and it will be about my Grandma's Sewing machine.
I was born in Iowa and we moved to South Carolina in my early teens.  Actually, I think I was 12.  Anyway, my mother and I share a common bond with sewing.   She taught me to sew when I was little and I have been sewing ever since.  I began making quilts in my early 20's and when I had children, I set my sewing aside for several years.  After a severe ankle injury sidelined me in 2012, I picked up sewing again to keep me sane during a long convalescence and two very painful ankle surgeries.
Since then, I have been pretty prolific and I have sold several quilts and I make little bags and purses and things to supplement an expensive Disney obsession.   And now, I use it to supplement my new obsession with vintage and antique sewing machines.
My current obsession with these little beauties is shared with my mother.  We also share a mutual love of Bonnie Hunter and her quilts and blog, Quiltville.  Actually, mom was the one that got me hooked so all of this is her fault – haha.   I am thankful for it, though because is a common bond we share – something we can discuss and enjoy together.  And that is important to me.
Recently, my mother has become entranced with the need to have my grandmother's sewing machine.   Truthfully, she just wanted the serial number so she could know what year it was made, etc., I was the one who wanted her to actually have the machine   It has been on the family farm in Iowa since my grandmother was taken by cancer in 1983.  My uncle still lives on the farm, but my mother had been out of touch with him.  My sister got in touch with my aunt and my aunt agreed to give the machine to my mother.  She offered to ship it, but mom didn't want anything to happen to it.  So the plan was hatched that mom and dad would travel to Iowa and retrieve it.  Dad measured the trunk of the car and they came over to my house to look at my treadle sewing machine and measure it and see how they could take one like it apart.   Convinced they could get it in the car, off they went to Iowa to get the machine for mom.   And of course they planned to visit many relatives and landmarks along the way.   They had a great trip and they were very happy to see everyone.
And now they are home.  And the machine is here.  And my mother is giddy over it.  Before I get to photos, let me give you a little history.  We believe that this machine originally belonged to my great-great-grandmother who gave it to my great-mother who passed it down to my grandmother and now it is with my mother.   My mother thinks my 2x great grandmother gave it to my great grandmother after she got married.  The sewing machine is a treadle machine – an antique.   It is a Singer and the serial number is H976221.   The serial number tells us this machine was one of 20,000 born December 18, 1906.  It is a beautiful model 66 with Lotus decals.  Here is a photo.
The American Singer 66 was produced from 1902-1956, totalling 5,924,909 machines and the 66K from Kilbowie, Scotland was produced from 1907-1940 with 2,981,388 machines manufactured.  It is not true that the 66 was first introduced in 1900.   Production difficulties meant that the first 66s rolled off the production line with a commission date of October 27, 1902.  Singer created for this model a new Ancient Egyptian Art design, with lotus or papyrus, after its success with the Sphinx design. 
The Lotus decal was produced in the UK (as well as the USA, though in far fewer numbers and over a shorter length of time in America). More Lotus machines are found in Australia because Kilbowie, rather than the USA plants, exported to Australia.
The worn decals show how much it was loved and my aunt's dog chewed on the cabinet, but otherwise the machine and cabinet are in very good shape!!  Anyway, here are several more photos.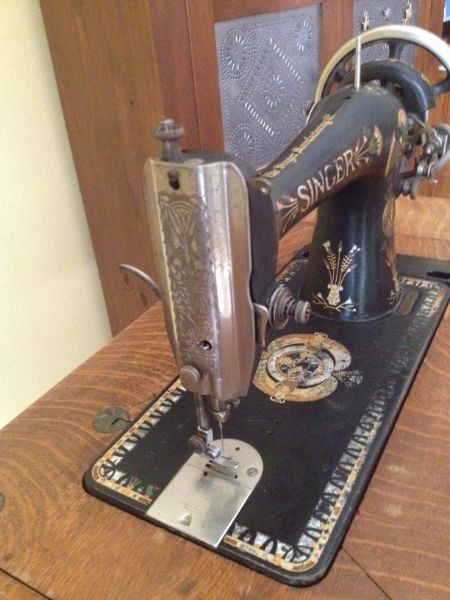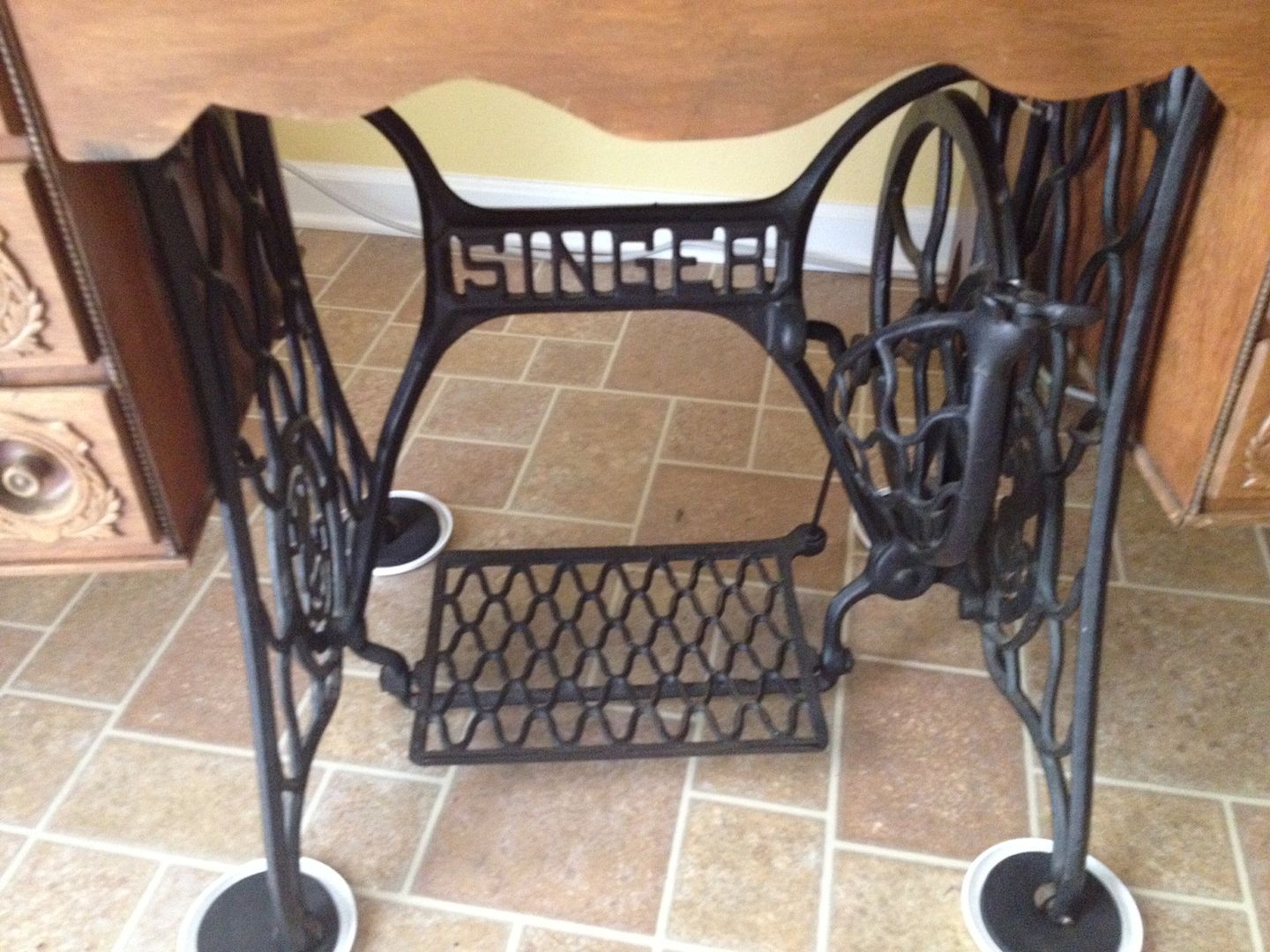 I arrived at mom's house this afternoon to finally see it.  I was so excited.   I brought her several things:  bobbins, needles, sewing machine oil, furniture restore-it oil for the cabinet and some plastic tubing to serve as a treadle belt.  I stopped at several hardware stores to find something to connect the tubing, but didn't have much luck, so we settled for some postage tape for now until she can get a real leather treadle belt.   There was a belt in the drawer of the cabinet, but it was too short.  We threaded the machine and the treadle belt.  After some minor trial and error, we got it sewing.  And my mother actually squealed and jumped up and down a bit.  She was sooo happy and I was so happy to share this with her.  
After a couple of hours, motherhood called me back home to shuttle kids around and feed and water everyone.  It was a good day though, full of family history and good memories.
This is an article written by a member of the SheKnows Community. The SheKnows editorial team has not edited, vetted or endorsed the content of this post.
Want to join our amazing community and share your own story? Sign up here.