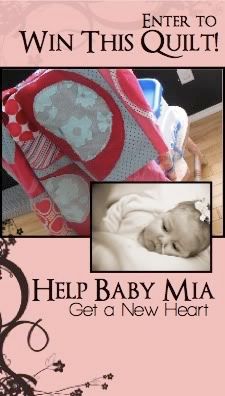 Click Here: http://a-mama-drama.blogspot.com/
Come enter to Win a Free Quilt. Made in hopes of generating donatations to help 3 month old baby Mia get a heart Transplant. Baby Mia has been in the hospital since birth. Her mom stays with her everyday, while her dad is playing the part of Mr. Mom at home to the other two small children and trying work to support the familly as well. Mia is hooked up to so many tubes her mom can't hold her, but she still stays by her side everyday.
This is an article written by one of the incredible members of the SheKnows Community. The SheKnows editorial team has not edited, vetted or endorsed the content of this post.
Want to join our amazing community and share your own story? Sign up here.