This article was written by a member of the SheKnows Community. It has not been edited, vetted or reviewed by our editorial staff, and any opinions expressed herein are the writer's own.
With all of the commotion about going to St. Kitts I've really had to cut way back on crafts and DIY projects.
And it's driving me crazy!
There are so many things I want to buy and create but moving out of the country in four months kind of takes precedence. We will be selling a lot of our stuff and probably won't be coming back to Montgomery after our two years in St. Kitts are over. So it doesn't make sense to be doing any projects… you know?
But I couldn't stand it any longer! I had to take on something… even if it took a whole 10 minutes from start to finish!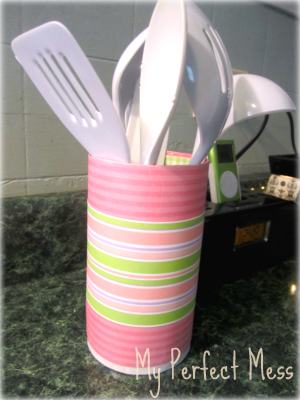 Our utensil drawer was overflowing with stuff. Sometimes we had to shift things around just to get the drawer to close. It was pretty bad.
This utensil holder was made from an old oatmeal container. I have a hard time throwing these away because they can be used for so many things.
The  holder clears up my drawer so I can find everything and shut it easily. Plus, it's cool to have my most used utensils already out so I don't even need to open the drawer. (That sounds so lazy!)
I used scrapbook paper to cover the outside of the oatmeal container. You can use glue, mod podge or anything really… I used double-sided scotch tape! It might be a little bootleg but it works and you only notice it if you are looking for it!
I also put scrapbook paper inside of the container to give it a little extra prettiness.
The scrapbook paper didn't go all the way around the container so I added a little more from another sheet to make the ends meet better. (I put the seam in the back so no one can see it!)
Because it's paper, I need to be careful about getting it wet but it will work temporarily! And it adds a pop of color to my kitchen.
Have you ever done anything creative with oatmeal containers?