My DIY attempts usually stem from my misguided belief that I can do it better or cheaper myself. I admit that I never do it better, and my fails mean I only occasionally do it cheaper. However, sometimes I can't find exactly what I want in stores or on Etsy, and that's when I forget about my past fails and take the plunge into the DIY world again.
This time it was a SUCCESS. A success that was cheaper than what I would have paid, and a success that was exactly what I wanted. And as my regular readers know, if I can do it you can do it.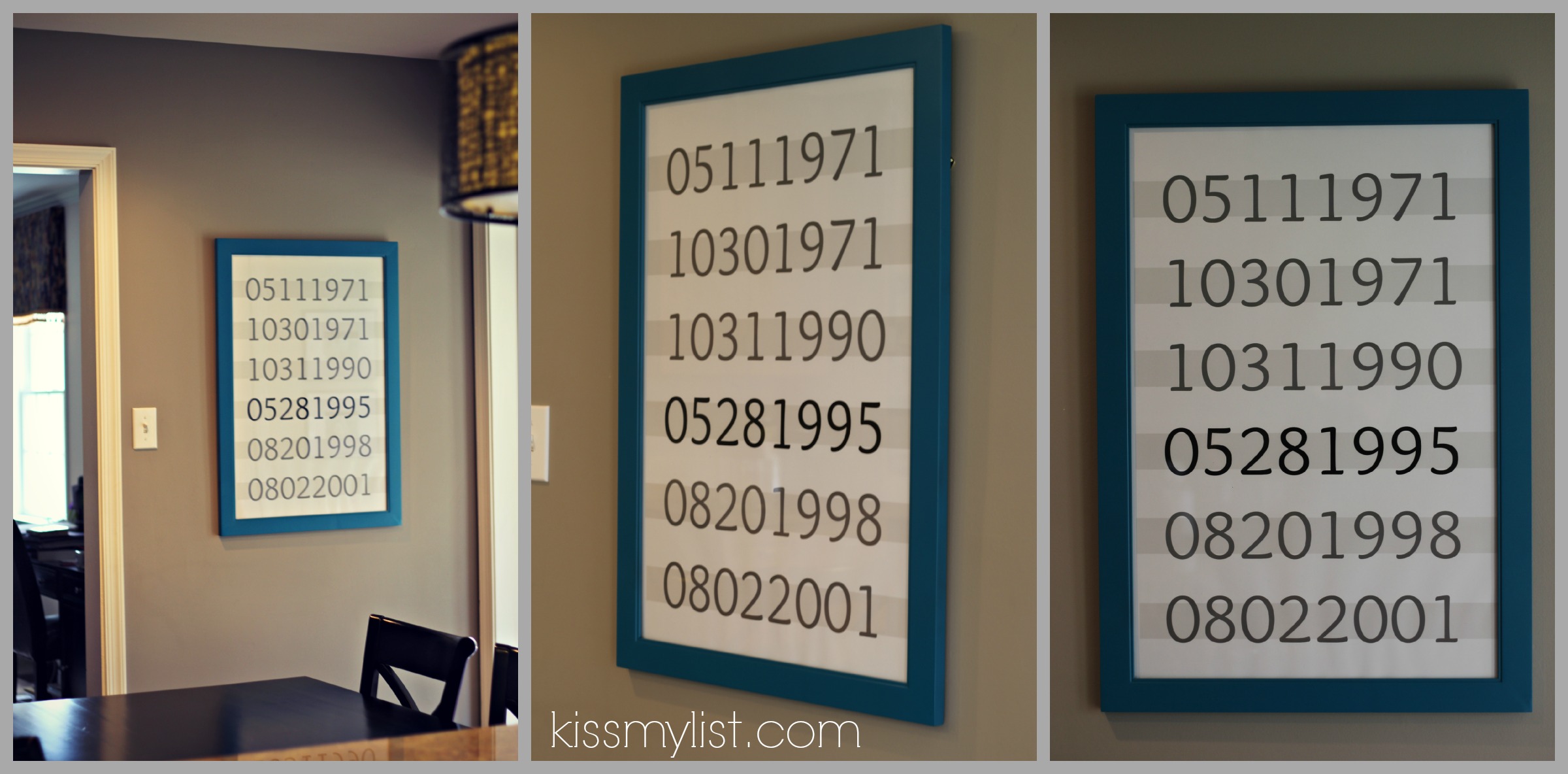 When you first look at the piece, you see a bunch of numbers. On closer inspection, you'll see that the numbers are important anniversaries and birth dates for our family. I've seen this type of wall art all over the internet, but I never liked the font/color combinations. I had an empty wall in my brand new kitchen, and I wanted to bring in a teal/peacock/turquoise type of blue color as an accent to the gray walls. I couldn't find what I wanted, so I created my own.
Here's how I did it:
1. First decide on a size for your piece. Choose a standard size that can be printed locally or online. I use Snapfish, and they offer posters in the following sizes: 11×14, 12×18, 16×20, and 20×30.
2. Before you create your art, make sure you can find a frame you like in the right size. I needed a 20×30 frame, and I found a black one at Michael's that I bought with a 40% off coupon. Cost of frame: $30.
3. Open PicMonkey and select  >design and >custom. To determine the size you need, refer to this guide. My template was 2400 x 3200 pixels, which fit nicely into my frame with enough room for margins. PicMonkey limits the size of the design, so if yours is too big, just reduce it proportionally.
4. Create your wall art by using the text function, and lining up each row of numbers. Play around with fonts and colors. I added a gray rectangular overlay under each row to add some visual interest. (Select >overlay >geometric and create a rectangle to over each row of numbers, then right click "send to back.")  I highlighted our anniversary by making it darker than the other dates.
5. You'll notice that I only used shades of gray and black. I initially used the teal color, but ran into problems when I took it to Staples for a test print. Colors online read differently than they do when printed. PicMonkey uses a hex code color system, but Staples' printers use RGB. That means the colors I chose on my computer screen are translated differently by the printer. My colors kept coming out wrong, and I lack the design knowledge to fix it without a lot of headache. So I opted to pull in the teal color in the frame, and stick with grays and black for the text.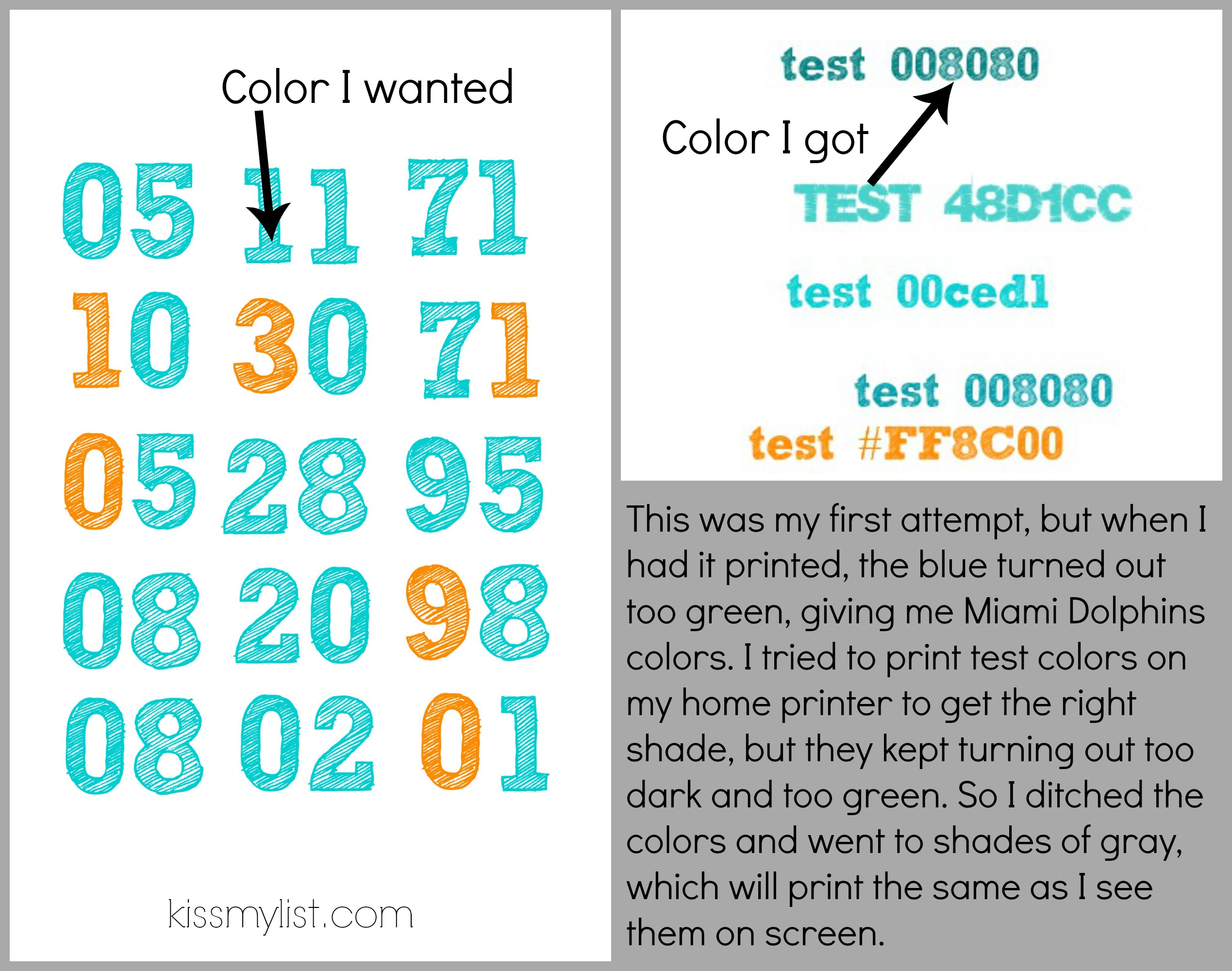 6. Save your design as a jpg file, and upload it to your favorite photo site (I use Snapfish). Order the photo in the size you need. And check (disclosure: affiliate link) Ebates first – I saved 50% on mine! Choose matte finish to avoid glare – remember this will be under glass.  Cost of poster: $14 with shipping.
7. If you want to paint your frame, spray paint it in a well ventilated area. I painted mine outside and left the grass a lovely teal color. Make sure you remove the glass and backing before you start spraying. Cost of spray paint (satin Painter's Touch in lagoon): $4
8. Put your poster in the frame and hang it on the wall for all to admire! Total cost: $48.
I love the way mine turned out, and I love that it is a conversation piece. Sometimes people know immediately what the numbers represent, and sometimes they are perplexed. I tell them that the numbers stand for dates, and then see if they can figure them out. The third one usually stumps them.
While I created a large poster, this project can be completed on a smaller scale too. Create an 8×10 for a table, or even a 5×7 for your desk.
This is an article written by a member of the SheKnows Community. The SheKnows editorial team has not edited, vetted or endorsed the content of this post.
Want to join our amazing community and share your own story? Sign up here.