Hi Friends!  December is on the way, and it is going fantastic here.  I was so anxious to dive right into December Daily and get this album filled with memories and photos!  Today I have Days 1 and 2 to show you.  Hope you enjoy!
I had the cover sheet and then a layout for a family photo, which was this: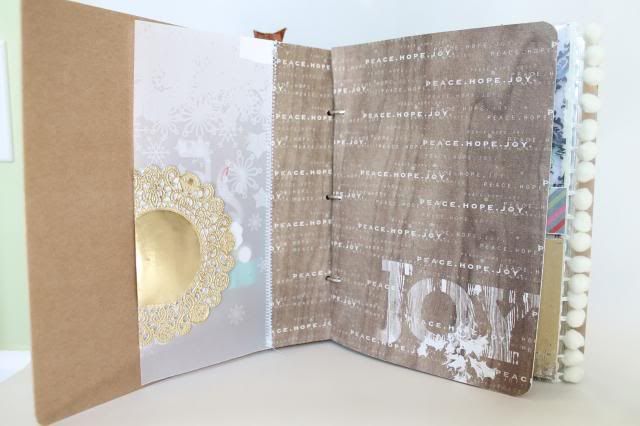 So we went shopping for our tree, and I decided to use one of the photos I took of our kiddos together.  They are just so cute.  I also added a few embellishments, but overall it is super simple and I love it.
This is Day 1, before photos:
I used more of the photos from our tree shopping fun, added some journaling, and called it a day.  I love it!
The journaling reads: Let the fun begin!  I was so excited to start decorating, so we bought our tree today!  So love this!  The photo of me and my husband was taken by our son, who is ten, and is learning quite well how to snap some good photos.
Day 2 was kind of a jumbledy, mixed up kind of day.  We ate lunch out and during the afternoon the kids played outside.  They played with a couple of our neighbor's children, whom they adore.  Yes, it is a leaf pile, and yes, it is a fall kind of picture in December Daily!  And I love it.  This album is so flexible and organic.
Here is the original:
And with photos.  I took out the ochre paper and made that photo full-sized.  Also a note about that one pocket with the starburts and enamel dots: that was an idea from Ali Edwards that I wanted to try.  I love transparent elements and this is great fun!  She took a page protector and trimmed it down to fit inside that pocket, then attached the starbursts and the dots.  
And here it is with photos and a little journaling.  I did a fold-up element in the top pocket so the photos from lunch wouldn't seem so out of place next to the leaf photos!
Here is a closer view of the flip-up element:
The journaling tells of Natalie recording SpongeBob so she and Emberlynn could watch it while we waited for lunch.  The other note is simply "Having fun @ 5 Guys!"
I layered a transparent journal card from Allison Kreft over the Glitz woodgrain paper, and attached it with gold washi tape.  So simple, and yes, I love it.
I hope you have enjoyed the first two days of this journey!  I'll be back in a few days to see more progress in this adventure!
~Theresa
Deember Daily is the brain child of creative scrapbooking genius, Ali Edwards.   To learn more about this process and connect with others who love DD, check her blog out here!
This is an article written by a member of the SheKnows Community. The SheKnows editorial team has not edited, vetted or endorsed the content of this post.
Want to join our amazing community and share your own story? Sign up here.