Hi Friends!  Well, we are smack in the middle of December and I am feeling it.  I am officially behind on December Daily!  But this is not to worry.  This is to be expected.  This is part of the craziness that is December and it really means we have been living December.  This is why I love this project.
I am grateful that this album was already made and good to go, and each day is a matter of photographing, journalling, and a little embellishing.  Just a few notes about my process: I am a self-confessed scrapper-in-small-chunks kind of girl.  My scrap area is in our breakfast area, right between the kitchen and the living room.  I am known for putting on a pot of water to boil, and while waiting I will step over and do a little scrapping.  December Daily is out on my desk and it is easily accessible whenever I have a few minutes here, a few minutes there.  Other people have different ways of handling this project, but this is what works for me.  And I love it.
Today I have Days 5-8 to show you, and I am so excited about them!  We have been having some fun here, so I hope you enjoy.
This is the foundation for Day 5: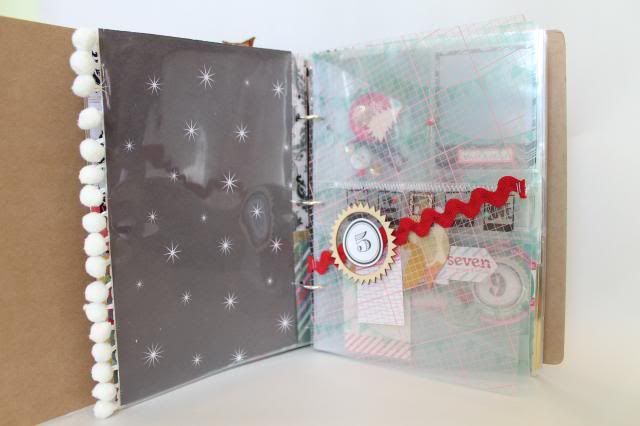 I couldn't wait to work with this transparency (Allison Kreft for Webster's Pages), and I knew I wanted a large photo.  I decided not to use that black star paper (Studio Calico).  So this is what I did: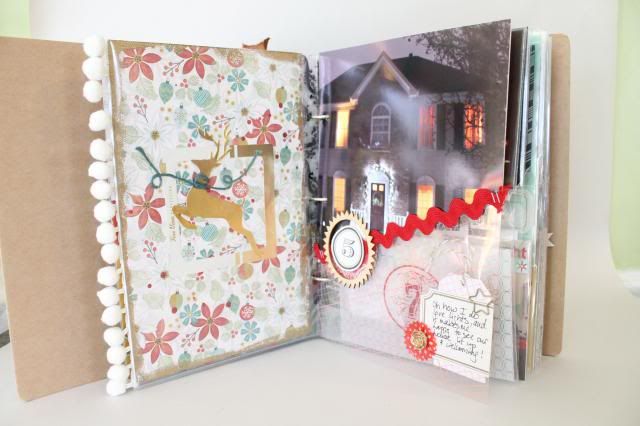 I created a little vignette on the left side, using that gorgeous gold reindeer from Pink Paislee, and a gold polaroid frame from Crate Paper.  I edged the entire thing with Zing! gold embossing powder, and tied a little blue cord around the reindeer's neck.  So simple.  The photo is our house, lit up, and the journalling reads: Oh how I love lights and it makes me happy to see our house lit up and welcoming!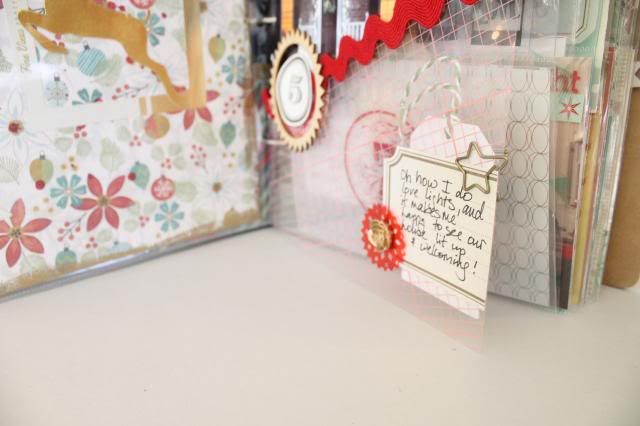 There is some glare so I took it out of the album and photographed it flat so you can see better: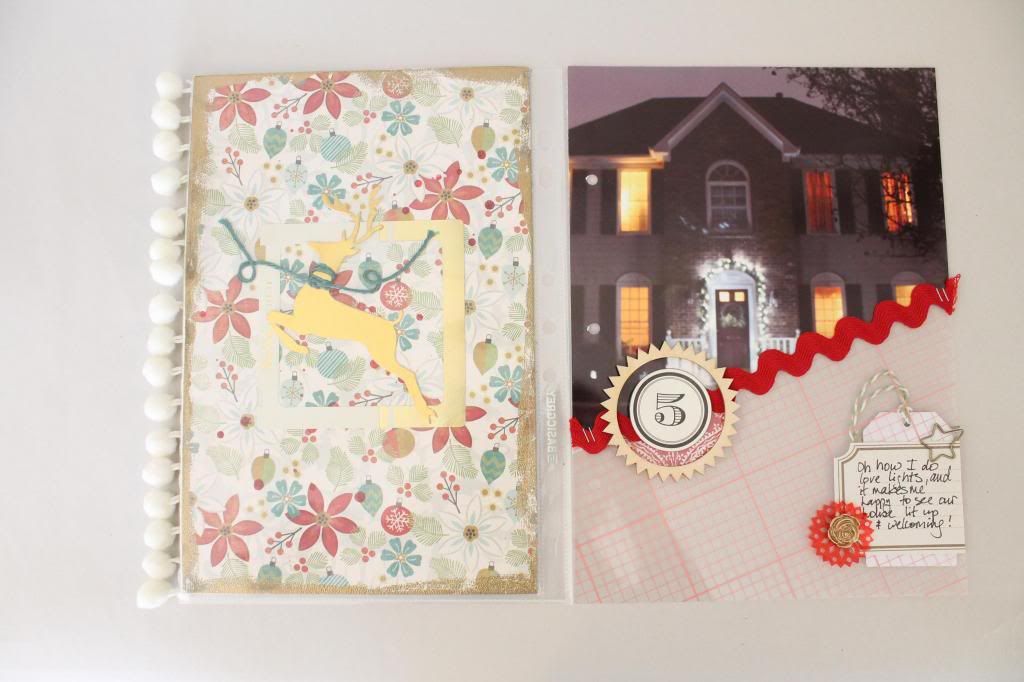 Next is Day 6, again working with the transparency.  Here it is before: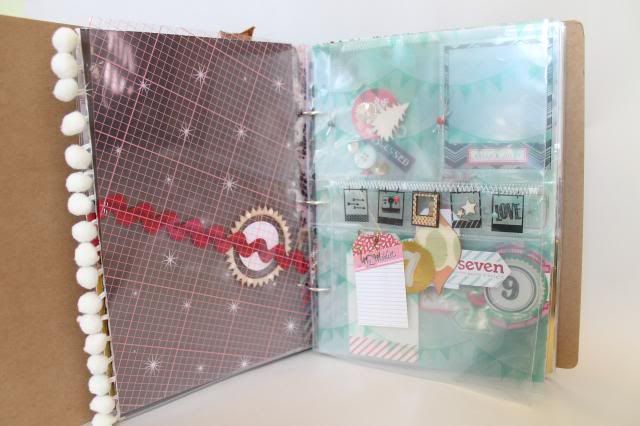 The fun part of working with these transparencies is being mindful of what is on the front, and what you want to show through.  Here's how I handled some of that:
I decided to only use that side for Day 6, because I knew Day 7 would be photo-heavy.  I added the number six, and a tag for journalling, and that was it.  The journalling reads:  All I want is you!  And I wish for us the most happy Christmas!  I love you!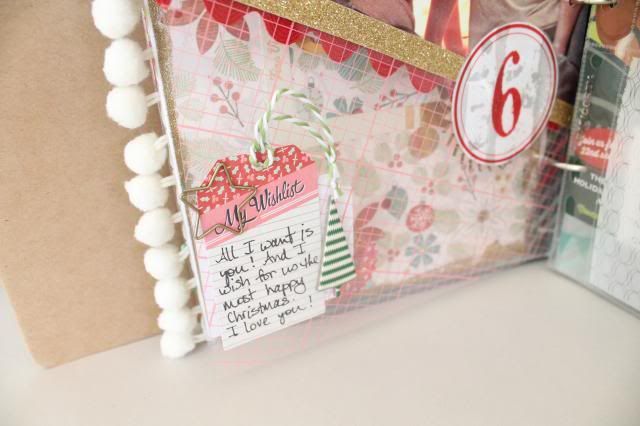 And here it is, out of the album:
Leading into Day 7 - we kept the kids up late and drove out to Tanglewood to see the lights!  This is one of our favorite yearly traditions.  This is Day 7 before adding anything: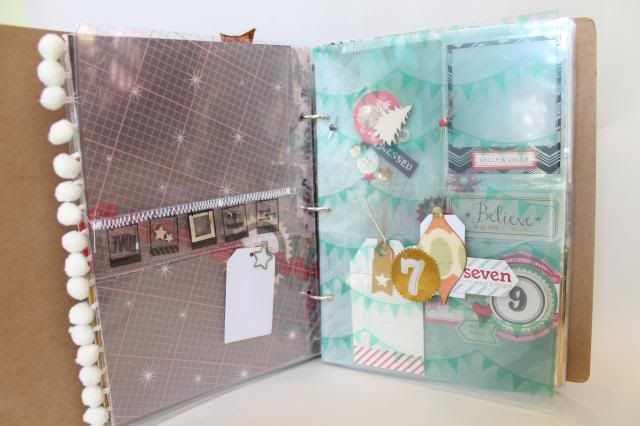 So I knew I wanted more than just one or two photos, and I knew they would be black because of the dark, so I placed a white transparency in the pocket to contrast the black (Allison Kreft again!)  I love this:
In trying to figure out how to place more photos in here, Ali Edwards posted her great idea for adding another pocket to the page protector by cutting one in half and taping it to the protector with red line tape.  You can read her original post and instructions here.  I love how she did this, and can see tons of uses for this in Project Life!
So when you turn this page, this is what you see: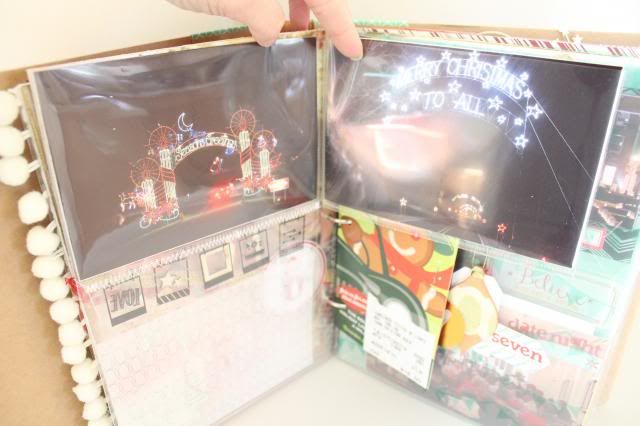 I added the brochure from the Park: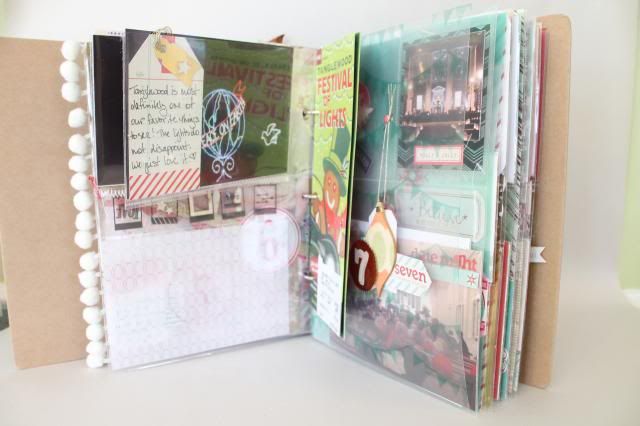 And a little journalling:  Tanglewood is most definitely one of our favorite things to see!  The lights do not disappoint!  We just love it!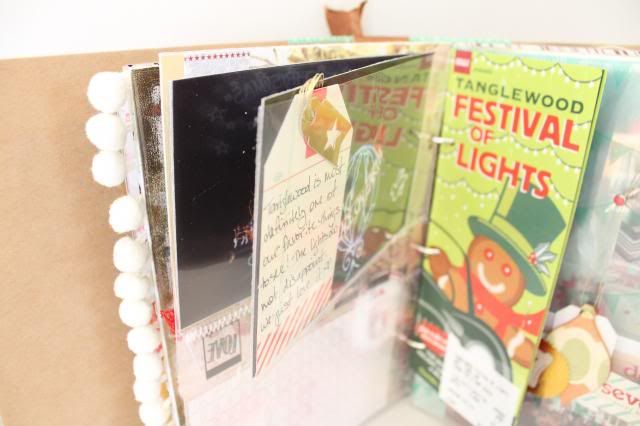 Here is the spread out of the album: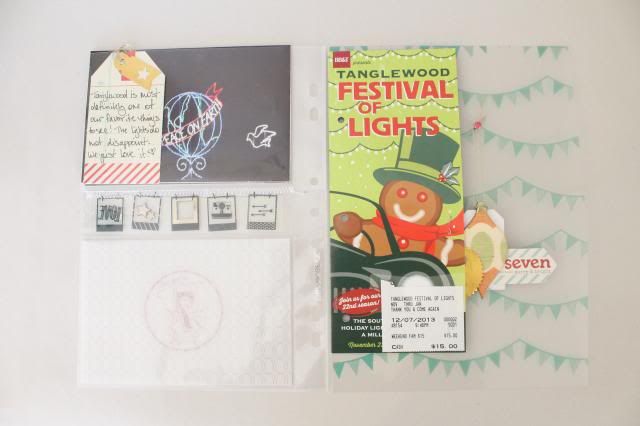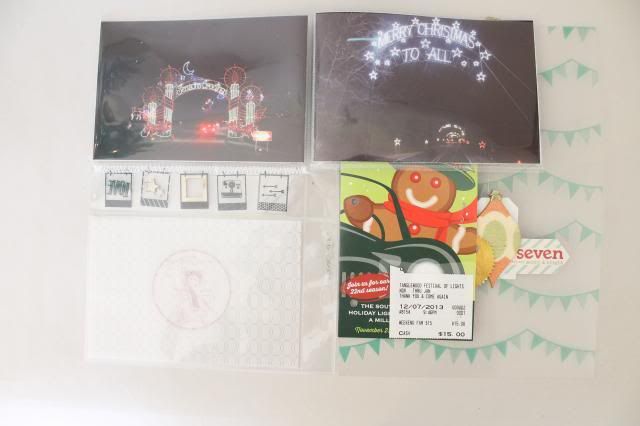 And now Day 8.  Here is the original: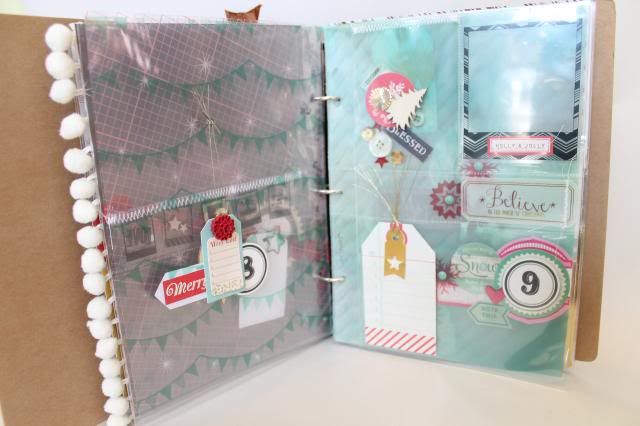 Day 8 was special because we had a date night.  Greensboro College did their annual Lessons and Carols so we went to hear and to see old friends.  The funny thing is that I did not take my camera, and the only photos I got with my camera were awful.  But the next morning, Greensboro College put up some photos on their Facebook, and we were in one of them, just the backs of our heads!  The original photos can be seen here and the credit for both of these photos goes to GC's photographer.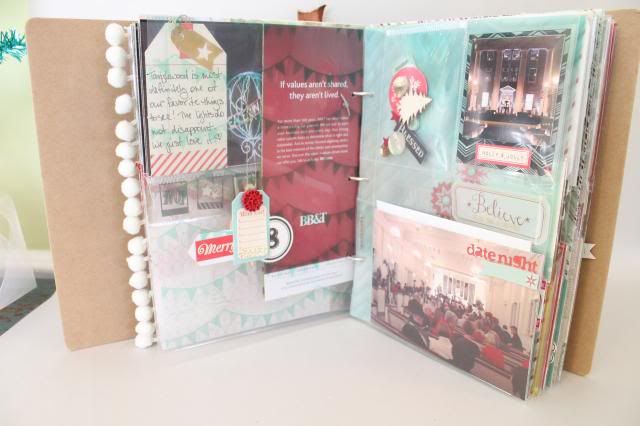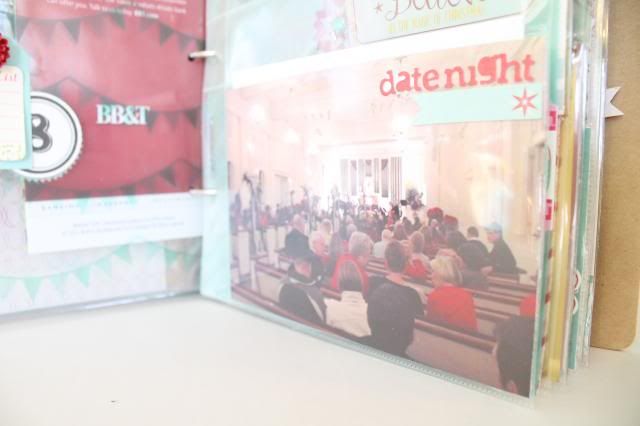 Tucked behind the photo is a letter from my husband.  He writes the most beautiful love letters, and this one is special to me.  He actually wrote it yesterday, but I am putting it here.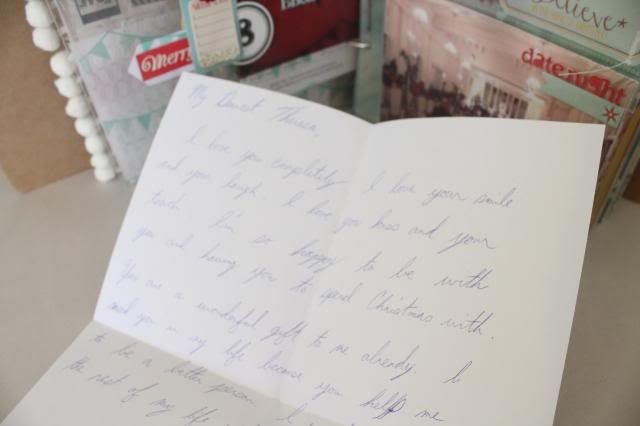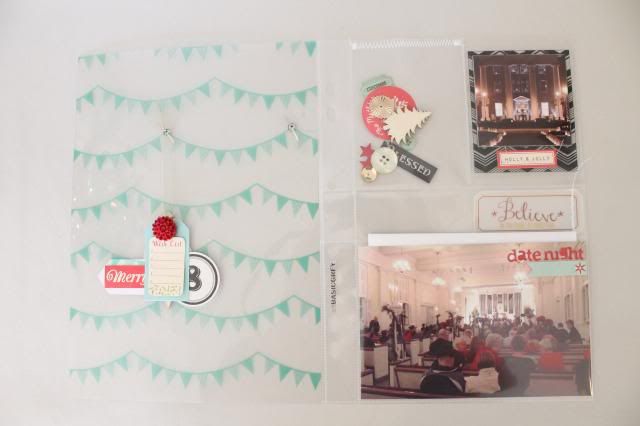 And there is the layout outside of the album.
Thank you again for following this journey with me, through the month of December, documented in my December Daily.  I hope you have been inspired!
~Theresa
December Daily is the brain-child of creative genius Ali Edwards.  You can find out more about this awesome project and connect with others who are participating right here.
This is an article written by one of the incredible members of the SheKnows Community. The SheKnows editorial team has not edited, vetted or endorsed the content of this post.
Want to join our amazing community and share your own story? Sign up here.