This article was written by a member of the SheKnows Community. It has not been edited, vetted or reviewed by our editorial staff, and any opinions expressed herein are the writer's own.
     If you sew for kids at all, I'm sure you've seen these cute crayon rolls somewhere along the line.  They are so easy, and so fun to make that I got my kids in on this sewing project.  Both Turbo and the Toolman like to "sew" with me.  It makes things interesting, but we have a lot of fun too.  By the time they are a little older, they will be very familiar with the sewing machine if they decide they still want to make things with it.
     I let my boys line up the cutting ruler, count squares (inches) on the cutting mat, and press the foot pedal while I sew.  I also explain to them the importance of following directions and thinking ahead when we are working on a project.  They have a blast making the machine go, and they press the foot pedal with their hands because they think it is easier than using their feet.  I love my sewing machine, and one helpful feature is that it has a built in speed regulator.  I can set it to super slow even when the pedal is pushed in all the way if I am working with a child that wants to go fast and is having a hard time listening.    
     My boys each "made" a crayon roll for one another, in secret; on Christmas day (if they can keep a secret that long!) they will each get one.  I found these cool glitter crayons to put in there as well, which have been a hit in the past.  Want some pictures?  I won't go through all the steps, but the tutorial at the top is pretty easy to follow.  I did add a piece of interfacing to the inside for structure, but I followed everything else.  
     The pockets in this one fit two crayons in each one.  I'm not sure that's my favorite, but it meant we could fit more crayons in it, so I probably shouldn't complain.   This one was made with Superman fabric, and Turbo used the Toolman's favorite color of thread on it as well.  It's going to be a hit for sure. 
     He also picked out the "lucky frog" button.  I'm not sure it fits with the theme, but it's what he wanted.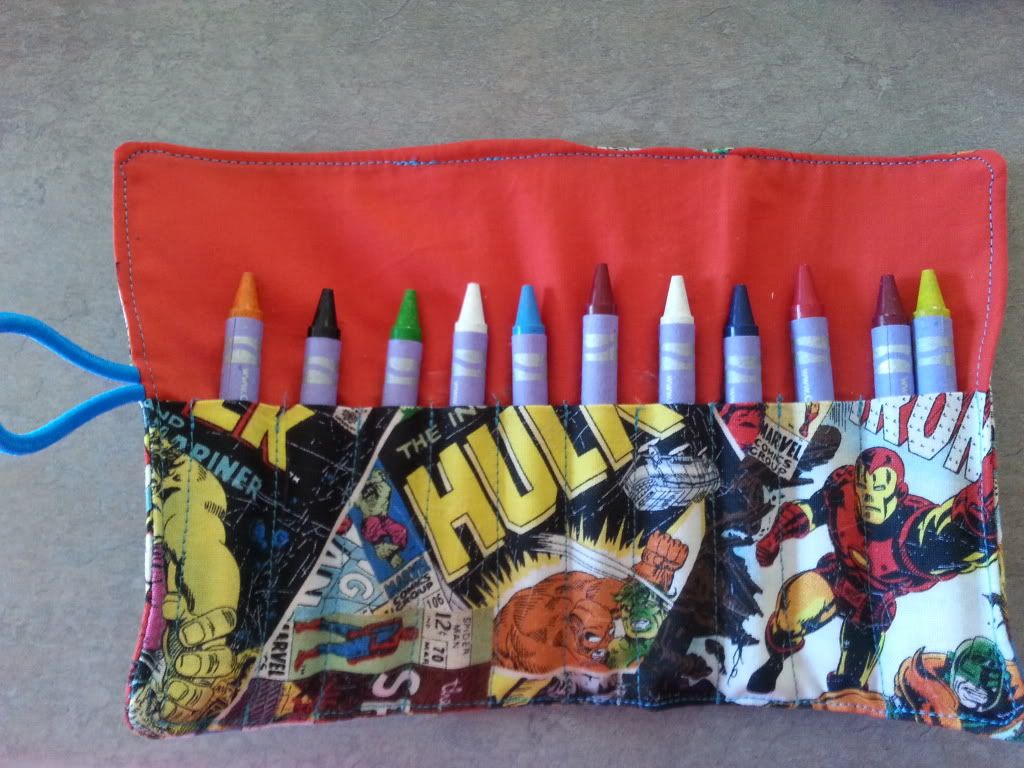 Here is the second one.  This one the Toolman "made" for Turbo.  He picked his brother's favorite color of thread for the top, and his own favorite color of thread for the bobbin; they both looked great with the fabric.  We made the pockets smaller to fit one crayon per pocket.  The last pocket is a little off.  It happens.  He will enjoy it either way.  
     My boys both got a chance to pick out fabric for one another, and we will make something else with the extra fabric, as this project uses only a bit.  That may or may not happen before Christmas.  It's really only a 30 minute project or so also, which is amazing.  Make some!  I know the kids in your life will love them.