Hi Friends!  Thank you again for stopping in and for following this month-long journey with me and my family.  I am documenting December through photos and stories, gathered into a 7x9 mini-album, chock full of yummy scrappy goodness!
Ali Edwards made a great post today on her blog wbout finding beauty and whether there is pressure to put only the best photos and layouts in December Daily.  You can read that blog entry here.  I related to so much of what she said, especially her line about how sometimes the beauty is just in making it.  Just in surviving.  I have been doing December Daily for five years, and in every one of those albums I see so much joy, but I know the last five years of my life have been some of the hardest.  Some of that pain is reflected in those layouts, and I am glad it is included.  It is part of my life, and part of who I am, and I am thankful to have recorded it.  This is why I do December Daily.
On another note, as far as perfection is concerned, I can only laugh!  My photos and layouts are far from perfect!  There are some days it feels clunky and just doesn't want to come together, although making the foundation pages ahead of time curbs some of that.  My photography is very amateur - everything I know I taught myself and I can see so much progression!  But I love it, I love the imperfections, I love the not-quite-perfect shots.  I love the photo just as it is, even if the green isn't quite right, or there is a blur where someone moved, or not everyone is looking at the camera.  This is why I do December Daily.
So today I have Days 3 and 4 to show you, and I hope you enjoy.
This is Day 3 before photos and journalling: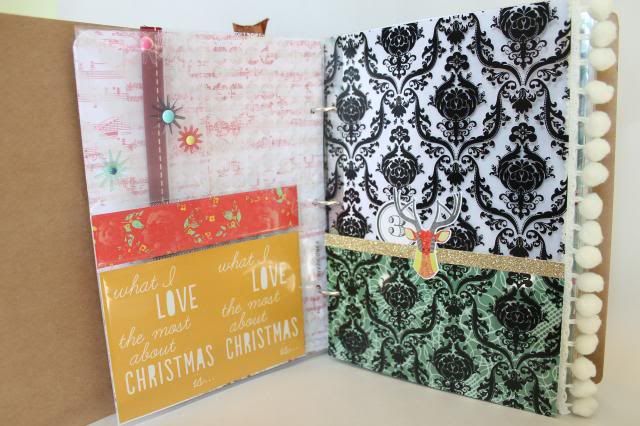 For some reason, everybody wanted to do homework under the tree that day, drawn in by the lights, I guess.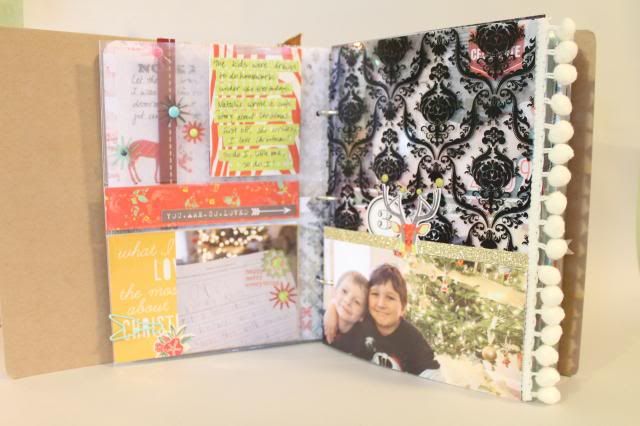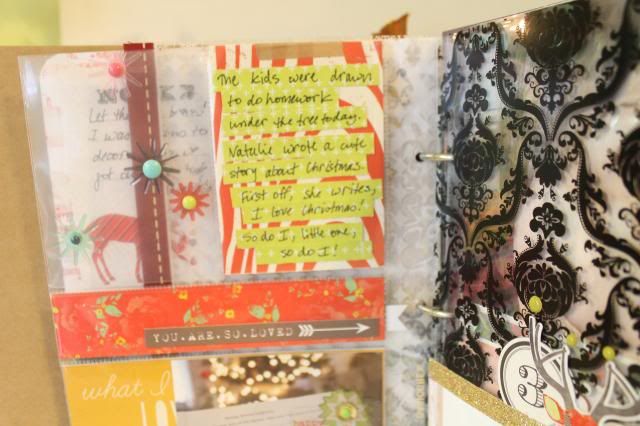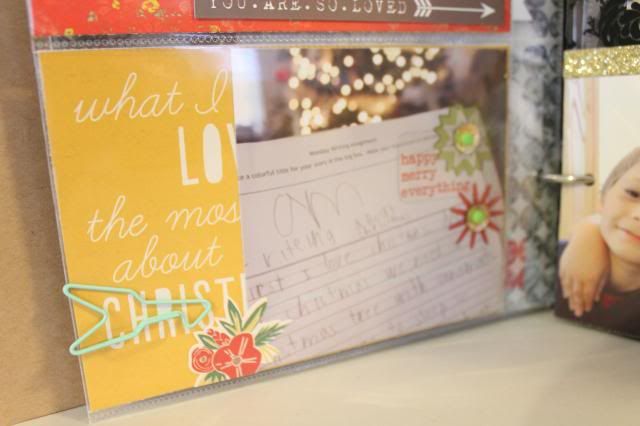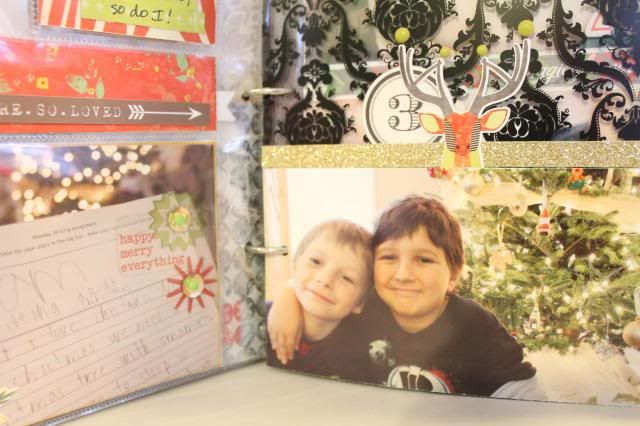 Don't you just love the little bling I added to the deer?  And the sequins on top of the Studio Calico acrylic snowflakes are awesome.  This year I wanted to incorporate the transparencies with the photos, so here I decided the photo would be on the bottom portion, and on the back is patterned paper.  I love it.
The journalling for Day 3 reads: The kids were drawn to do homework under the tree today.  Natalie wrote a cute story about Christmas.  "First off," she writes, "I love Christmas!"  So do I, little one, so do I!
Here is Day 4, in its original state: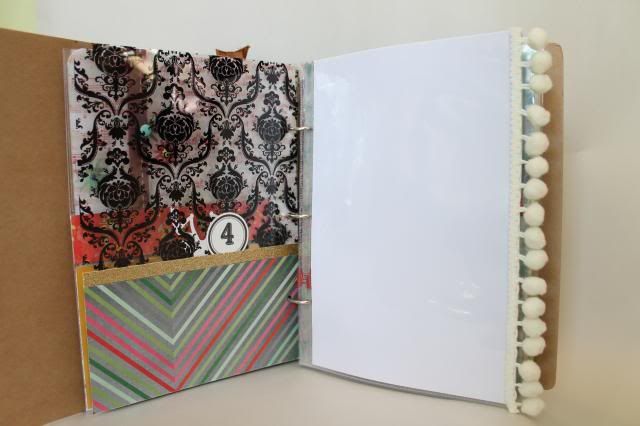 Day 4 is about this little stuffed Christmas tree we have that I got from Hallmark years ago, and specifically about the Santa ornament that is on it.  Every year when we pull it out, Natalie goes straight for that Santa ornament.  I happened to remember that I had done a layout about it in an album from a previous year, so I pulled it out to compare.  And I thought I should do a Then & Now layout: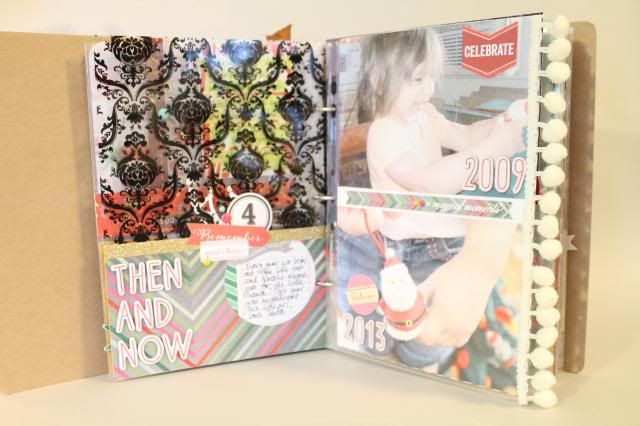 This photo shows her in 2009, laughing and having the best time with Santa: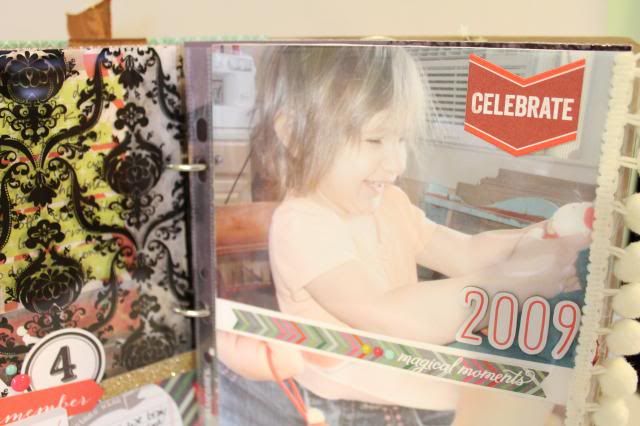 And this is on this day, in 2013: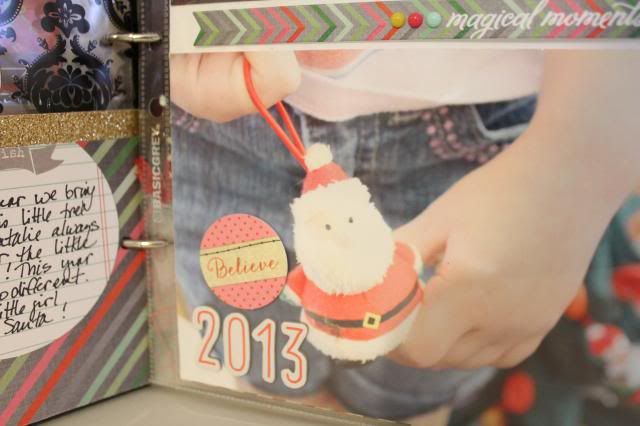 Here is a close-up of the journalling, which is placed on the patterned paper that hides the photo from the day before on that transparency: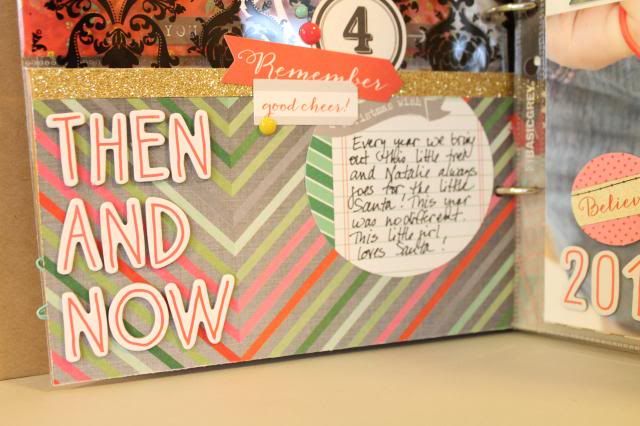 The journalling reads: Every year we bring out this little tree, and Natalie always goes for the little Santa!  This year was no different.  This little girl just loves Santa!
And here is a photo of the layout in the 2009 December Daily: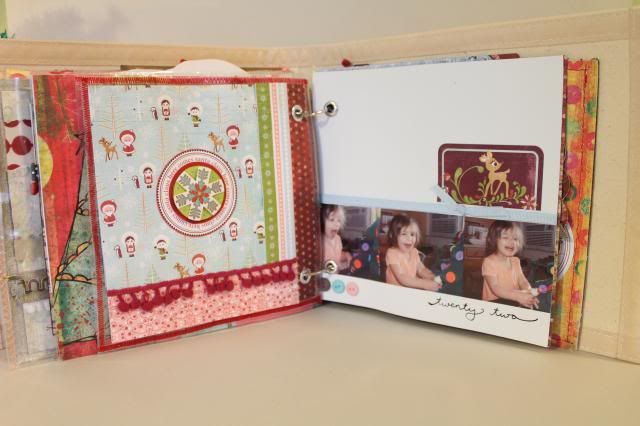 Look at that Basic Grey, that was one of my favorite lines of all time!  And Natalie's expressions are just priceless.  That was also back when we sewed our own page protectors because no one had come up with pocket pages yet.  What a treasure.  This was most definitely a fun day to record!
Well, that wraps up today, and I will be back on Sunday to post more!
~Theresa
December Daily is the brain child of creative genius, Ali Edwards.  You can read all about her fantastic ideas, learn more about December Daily, and connect with others who are participating in this journey, on Ali's blog here.
This is an article written by a member of the SheKnows Community. The SheKnows editorial team has not edited, vetted or endorsed the content of this post.
Want to join our amazing community and share your own story? Sign up here.