This is day two of my 12 crafts in 12 days series of blog posts.  For day two, I decided to make Butter's new teething toy that's going in his stocking this year.  I once again visited Make It & Love It for the tutorial.  I absolutely despise plastic teething toys because of the toxins they leach into your baby's mouth.  Any cloth toys I can make or get my hands on are my go to.  I also love all silicone items, but they are very hard to find.  This cloth teether can be made with scraps too, which is great.  I have more scraps that need a project than I can count because I save everything.
     I picked five colors of cotton fabric, sewed them in about 5 minutes, and set them aside to turn and stuff while I watched TV.  Later on, while my kids watched Dinosaur Train, I got to work on them.  Little miss princess had a blast handing me stuffing and "helping".  They probably were a little over stuffed because of this, but I know polyfil is just too fun to resist.  It  made them a little tougher to sew, but I didn't mind too much.  Polyfil compacts over time anyway so they won't be so stiff down the road.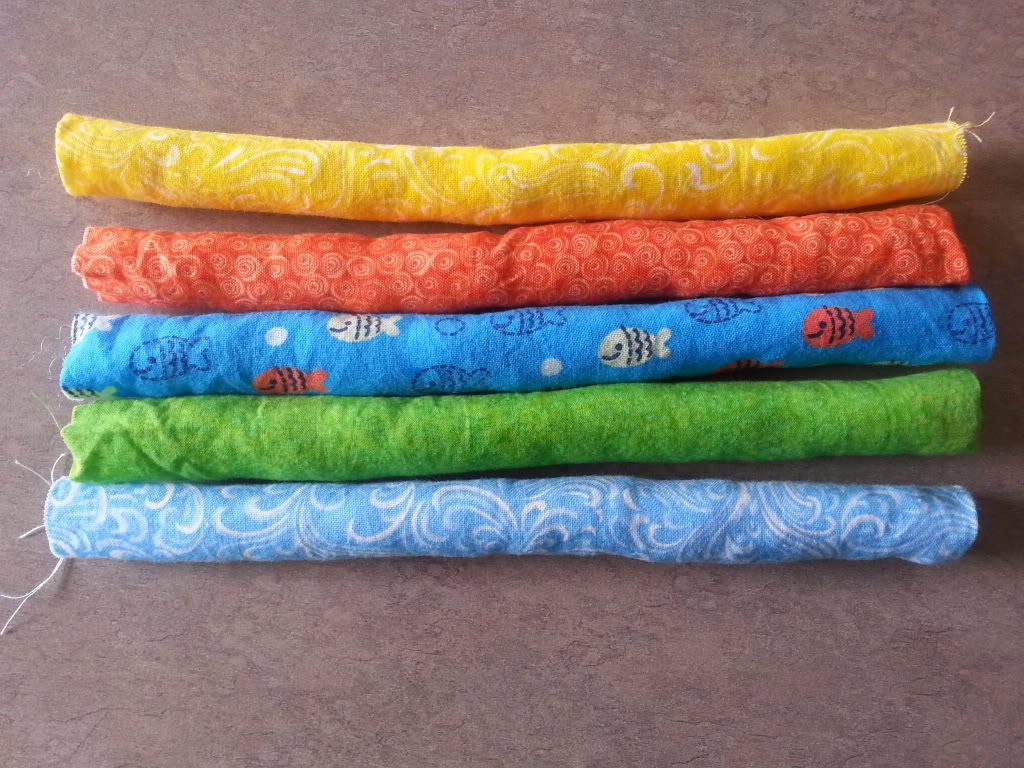 Look at that; sweet little fabric tubes all in a row.  I especially love the tiny fish.  I got to sewing, and added my own special touch:  a loop to hang them with.  I love being able to attach a toy to our stroller or the car seat.  I used a scrap of quilt binding I had left over, cut it about the same length (but didn't stuff it), and sewed it into a flat strip.  Then I sewed velcro on each end so it would make a chain link when closed, then handstitched it to the last chain so it wouldn't fall off.  
And here it is velcro-ed closed:
And that is it!  Total time: less than one hour and much of that was spent multi-tasking and doing the tedious job of turning and stuffing.  If you have a baby coming and you know me, you may be getting one of these toys.  I want to make tons more!
This is an article written by a member of the SheKnows Community. The SheKnows editorial team has not edited, vetted or endorsed the content of this post.
Want to join our amazing community and share your own story? Sign up here.